The Westminster Dog Show Winner Gets a Shocking Amount of Prize Money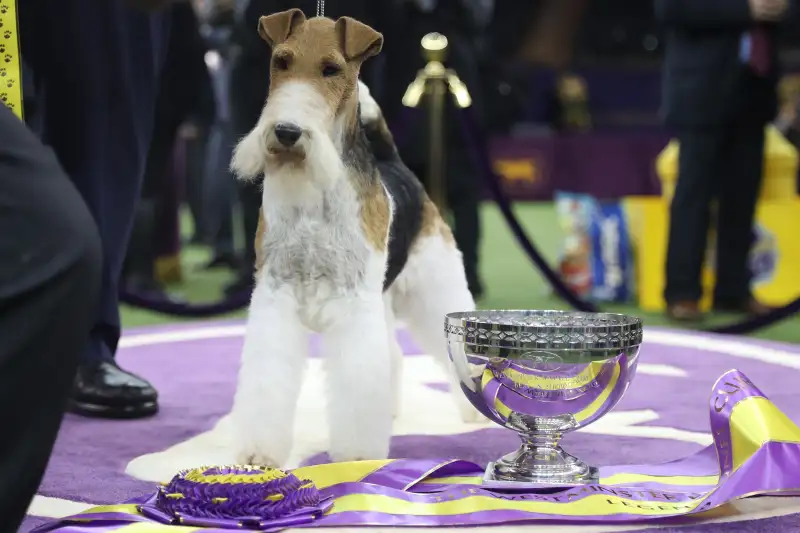 Anadolu Agency—Getty Images
Though thousands of very good dogs have gathered at the 2019 Westminster Kennel Club Dog Show in New York City this week, only one earned the title of Best in Show.
King, a wire fox terrier, won Best in Show at the 143rd Westminster Kennel Club Dog Show Tuesday night — becoming the 15th of his breed to do so in the show's history.
Gaining that prestigious title is perhaps the prize itself; Best in Show winners at Westminster do not receive any kind of cash prize.
That's right.
Best in Show winners instead receive a collection of trophies — including a polished pewter trophy, a hand-engraved Steuben crystal bowl, and a commemorative picture frame. A Westminster Kennel Club representative says the organization does not have an estimated price value for these winnings.
Certainly, the title of Best In Show could lead to lucrative opportunities and opens the door for more sponsorships, brand ambassadorships, and other appearances. Flynn, the Bichon Frise who won in 2018, has since been spotted on New York Fashion Week runways, on stage on Broadway's Kinky Boots, and at the New York Stock Exchange.
And while other sponsorships may materialize, Nestlé's Purina, the pet food brand that serves as one of the dog show's main sponsors, does not secure a sponsorship deal with the winner typically, "but the handler or owners of these champions may have received Purina Pro Plan dog food as Purina ambassadors," a representative for the brand says.
Oftentimes, Best in Show winners retire not too long after the show. Retirement for winning dogs means breeding, which can lead to more money.
It's hard to estimate exactly how much owners make off of the breeding rights for these purebred dogs, says Kim Kavin, an author and journalist who penned 2016's The Dog Merchants: Inside the Big Business of Breeders, Pet Stores, and Rescuers. But, as Kavin detailed in a 2016 Salon article, a lawsuit involving the owners of a Best in Show winner and a Pennsylvania clinic that was storing the dog's frozen semen gives some insight. When the frozen semen was "thawed and destroyed" at the clinic by accident, the dog's owners sued and won more than $200,000 — which may indicate the dog's value when it comes to breeding. "Had the owners sued for the value of the puppies that could have come from each sample, the court award easily could have risen to more than $1 million," Kavin writes in Salon.
Reaching Best in Show at all — let alone having a show dog — can rack up enormous costs. Indeed, owners and handlers of these championship dogs say it could cost anywhere from thousands a year to hundreds of thousands of dollars when you calculate care, travel, grooming, and other expenses.
"Between grooming and boarding and handlers and everything else, you are going to put so much money into a dog that you won't make any in the end," David Frei, who previously co-hosted the Westminster Dog Show, told the Wall Street Journal in 2015. "It's a hobby. You can dip your toe in the deep end or you can dive in."