3 Early Signs in the Market That Point to a Clinton Win
Money is not a client of any investment adviser featured on this page. The information provided on this page is for educational purposes only and is not intended as investment advice. Money does not offer advisory services.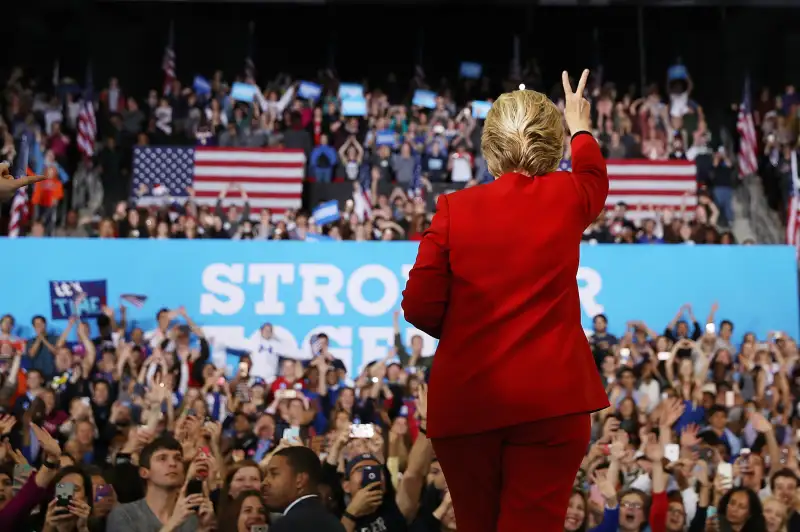 Justin Sullivan—Getty Images
Before the early exit polls come out — and before the political chattering class weighs in — the financial markets are offering their own early call on who will win tonight. And that's Hillary Clinton.
What are the signs?
Clue #1: Yields on 10-Year U.S. Treasury bonds are spiking
Whenever investors are scared, spooked, or simply uncertain about the state of the economy or the world, they race into U.S. Treasuries, which are widely regarded as the world's safe haven investment.
This explains why fearful investors started buying Treasury bonds on Oct. 28, when the FBI announced that it was taking another look into Hillary Clinton's private email server — a move that stopped Clinton's momentum in the polls at the time.
But isn't Wall Street pulling for Trump, the billionaire businessman who promises to cut taxes? Actually, no. Investors for the most part favor Clinton, as she is a known quantity in Washington representing stability and predictability, traits that investors love.
Bond prices and yields move in the opposite direction, so all the recent bond buying pushed down the yield on 10-year Treasuries from 1.86% on Oct. 28 to as low as 1.78% a few days ago, shortly before the FBI cleared Clinton once again.
Today, however, that same 10-year yield bounced back up to 1.86% in late morning trading, a sign that investor anxiety is dissipating.
Clue #2: The Mexican peso is strengthening against the dollar
As Money's Ian Salibury pointed out recently, the Mexican peso has become a bellwether for Donald Trump's candidacy because the GOP nominee has made U.S. relations with Mexico such a front-burner issue.
Not only is Trump calling for the Mexican government to pay for a border wall between the two countries, he is threatening to impose 35% tariffs on Mexican imports and to renegotiate the North American Free Trade Agreement, or NAFTA.
On Election Day, the peso has hit a two-month high on the dollar, a sign that investors believe that U.S. relations with Mexico won't be drastically altered — another positive sign for Clinton.
Clue #3: The dollar is strengthening against other currencies.
Even as the greenback is weakening against the peso, it is gaining value against the Japanese yen and the euro. Couldn't this be a sign of a Trump win? His platform is, after all, centered around "Making America Great Again."
As it turns out, the dollar moves not on pride or confidence in a country, but on basic economic factors such as how much money you can earn by parking your cash in a country's currency.
While Japan and Europe are still trying to juice growth by lowering interest rates, the U.S. is on the verge of raising rates in December.
If there's a shock to the financial system — for instance, short-term uncertainty surrounding a Trump upset — then the Fed may decide to hold off on a December rate hike to calm the financial markets down.
Given that the dollar is gaining ground in anticipation of higher savings yields next month, though, Wall Street is bracing for business as usual. And here again, that means Clinton, not Trump.
Bonus indicator
There's one last thing investors need to pay attention to — and that's the stock market itself. In afternoon trading, the Dow Jones industrial average was up about 100 points, another sign that investors are growing confident in a Clinton victory.
"A President-elect Clinton could provide some post-election relief coupled with expectations that not much will change in a gridlocked Washington," notes Luciano Siracusano, chief investment strategist for the asset management firm WisdomTree.
"That 'all-clear' signal would encourage both U.S. and foreign investors to put money back to work and allow the focus to return to the Fed, the economy and corporate fundamentals," he said.
Of course, this view will be put to the test in the final hour of trading starting at around 3 pm, which is just a few hours before early exit poll information begins to be released.