5 Questions You Should Ask Your Financial Advisor
Money is not a client of any investment adviser featured on this page. The information provided on this page is for educational purposes only and is not intended as investment advice. Money does not offer advisory services.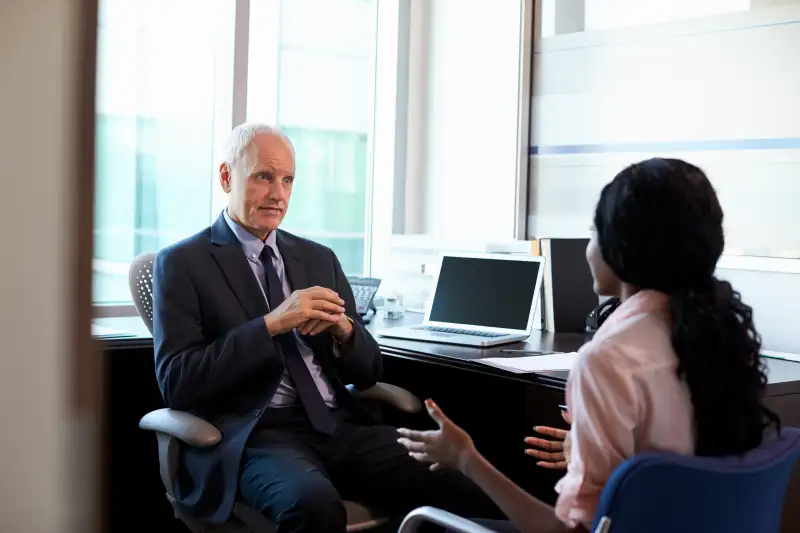 Monkey Business Images—Shutterstock / Monkey Business Images
When Ellevest asked 1,000 women and 1,000 men about money recently, we found that women are way less satisfied with their finances. That's across the board—with their bank accounts, investments, net worth, knowledge about money, everything. Only 47% of women say they know how to achieve their financial goals vs. 64% of men. The good news? Women also told us that investing and saving was their No. 1 confidence booster. In other words: Let's get started.
Where can you turn for help? You can get financial advice—on saving, investing, retirement planning, and estate planning—from a human, a team of humans, a digital platform, or all of the above. Regardless of which you choose, you want an advisor who gets you. Start with these five questions:
1. Are You a Fiduciary?
Most financial questions don't have one right answer—just an answer that's right for you. But in this case, you're looking for a yes.
A fiduciary is legally required to act in the best interest of the client, always put the client's interests first, and be transparent about any conflicts. Seems like a no-brainer to me. But some advisors follow something called the "suitability standard"—meaning they're required to recommend investments that are appropriate, but not necessarily best, for you. And some don't abide by either. The fiduciary question will get you to an advisor who puts you first.
While you're at it, ask a question you already know the answer to—like "What exactly is a fiduciary?" See if you get a clear answer that jibes with yours and if your advisor is a straight shooter.
2. What Will Your Services Cost Me?
Sounds straightforward, but you've gotta ask upfront. Some advisors charge more than you'd expect, and not all of them are required to be 100% transparent about their fees.
One big red flag: advisors who claim to be free. Believe me, nothing in life is free. "Free," for instance, may mean they're putting you in a fund that's run by their own firm (and thus are earning money from that). Or they may be directing trades from your account to a particular company, or "selling your order flow" (and earning money from that arrangement).
Look for management fees of 0.5% or less from a digital-only advisor, and 1% or less for the human touch. The follow-up question to ask here is, "Do you get paid the same, regardless of the investments you recommend?" Even if they're charging you a management fee, advisors can still earn a commission on some products on top of that.
Another follow-up: Ask what kind of securities the advisor invests in, and how often he or she trades. If your advisor likes to buy and sell individual stocks frequently, those costs will be passed on to you. If your advisor likes actively managed mutual funds, as opposed to passively run index funds, you'll foot the bill for those (often high) expense ratios—on top of the baseline fee you're paying.
3. What Services Do You Provide?
Find out what you're getting for your money. Ask them: Do they give you a customized mix of stocks and bonds? Do they offer automatic rebalancing? Will you get specific investment recommendations?
If you're seeking digital advice, ask how you'll be able to discuss personal questions about your portfolio and goals. If you want to talk to a human from time to time, ask how you can do that. And ask human advisors how often you'll hear from them—and how. How easy will it be to meet in person for actual face time when you want to?
Some advisors have relationships with specialists they can refer you to. For example, you might be introduced to a Certified Divorce Financial Analyst—yes, that's a thing. It's usually better if your money pros work together and see your whole financial picture.
4. What's Your Investing Philosophy?
Another big red flag? The advisor who is all about "beating" the stock market. Maybe you'll find the one who does that kind of "active investing" perfectly, but if his or her name isn't Warren Buffett, think again.
Studies have shown that active managers very, very rarely outperform the market consistently over time.
A well-diversified, low-cost investment portfolio is a better bet than stock picking. Investing isn't a game to be won. At the end of the day, it's a way to achieve your big goals, like buying that home, starting that business, and retiring on your own terms.
5. Describe Your Investing Process.
Investment advisors need to articulate in plain English how they create a strategy for you. If it's all pie charts and investing jargon, that's another red flag (unless you're into that).
So get them to tell you how they work with clients. See if they start by asking what your investing and life goals are. Are they looking at your entire financial picture, or just focusing on what you can invest (and so, make them more money)? Do they give you a generic questionnaire and base a model portfolio on those answers alone?
If your advisor brings up your feelings about risk, here's a hint: It shouldn't be all on you to know exactly how much risk (low, medium, or high) you should take with your money. Your feelings about risk will change depending on a lot of things, like whether your various goals are short term or long term, and your advisor should help you figure that all out.
Then there are the investments themselves: How do they choose funds for you? And how do they choose funds in general? Are they looking at performance only, or are they keeping an eye on total costs?
Another question: Are you looking for investments that match your values? Funds that help you make an impact with the money you invest (say, supporting women in business, or the environment) without compromising your financial goals are on the rise. If that's important to you (it sure is to me), then ask.
And finally, are they taking you into account? Advisors base investment portfolios partly around projections about your income and life expectancy. For women, that means lower average earnings, longer career breaks, and longer life spans, to name just a few (frustrating, we know, but important).
Does your advisor bring that up? If not, be prepared to get a portfolio built for a man. And those never fit.