70-Year-Old Gloria Gaynor Has A Roommate, And She Says More Older Americans Should Do It Too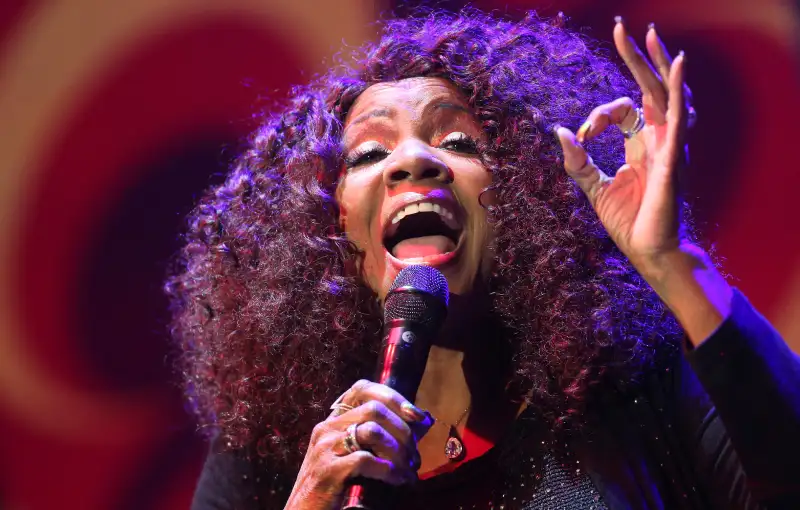 Gloria Gaynor may have recorded dozens of singles and sung one of the most recognizable songs of all time, but she still has a roommate.
When a friend going through divorce needed a place to stay, the "I Will Survive" singer, who is 70, invited her to move into Gaynor's four-bedroom home in Somerset County, N.J., while she sorted out a newly single life. She never left.
"I cannot tell you how wonderful it is to have the companionship, to have the camaraderie," says Gaynor, who is the spokesperson for the Home Sharing Program run by the New York Foundation for Senior Citizens. "It is the security of having someone there with you if something happens and who cares enough to help you. Sometimes senior citizens need extra support."
Gaynor and her roommate are part of a growing cohort of older Americans who are deciding to home share or find a roommate. While Gaynor was helping a lifelong friend, the vast majority of older people turning to roommates are seniors who simply can't afford to live alone anymore. According to SpareRoom, a home-sharing and roommate-finding service, the company's fastest growing demographic is people over 50, and the number of 50-plus users on SpareRoom has surged 27% in the last year alone.
"We asked roommates over 50 why they share and the overwhelming reason was financial," says Matt Hutchinson, communications director for SpareRoom. "In the last decade or so, salaries haven't really caught up to the cost of living for a lot people, so people are now in a position where in their 50s if they're on their own, they need to live with roommates."
The Financial Upside
Lisa Conigliaro, 58, usually lives alone in her apartment in the Brooklyn neighborhood of Williamsburg -- but she decided to change that for a year. Conigliaro can afford to pay her rent with the money she earns as a fashion stylist, but doesn't have much left over after rent and paying her bills. She wanted some extra money to treat herself to new activities like travel and yoga, but she already works "eight days a week." Finding a roommate was the only option, she says.
"That's really the only thing you can do to get a consistent income," Conigliaro tells Money. "I work very hard and I want to enjoy life." She found SpareRoom through a Google search and decided to try it. She went to a "speed roommating" (similar to speed dating) event put on by SpareRoom in Manhattan and connected with a 23-year-old looking to get out of difficult living situation quickly. Her name was also Lisa.
"I'm used to living alone, set in my ways, very OCD, neat and clean, so it was a big deal for me to actually have someone living in my home," says Conigliaro. "But she's like the daughter I never had. She calls Mama Lisa to this day." The two were roommates for about a year before the younger Lisa moved in with her boyfriend in December. The Lisas are still in touch and Conigilaro has met the younger Lisa's whole family.
Unique challenges come with living with someone half your age, but Conigliaro said it helped her grow as a person, teaching her to be more patient and how to let things go.
Her total monthly rent is $2,000 and she paid $1,200 while charging Lisa a flat fee of $800 each month, which included utilities. Although Conigliaro let Lisa move into the master bedroom ("she had more stuff than I have in my whole apartment") while she took the smaller room, she says she didn't mind. Plus, Lisa spent time playing with her three cats, which was an added bonus.
"I'm a generous person and a flat fee just makes things easier," she says. The two bought their own food and sometimes cooked dinner for each other, but when it came to household necessities, Conigliaro picked up the majority of items like toilet paper for the apartment.
"I like to take care of people, so that actually worked out well for me," she says, though at times she nudged Lisa to chip in and purchase the household items, too.
"We were like 'The Odd Couple,'" she says of their different living styles. "I would wake her up in the morning because she would sleep through her alarm."
Finding Companionship
Despite highlighting the fact that too many Americans are under-saving for retirement, there's a silver living to this roommate revolution. Built-in benefits like companionship can improve both your mental and physical health, and you can afford to age in place in your own home.
"I thought it would be nice to have someone to share the home with for so many reasons, not eating dinner alone, someone to talk with at home," Conigliaro says.
Social isolation can lead to a higher risk of hospitalization and early death, and one in three Americans over the age of 45 say they are lonely, according to AARP.
"Loneliness in cities is on the up, particularly amongst old people," says Hutchinson of SpareRoom. "Having a bunch of people around who kind of reset you if you're in a bad mood or to share things with if you're in a good mood, it can be a really positive thing, a real social support. You might miss out on that otherwise."
"That's what is really wonderful," Conigliaro says. "I have a friendship and bond with this young lady now that will be always be there. And that really is special."
Hutchinson sees no signs of home sharing among seniors slowing down, either. By 2040, one in five Americans will be over the age of 65, but the average American in their 50s has only $124,831 saved for retirement, thanks in part to issues like rising health care costs, divorce and underemployment related to workplace ageism. As a general rule of thumb, financial advisors recommend saving a minimum of 10 times your final salary for a comfortable retirement.
Although many Americans are falling short financially in retirement, all retirees are not impacted equally. American women on average have $123,000 less saved for retirement than men, and are approximately twice as likely as men to have no retirement savings at all.
"Affordability for women is a big issue because women tend to earn less than men, but they pay the same rent," says Hutchinson. "There's no discount for rent for being female."
If You Want To Find A Roommate
If you or an older friend or family member wants to find a roommate, make sure you do it through a company like SpareRoom, which vets candidates, or a reputable organization like the New York Foundation for Senior Citizens, which has been running a free home sharing program for 38 years for New Yorkers who are 60 and older (55 year-olds can apply to host someone with developmental disabilities).
The foundation uses a proprietary matching system called Quick Match to pair a "host" (someone offering a room) and a "guest" (someone looking for a room) to match compatible people. Applicants fill out a questionnaire with 31 lifestyle objectives about matters like allowing pets, visitors and alcohol in the home. Once a match is made, the two people met in person to ensure they both agree. Potential roommates are vetted through personal references and social workers. As always, it's important to be aware of your personal safety when dealing with new people. Be wary of anything that seems too good to be true, never give anyone money over the phone, and always trust your instincts if someone doesn't feel right to you. To conduct a background check on your own you can use a free service like Naborly, and you can request an additional credit check through a credit bureau like Experian.
SpareRoom has roommates answer questions similar to NYFSC's, and a team of moderators review the posted ads to ensure legitimacy. Using SpareRoom is free also, but to promote your room and generate quick interest, you have the option to upgrade to a premium version that starts at $10.99 a week. The company also hosts their regular "speed roommating" in-person meets up so people can feel out whether they really click in person.
And once you find a trusted person to move in with? The benefits are clear from the get-go, proponents of home sharing say.
"When I retired I didn't want to have to give up a lot of things I love doing," says Janice Raiford, 70, who found a true friend and companion in her roommate Lillian Otero, 67, through NYFSC. Otero took the smaller bedroom in Raiford's home, but the two pay equal rent (the foundation does not use the term rent in its roommate agreements and refers to payments as "monthly contributions" instead), with the extra portion of Otero's rent counting as her contribution for utilities.
"I don't know where I would be today," without home sharing, Raiford says, adding, "I've got a lot of life to live and a lot of love to give."
Correction: a previous version of this story misstated Gaynor's age. She was 69 at the time of publication, not 70.