How to Help Victims of 9/11 and Their Families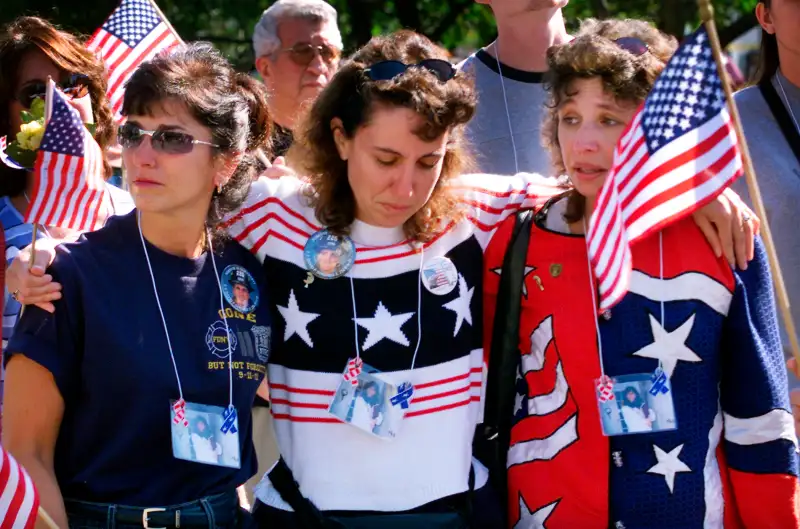 Fifteen years after the 9/11 terror attacks, victims, their families, and first responders are still in need of assistance.
"We're worried that people will want to put 9/11 behind them," says Terry Spears, the executive director of Tuesday's Children, which helps families of victims and first responders. "Even though the youngest kids affected are now 14, so many of the kids are still teenagers and still need guidance and support."
In the immediate aftermath of the 2001 attacks, about 300 new charities were approved by the IRS, according to Charity Navigator. By 2006, one-third couldn't be located and dozens had closed. Even the American Red Cross found itself in trouble when it raised close to $600 million but dispersed just $154 million, earmarking the rest for future organizational efforts. Scammers stole hundreds of thousands of dollars from Americans trying to help.
There are even fewer dedicated charities for 9/11 assistance today—but need still exists. To make sure your donations are used efficiently and ethically, first look up the finances of the charity in question on sites like Charity Navigator and Guidestar.org (Charity Navigator rates charities on efficiency of fund usage, Guidestar tracks transparency and governance). Experts advise donating to groups that spend 20% or less of the budget on their overhead expenses, including salaries.
Here are some charities you can trust to do good work.
The National September 11 Memorial and Museum officially opened on Sept. 11, 2011. It is located on the former location of the Twin Towers in downtown Manhattan. The museum includes an expanding permanent collection of photographs and other artifacts, and a rotation of exhibitions. The memorial features two reflecting pools inscribed with the names of all of the victims of Sept. 11, 2001, as well as the six people killed in the 1993 World Trade Center bombing.
Donations to the memorial do not support victims and their families per se, but rather are used for upkeep of the memorial itself and the its museum. But the memorial has a number of programs for affected families, including a private "family room" intended to provide support, affixed with tribute items. There is also a family mailing list.
Tuesday's Children's Charity Navigator score is lower than what experts recommend—administrative and fundraising costs eat up more than the recommended 20% of its budget—but it's one of the most visible charities doing work directly related to the families of victims.
According to Spears, Tuesday's Children (the attacks were on a Tuesday) has worked with three-quarters of the families of the dead, and continues to raise money for their children. It offers programs like youth mentoring and career guidance for the children, and mental health services for children, spouses, and first responders. The charity connects children and spouses of 9/11 victims with those of fallen soldiers from Iraq and Afghanistan.
The group has also expanded its outreach, opening an international chapter at the behest of some of the victims' children and also helping the families of victims of the Sandy Hook school massacre. But Spears says the organization's first priority is to help children of 9/11 victims, the youngest of which are now 14, and just coming to terms with the attacks.
"We've been able to survive and thrive, we are constantly raising money to fulfill our promise to these kids," she says. "Our organization doesn't have an end date."
Spears also encourages people to donate their time, ideas, and expertise—not just money.
Finally, the Families of Freedom Scholarship Fund, which is part of the highly rated Scholarship America (it has four stars from Charity Navigator and a Gold star from Guidestar), has given over $150 million in scholarships to financially needy dependents of those killed in the attacks, or affected in rescue efforts, since its inception in September 2001. It continues to give scholarships away.
To honor the tens of thousands of first responders who risked their lives to help victims on 9/11, you can donate to the New York City Police Foundation and FDNY Foundation, both of which receive high marks from Charity Navigator. If you want to support veterans, the Iraq and Afghanistan Veterans of America is well-rated by Charity Navigator. The IAVA provides mentorship and career support for veterans, as well as mental health assistance.
The Cantor Fitzgerald Relief Fund was originally established in the wake of 9/11 (named after a securities firm located in the World Trade Center), but now provides assistance to other communities affected by disaster.
Don't Get Scammed
Some criminals view national tragedies as an opportunity to take your money. To ensure your charitable impulses aren't taken advantage of, watch out for scams. As Money reported after the Pulse nightclub shooting in Orlando, crowdfunding and social media sites have little oversight, and the identities of those soliciting donations on these mediums is hard to verify.
"The important thing is to try to give directly to the charity," Sandra Miniutti, vice president of marketing at Charity Navigator, told Money then (after you've properly vetted the organization, of course).
Here's more information on how to avoid scams.