How Luke Cage's Theo Rossi Finds The Time To Train For A Marathon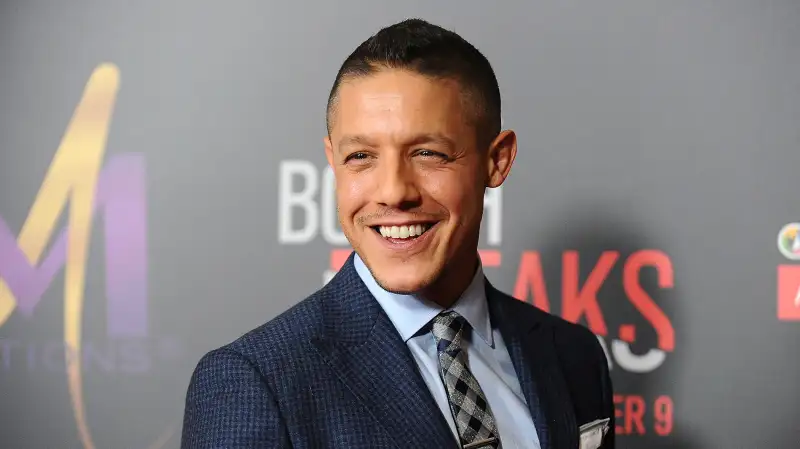 Jason LaVeris—FilmMagic/Getty Images
Whether it's a motorbike gangster on the FX series Sons of Anarchy, or the prison-breaking super villain on the Netflix show Luke Cage, Theo Rossi animates dark rebels. In his personal life, Rossi has found warmer roles: father, husband, philanthropist, and entrepreneur. As he adds yet another commitment—training for the Nov. 6 New York City Marathon—we wanted to know how he does it all.
Besides acting in and promoting Luke Cage, you've got your production company, Dos Dudes Pictures, your inspiration blog #GoGetItLife, your bottled water venture Ounce Water, and you've been training to run the New York City marathon this week. What's the secret to your productivity?
What I'm constantly trying to do is chase time. In a job like I have, acting, people will say "We shoot a movie for 17 hours today." We didn't really shoot for 17 hours. The time I was actually in front of the camera? Maybe an hour. Those 16 hours are downtime for your wardrobe, makeup, or whatever. That was the greatest time for me to start my production company, to create Ounce Water in my head and make the calls to see how I can get that done.
I don't remember a time I wasn't working, from delivering newspapers, to waiting tables, to bus boy, to doing many other things. Some I talk about; some I don't. I was doing all these things because I know money gives you choices.
Everybody has the same 24 hours; it's how you utilize it. To train for the New York City marathon, you have to run anywhere from eight to 20 miles a day during the week, six days a week. That's a tremendous time commitment. For me, because I have chosen to do this, I was up at 6 a.m. today. I start to shut down about 1 a.m. I get in a lot of trouble for being on the phone or emailing in bed.
We all get a time, a moment, and right now I have this moment that I have to take advantage of and I can only blame myself if I don't. I'm put in an incredible position in this world. This is the time.
Having ventured into many jobs in various industries since your newspaper-boy days, how do you look at money?
As weird as this sounds, I don't necessarily care about money. I care about completing goals. When I was waiting tables I would be the best waiter I can be, and then the money would come. When I was 9 years old delivering the Daily News with the Franco brothers on Staten Island, I was crazy about delivering papers. I was nuts when I was dish washing. You have to have the competitive nature in you. It's about going after the job, even though you know it's not going to be a forever job.
When you are saving up for something, how do you fight the urge to, say, buy new shoes?
You're talking to a man with a lot of shoes, mostly Nike sneakers. I have too many of them. You just have to understand what you are doing it for. There has to be an end game to everything that you do. What are you buying those shoes for? Maybe you want to look better, or maybe you want to meet someone. There are always deeper reasons.
You have a strong social media presence promoting Luke Cage, #GoGetItLife, and Ounce Water. Got any tips for reader trying to promote their personal brands?
Authenticity is absolutely the word of the year. We are starting to find out that more and more things are not what they seem. You have to be real in what you're promoting, how you're promoting it, and who you are. People crave [authenticity], they long for it, because they are not seeing it in lots of other things.
If you're living your best life and you're really trying to make the world a better place, go on social media and be authentic about it. Everybody calls everybody out there. People can say what they want about anybody. But as long as you're authentic, nobody can argue with you.
This interview has been edited and condensed.