Lawsuit Alleges Exactly How Wells Fargo Pushed Employees to Abuse Customers
Money is not a client of any investment adviser featured on this page. The information provided on this page is for educational purposes only and is not intended as investment advice. Money does not offer advisory services.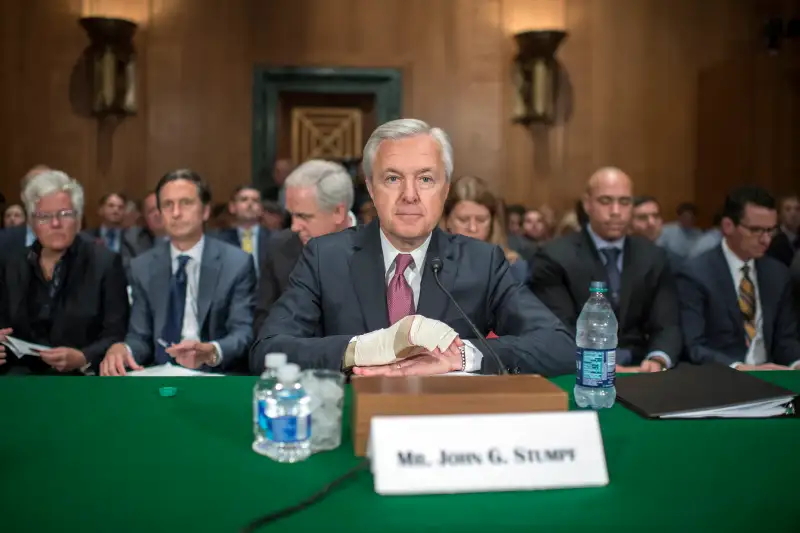 Tom Williams—CQ-Roll Call,Inc.
The Wells Fargo fake account scandal continues to reverberate as CEO John Stumpf heads back to Capitol Hill Thursday for another round of grilling, one day after the bank announced he would have to forfeit $41 million in unvested stock awards.
Earlier this week, detailed allegations about the culture and mechanics behind the unauthorized accounts emerged in two class-action lawsuits filed by former employees who say they were effectively demoted or fired for refusing to engage in fraudulent activities.
Together, the allegations form a picture of management culture that routinely and systematically used high-pressure tactics to push employees to sell products and services that did not serve the best interests of customers—creating a toxic environment that almost inevitably led to fraud.
Wells Fargo disputes the allegations, spokesperson Mark Folk told Money magazine. But he declined to comment further beyond writing in an email that the bank will "vigorously defend against the misrepresentations... The vast majority of our team members serve our customers' best interests every day in every interaction."
Here are a handful of the most striking allegations:
The "Gr-eight" Initiative
The complaints note that Wells Fargo's "cross-selling" business model, in which employees were trained to push customers to open multiple accounts or products with the bank, was no secret to investors: "Wells Fargo boasts about the average number of products held by its customers, currently approximately six bank accounts or financial products per customer." What was less well known is how far Wells Fargo was determined to push that cross-selling. The bank, the complaint contends, "seeks to increase this to an average of eight accounts or financial products per account holder, a company goal Wells Fargo calls the 'Gr-eight' initiative."
Sales Quotas and Relentless Monitoring
To enforce the Gr-eight initiative, according to the lawsuits, Wells Fargo district managers would monitor progress toward daily new account quotas. They checked in every two hours, alleges the complaint: "Daily sales for each branch, and each employee, are reported and discussed by Wells Fargo's District Managers four times a day, at 11:00 a.m., 1:00 p.m., 3:00 p.m., and 5:00 p.m. Those failing to meet daily sales quotas are approached by management, and often reprimanded and/or told to "do whatever it takes" to meet their individual sales quotas."
"Bundling" and "Pinning"
The complaints say that some practices to reach those quotas are "so pervasive in Wells Fargo's business model" that they have earned their own names internally. "Bundling," for example, referred to the practice of "incorrectly informing customers that certain products are available only in packages with other products such as additional accounts, insurance, annuities or retirement plans."
Another tactic alleged in the complaints: "Pinning." Wells Fargo employees allegedly pretended to be the customers on the bank's computers to enroll the accounts in online banking and bill paying without the customers' consent. In order to do so, the complaints say, bank employees assigned Personal Identification Numbers ("PINs")—without customers' authorization—to the ATM cards so the employees could impersonate the real account holders.
Hiring Practices
According to one exhibit contained in the class-action complaint, Wells Fargo tests potential employees on their ability to overcome objections from a customer. "Being able to address and overcome customer objections is important," the file says. The sheet is titled "Wells Fargo Recruiting Banker Assessment Presentation" and shows the red and yellow Wells Fargo logo on the top right corner and the image of horses pulling a carriage underneath the slogan "Together we'll go far" on the bottom right.
The file asks potential employees to present for 5 to 7 minutes in front of the bank's managers to sell three banking products. Specifically, it says, "Include in this presentation details on how you would overcome objections from a potential customer who is currently banking with another financial institution and is receiving a product, service or benefit from our competitor that we don't offer."
Targeting Mexicans Without Social Security Numbers
Among the consumers surprised to find that unauthorized accounts had been under their names, sometimes with hefty fees attached, Mexican customers without a Social Security Number were allegedly targeted, the complaints say, "because the lack of a Social Security Number makes it easier to open numerous fraudulent accounts." Wells Fargo allegedly used those customers' Mexican government ID for expats to open accounts, and when they complained about the unauthorized accounts and fees, the bank advised "many of these victims to ignore unauthorized fees and letters from collection agencies because the lack of a Social Security number means the debt will not affect them."