Congressmen to Wells Fargo CEO: Do You Think What You Did Was Criminal?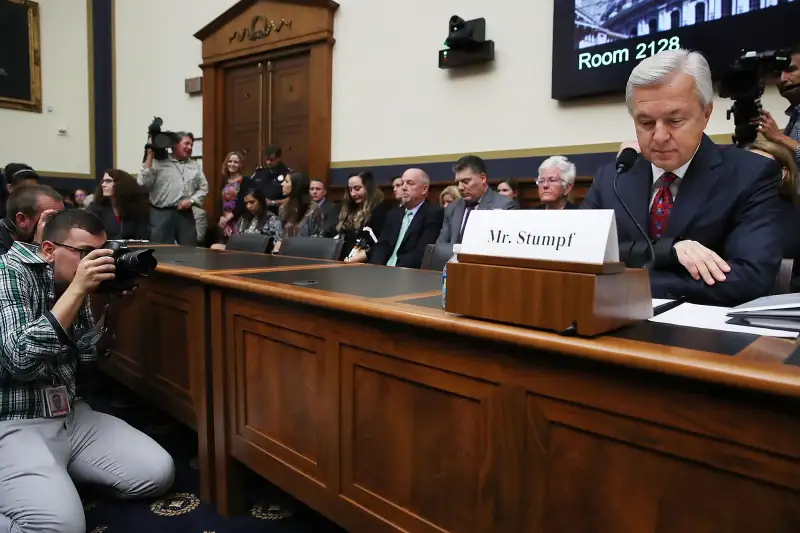 Last week's calls by U.S. senators for Wells Fargo CEO John Stumpf to resign over the fake-account scandal are still lingering, and now several Congressmen are asking why he isn't in jail.
A week after being grilled by the Senate Banking Committee and day after being forced to forfeit $41 million of his unvested stock grants, Stumpf returned to Capitol Hill Thursday only to be scuffed by lawmakers in the House Financial Services Committee.
Wells Fargo has fired 5,300 employees and faces $190-million fines for the about 2 million accounts that may not have been authorized by the account holders. But lawmakers are infuriated because the bank is blaming what they call a systematic fraud on low-level employees, while executives had—until Tuesday—been untouched.
Stumpf apologized again to the House committee and repeatedly promised that the bank will work with every harmed customer to make it right. The bank will email customers within an hour after an account opens, he said, and require customer signatures on all new accounts and credit cards. As expected, he also announced that all sales targets in retail banking will be dropped this weekend, three months earlier than initially planned.
Not enough, said the outraged representatives. They questioned whether Stumpf had known about the improper practices before 2013, when he says he took notice. They questioned the bank's culture and its management practices, bringing up various other scandals and fines in recent years, including the $1.2 billion settlement for mortgage fraud. And Several Congressmen pressed Stumpf to answer whether the scandal is criminal.
"Borrowing a customer's money without permission is not a sales practice violation, it's stealing," Rep. Maxine Waters (D-Calif.) said. "Using customer Social Security numbers to open credit cards without their consent is not wrongful sales behavior, it is identity theft."
Later, Rep. Sean Duffy (R-Wis.) asked blatantly, "Did you steal?" The congressman repeated the question three times and Stumpf eventually answered for his employees, "In some cases, they did."
Rep. David Scott (D-Ga.) pressed further after Stumpf said he didn't personally open any phony accounts.
"Do you think what you did was criminal?" Rep. Scott asked.
That's when the CEO stuttered.
"I led the company with, with, with courage and, and, and with…" Stumpf said before the next question cut the sentence off.
Throughout the 4-hour hearing, Stumpf relentlessly defended the Wells Fargo brand and its 268,000 employees who he says do the right thing every day to serve the customers' best interest.
"I don't want our culture to be defined by these mistakes," he said.