We Ranked the 744 Best Colleges in America. Use This Interactive Tool to Find the Right One for You.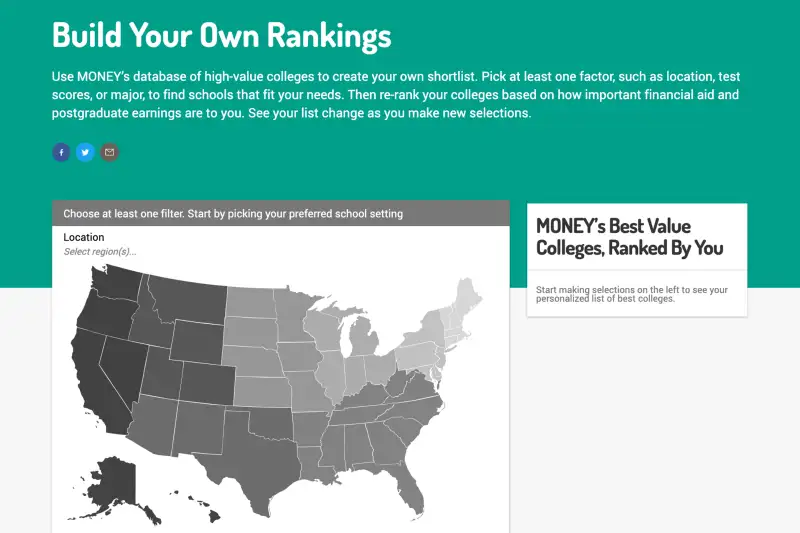 Use Money's database of high-value colleges to create your own shortlist.
There's no single formula for finding a great college. That's because choosing where to attend is a balancing act between what you value most: a big bustling school or a small campus? Staying within commuting distance to keep costs low or shelling out for room and board to attend more well-known school? There are many variables to weigh.
The best school for you will be the one that fits your needs, goals, and personal situation—including how much your family can afford, says Raquel Laiz, who works on the college and career readiness team for the Portland School District in Oregon.
"Let's talk about you, and then we'll talk about your options," she tells students.
To help families make smart financial decisions about where to attend, Money spent months digging into college data for our 2019 Best Colleges ranking. Yet like any college ranking, it is built on subjective decisions about what its editors think is most important. For us, affordability and the likelihood of a getting a decent-paying job when you leave are paramount.
But your priorities may be different. That's why we've built a college search tool that allows you to re-rank our colleges based on four financial questions. Here's a guide to use it.
Start with the Basics
At every stage of the college search process, you'll have to decide what's most important to you, says Ian Fisher, a consultant with College Coach, an education advising service. In the beginning, that will likely be deciding on setting: the location, campus type, and size of the school. Money's interactive starts with these same questions.
Remember that while public and private colleges are funded and governed differently, there aren't many differences in how students experience each type of college. Honors colleges at large public universities may offer close interaction with professors—much like smaller, private schools. And some private colleges award significant financial aid, enough to discount their higher sticker prices to levels competitive with or lower than public colleges' in-state fees.
While these questions are the basics, admissions experts say you still may need to do some research to answer them adequately. Stacy Kadesh, who runs a college admissions consulting company in Danville, Calif., often recommends students visit any college campuses near their home when they're in the first or second year of high school. That will give them a feel for a large campus versus a small one, for example.
"It's hard to answer the criteria question if you're a blank slate," she says.
Focus on Academic Interests
Once you've built a broad list of schools, you'll want to start narrowing your list based on whether you're likely to get in, with factors such as the acceptance rate and the average scores and GPAs of incoming students. You'll also want to narrow it to colleges that offer the academic programs you're interested in.
To come up with a list of majors you may want to pursue, you should think about both the jobs you'd like to have after college and what it will take there, as well as your interests and favorite subjects. Bear in mind that if you choose a college with a small number of academic programs and end up wanting to change your major, your options will be limited.
That said, a major doesn't necessarily equate to a particular job, and career paths are rarely linear. A recent study from EMSI that looked at the career outcomes of six varying academic areas found that jobs in sales, marketing, management, and financial analysis appear in the top ten most popular outcomes for almost all degrees, from language and philosophy to information technology.
What Matters Most to You Financially
As you enter these criteria, Money's tool produces a customized college ranking based on your preferences. Then you can refine those options based on your financial priorities. You can answer as many of the re-rank questions as you'd like. Here's the data we used to weigh each one:
How important is it to graduate with little to no student debt? This factors in both the median debt for students who borrow as well as how many students on campus take out loans. Both figures come from data in the federal College Scorecard.
How important is need-based aid? For this, we looked at the net price for a year of attendance for low-income students, a figure published by the U.S. Department of Education. We also considered the percentage of students with financial need who get grants and the percentage of need met. Both figures are reported in Peterson's Undergraduate Database.
How important is merit aid? If your family earns too much money to qualify for need-based aid, merit aid is one of the only options you have for lowering the price of college, Kadesh says. Here we considered the percentage of students who receive merit aid, as well as the average merit grant, as reported to Peterson's.
How important is earning a high salary after graduation? This factors in the average salaries alumni report to Payscale.com three years after graduation, as well as the median earnings 10 years after entering college, which are published in the College Scorecard.
Final Steps
You don't have to fill in every field in Money's tool to get results, so you can use it when you're just starting out and want a long list of colleges as well as later on when you know the answers to all these questions. Money's rankings include various measures of affordability, but they are averages for the whole student body. To get a personalized estimate, use the net price calculator for any colleges you're interested in.
Once you've narrowed down your list, you'll have to do more research to learn about the factors that can't be easily captured in a search tool. Look for information on the type of experiences you'll have, Fisher says. Do students frequently interact with faculty? How active is a college's alumni network? Will you have ample opportunity for hands-on learning in research, internships, or study abroad programs?
"It's ultimately about finding a place you can thrive while also considering the cost," Fisher says.