AIG Travel Guard Travel Insurance Review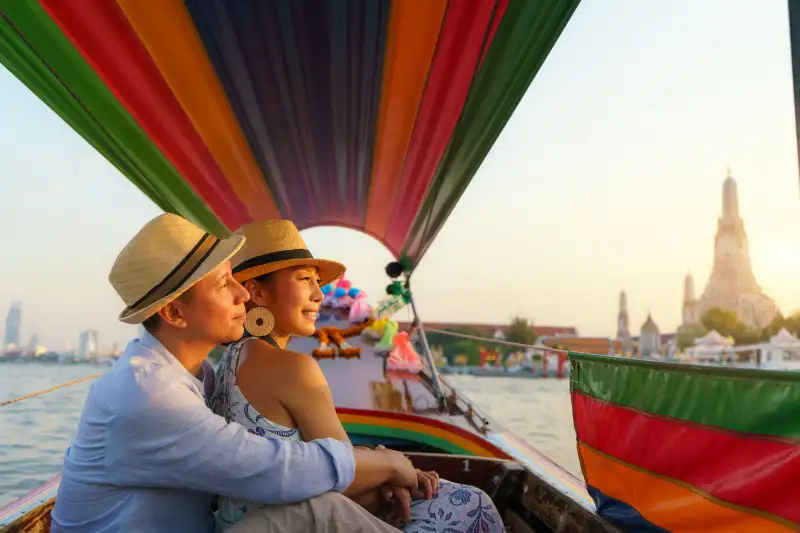 We've reviewed Travel Guard from AIG as part of our exploration of the best travel insurance companies of 2023. This review will cover the pros, cons and features of AIG Travel Guard to help you decide if it's the best travel insurance provider for you.
Best for Add-Ons
AIG travel insurance stands out for its wide variety of add-on options. Travel Guard offers a security bundle, pet bundle, sports bundle and many other add-ons to customize your travel insurance.
AIG Travel Guard Travel Insurance Pros and Cons
AIG Travel Guard is one of many insurance providers that support international travelers while they're abroad. It isn't your only option, so let's take a look at how the company's policies compare to competitive offerings. Here's an overview of what you can expect from a Travel Guard travel insurance policy.
Pros

Up to $1 million in evacuation coverage
Plenty of add-on options
Optional waiver for pre-existing conditions

Cons

CFAR upgrade doesn't cover the entire trip
Premiums can get expensive

Pros explained
AIG Travel Guard insurance is highly rated across review platforms. This might be the right insurance company for you if you're looking for a policy with high coverage for medical evacuations, a range of add-ons and waivers for pre-existing conditions.
$1 million medical evacuation coverage
One of the main reasons people buy travel insurance is to pay for an emergency medical evacuation. If you get sick or injured while abroad, you may need to be evacuated for your safety.
With Travel Guard Deluxe from AIG, you get up to $1 million in coverage for medical evacuations. Travel Guard Preferred offers $500,000 for evacuations, and Travel Guard Essential offers $150,000. That coverage goes toward flights and other costs to get you to a safe location where you can receive high-quality medical care.
Offers a variety of special add-on coverages
AIG Travel Guard Insurance offers a wide variety of add-on coverage options. These riders can be added to your plan to customize your trip. These include:
Medical bundle: This supplies extra coverage for medical costs and the option to choose your hospital.
Wedding bundle: This allows you to cancel your trip if a destination wedding is canceled.
Pet bundle: This provides a daily benefit for the costs of traveling with a dog or cat, plus coverage for veterinary bills.
Inconvenience bundle: This covers certain problems that don't end your trip, such as credit card cancellations, closed attractions and trip delays.
Adventure sports bundle: This removes coverage exclusions for injuries caused by extreme sports such as scuba diving, skydiving and rock climbing.
Baggage bundle: This gives increased coverage for baggage loss and delays.
Pre-existing medical conditions waiver available for purchase
If you have a pre-existing condition that could lead to medical costs during your trip, Travel Guard offers waivers to extend coverage for those expenses. The waiver must be bought before your trip. It might be worthwhile for travelers with chronic conditions, immune system deficiencies, and other conditions that can make traveling especially dangerous.
Cons explained
AIG travel insurance isn't right for everyone. Before you buy a Travel Guard plan, you should be aware that you can't get a full reimbursement when you cancel for any reason and that your premium might be more expensive than other options.
Cancel for Any Reason upgrade only covers 50% of trip costs
Cancel for any reason (CFAR) policies are common with travel insurance companies. This add-on allows you to be reimbursed no matter why you cancel your trip.
A standard travel insurance plan only offers reimbursements for a prescribed list of eligible reasons for canceling. These include medical or weather-related emergencies and the death of a close family member or traveling companion. But with CFAR, you can cancel under any circumstances and still receive coverage — as long as you do so 48 hours before departure.
Unfortunately, AIG Travel Guard with CFAR only offers a 50% reimbursement of your prepaid travel expenses. Other companies offer a higher reimbursement percentage, so consider whether you want more comprehensive protection before signing up for this insurance.
Expensive premiums
AIG Travel Guard is not the cheapest travel insurance company out there. Your exact premium depends on several factors, including your destination, plan type, add-ons and age. But based on our sample quotes, AIG travel insurance plans are slightly more expensive, on average, than other insurers' plans.
AIG Travel Guard Travel Insurance Plans
Like shopping for the best travel credit cards, choosing the best travel insurance plan takes time and research. The best plan will save you money and give you peace of mind, while the wrong plan could be an unnecessary expense. That's why looking for insurance companies offering multiple policy options is best.
AIG Travel Guard offers three main plans plus two bonus plans for international travel insurance. Let's break those options down in detail.
Essential
Travel Guard Essential is a very basic travel plan offered by AIG. This budget-friendly plan comes with standard coverage for trip cancellations, interruptions and delays. Medical coverage goes up to $15,000 plus $500 for dental costs and $200 for lost or damaged baggage.
The Essential plan is best for a tourist or short-term traveler who is willing to sacrifice comprehensive coverage for a lower insurance premium. The plan can be beefed up with any of AIG's add-on bundles.
Preferred
Travel Guard Preferred is a mid-priced option for someone who wants more coverage. This policy comes with medical coverage of up to $50,000 and evacuation coverage of up to $500,000. Damaged, lost or stolen baggage is covered up to $1,000.
Deluxe
Travel Guard Deluxe, the most expensive plan offered by AIG, comes with a wide range of benefits and includes security evacuation, missed-connection coverage, trip-saver coverage and more. This plan offers up to $1 million for a medical evacuation.
Travel Guard Deluxe is a good choice for someone traveling to rural or dangerous areas. It covers almost any emergency and even includes robust coverage for your beneficiaries in case of a fatal accident.
Pack N' Go
AIG's Pack N' Go plan is designed for travelers who buy their insurance at the last minute. There is no cancellation coverage, but this plan offers up to $25,000 in medical coverage plus $500 for lost or damaged baggage. Buying travel insurance at the last minute is not recommended, but this is a helpful option if you plan a trip quickly.
Annual
You can purchase an annual travel insurance plan through AIG. An annual plan is ideal for someone who travels frequently, especially to dangerous areas. With Travel Guard's annual plan, you'll get:
Trip delay coverage: $150 per day, up to $1,500
Trip interruption coverage: up to $2,500
Lost baggage coverage: up to $2,500
Baggage delay coverage: up to $1,000
Medical expenses coverage: up to $500,000 (dental coverage up to $500)
Accidental death coverage: up to $50,000
Emergency evacuations and repatriation of remains: up to $500,000
These benefits apply to multiple trips within the same year. You can renew your coverage annually or cancel at the end of a payment period. Purchasing an annual plan is usually less costly than insuring two trips individually.
AIG Travel Guard Travel Insurance Pricing
AIG travel insurance is comprehensive but on the higher end of the price spectrum. Premiums for Travel Guard Essential and Premium are on par with industry standards. Travel Guard Deluxe is slightly more expensive because of the added coverage that comes with it.
For example, our quote for a month-long vacation in Europe for two people costing around $5,000 came to around $300 with Travel Guard Premium and $560 with Travel Guard Deluxe. Add-on bundles will add a flat rate to that price. Our quotes for the same trip came out to around $150–$300 with other travel insurance companies.
Of course, that's just an estimation. Your exact premium will vary depending on your travel dates, destination, age, number of people in your party and other factors. AIG family travel insurance goes up in price for each family member added.
Talk to an AIG Travel Guard representative to get a personalized quote for your travel insurance. You can also request a quick quote online for a basic estimate.
AIG Travel Guard Travel Insurance Financial Stability
AIG Travel Guard is an established insurance provider and a publicly traded company. It has an A rating from AM Best, which reflects a high degree of financial strength and stability. AIG also has a rating of A2 from Moody's and an A+ from Standard and Poor's. Because Travel Guard is a product of AIG, you should expect this insurer to remain stable in the future.
AIG Travel Guard Travel Insurance Accessibility
Here's how AIG Travel Guard compares with other top insurers in terms of accessibility.
Availability
AIG travel insurance offers coverage on six continents. You can search for your destination country on AIG's website to ensure coverage is available, but remember that not all coverage is available in all destinations.
When it comes to buying travel insurance, AIG is only available to residents of the U.S.
Contact information
You can call AIG's travel insurance phone number any time to get more information about your policy or request help. Both of these numbers have 24/7 availability:
U.S. toll-free, 1-855-203-5962
U.S. and international collect, 1-715-345-0505
If you need to file an AIG travel insurance claim, you can connect with a customer service agent online or over the phone. You can also reach AIG by mail at:
Travel Guard
3300 Business Park Drive
Stevens Point, WI 54482
User experience
While it does offer a travel-assistance app, this insurer isn't as up-to-date with modern technology as other options. Its Travel Assistance app has 2-star ratings on both Google Play and the App Store and is difficult to navigate. The website is also slightly confusing and has several pages stating the same information. On top of that, AIG travel insurance claims must be filed directly with an agent.
However, getting a quote on the AIG website is easy. It takes less than a minute, and you don't need to provide your name or any contact information.
AIG Travel Guard Travel Insurance Customer Satisfaction
AIG Travel Guard receives a high rate of customer complaints. It's rated 1.01/5 stars with the Better Business Bureau. Some reviewers report a lack of helpful customer service and problems getting their AIG travel insurance refund for a canceled trip.
Keep in mind that these complaints are fairly standard in the travel insurance industry. Your individual experience will vary depending on your plan and other details.
AIG Travel Guard Travel Insurance FAQ
What does AIG Travel Guard travel insurance not cover?
AIG travel medical insurance does not cover an illness or injury caused by:
Pre-existing conditions (without an optional waiver)
Traveling against your doctor's advice
Traveling against warnings about war or other dangerous conditions
Trip cancellation due to concerns over a COVID-19 outbreak at home or in your destination country. You may be eligible for cancellation coverage if you have a confirmed diagnosis of COVID-19 before your departure.
What is the AIG Travel Guard claims process like?
You file a claim with AIG by talking to an agent. This step sets AIG apart from travel insurance companies that allow you to file a claim online or with a mobile app. If you like being able to talk things out with a person, this may be a benefit. This could be frustrating if you prefer a quick and easy online claim. The claims process may take up to a few months, depending on the complexity, but you can check the status of your claim online.
Is AIG Travel Guard Travel Insurance worth it?
That depends on your priorities. AIG Travel Guard is slightly pricier than other options but offers comprehensive coverage for emergencies and medical costs. Travel Guard might be worth the cost if you want to customize your coverage.
How We Evaluated AIG Travel Guard Travel Insurance
We evaluated AIG Travel Guard for this review based on several factors, including:
Range of plan options
Pricing
Accessibility
Customer reviews and complaints
Claims filing process
The extent of coverage for the cost
Summary of Money's AIG Travel Guard Travel Insurance Review
AIG Travel Guard stands out for its variety of add-ons. Its optional bundles allow you to customize your plan to meet your travel needs. While the Deluxe plan is a little more expensive than other options, Travel Guard could be the right choice for you if you value flexibility and extensive coverage.
Whichever insurance policy you choose, be sure to plan ahead and buy your insurance far in advance. Keep an eye out for other ways to save on your trip, including the best travel rewards credit cards and travel booking sites.