These Airlines Charge You the Most in Extra Fees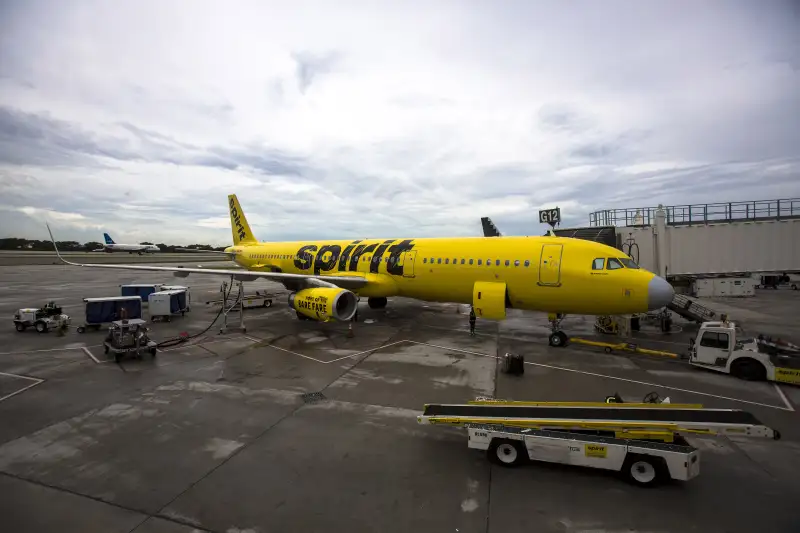 Bloomberg—Bloomberg via Getty Images
Spirit Airlines is known for super cheap airfare: Right now, for instance, the carrier is advertising flights that cost as little as $25.
That sounds pretty awesome. But if you want a realistic idea for how much a whole flight will probably wind up costing, add $100.
According to a new study from IdeaWorksCompany, in 2016 Spirit received an industry-leading $49.89 per passenger in "ancillary revenues"—a.k.a. fees for things like seat reservations, extra legroom, and checked and carryon baggage, as well as money generated by frequent flyer programs.
The numbers in the study are based on one-way travel. So the typical Spirit passenger is looking at roughly $100 in fees above the cost of transportation for a round trip.
What may come as an even bigger surprise to travelers is that other airlines aren't too far behind Spirit in terms of siphoning high fees from customers. It's not just ultra-low-fare airlines like Spirit and Frontier that are successfully using this business model either.
[UPDATE: An earlier version of this story omitted that revenues from airline frequent flyer programs were included in the ancillary revenue data gathered by IdeaWorks.]
As you can see in the IdeaWorks top 10 list of airlines with the highest ancillary revenues per passenger, United—a so-called legacy carrier, thought to include more amenities than cheaper upstarts—holds the #4 spot. Bear in mind, however, that the ancillary revenues covered in the study include money generated by frequent flyer programs in addition to more tradition airline fees for baggage and other services. United in particular makes tons of money by selling miles to passengers and otherwise using earning revenues via its frequent flyer program.
ANCILLARY REVENUES PER PASSENGER
Spirit: $49.89
Allegiant: $48.93
Frontier: $48.60
United: $43.46
Jet2.com: $42.46
Qantas: $42.38
Virgin Atlantic: $42.25
AirAsia X: $34.41
Korean Air: $32.59
Alaska Air: $31.41
Spirit also "leads" the industry in terms of generating the largest percentage of its overall revenues from fees. A whopping 46.4% of Spirit's revenues come from fees, followed by Frontier (42.4%), Allegiant (40%), and then the European carriers Wizz Air (39.4%) and Ryanair (26.8%).
As for which airlines collect the most in fees overall, the larger American carriers dominate the scene, holding the top four positions. Here are the top five airlines in terms of total ancillary revenues from 2016:
United: $6.22 billion
Delta: $5.17 billion
American: $4.9 billion
Southwest: $2.83 billion
Air France/KLM: $2.10 billion