All the Senators Running for Re-Election in the 2018 Midterms, Ranked by How Much They're Spending to Keep Their Jobs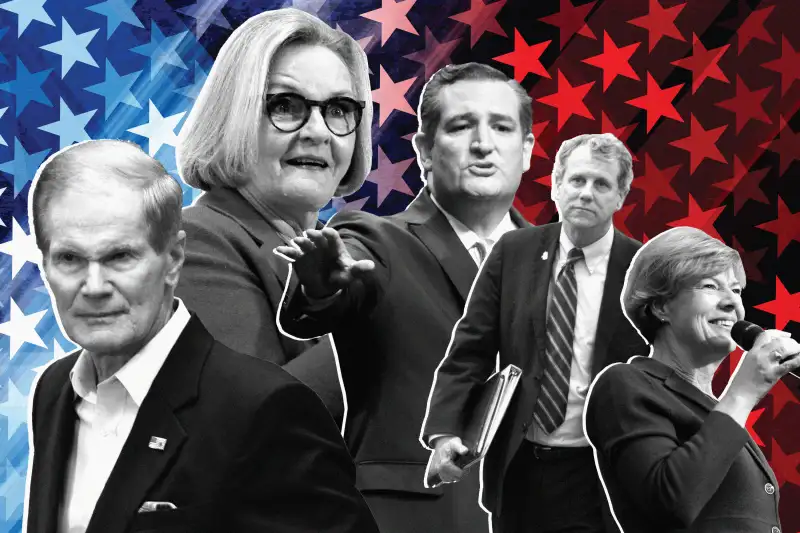 Photo illustration by Sarina Finkelstein for Money; Getty Images (3); Shutterstock (3)
How much would you be willing to pay to keep your job? $100? $1,000? $10,000?
If you're one of the 32 U.S. senators up for re-election in the 2018 midterms, your answer is in the millions.
The U.S. is on the cusp of its costliest congressional election ever, according to the Center for Responsive Politics: Candidates and their supporters in political parties, committees and other groups are on track to spend over $5 billion this cycle. As Election Day approaches, incumbents on both sides of the aisle are frantically attempting to save their Senate seats — and it's proving to be an expensive endeavor.
"The more competitive the race, the more money you're going to need to spend," says Candice Nelson, the academic director of the Campaign Management Institute at American University.
Running for Senate isn't cheap in the first place — in 2014, the average victorious Senate campaign spent $10.6 million, according to the center — but there are a few factors that influence spending.
Nelson says that the sum is partly tied to the size of the voting age population in each politician's state. For example, Sen. Ted Cruz naturally has to spend more to reach the roughly 21 million would-be voters in Texas than Sen. Bernie Sanders does to reach the 506,000 in Vermont.
Plus, incumbents have to be able to keep up with their opponents. Going back to Cruz, his opponent Rep. Beto O'Rourke raised $38.1 million in the third quarter alone — a record for a Senate race, as the Texas Tribune reports. Cruz needs to follow closely behind if he wants a real shot at keeping his seat.
What are candidates using all that money for? Ads, mostly. FiveThirtyEight reported that in 2012 and 2014, the typical Senate campaign devoted just under half of its budget to ads. Radio, TV, mail and digital opportunities are especially important as Election Day draws closer, according to Michael Malbin, the executive director of the Campaign Finance Institute.
"You cannot afford to be off the air while your opponent is on the air," he says.
That's where yet another factor comes into play: independent expenditures. Malbin says this cycle has been dominated by money from outside groups, largely committees and super PACs, linked to the parties and their leadership.
Of course, spending a lot on a race doesn't ensure an automatic win. Just look at former Gov. Jeb Bush — he splashed out $130 million on his 2016 presidential campaign and failed miserably.
"Money is not everything, but money is something," Malbin says. "Without it, you lose. With it, you might still lose — but you might win."
The dollars that are not spent are important, too. They'll help set the stage for future campaigns, according to Sarah Bryner, research director at the center. Law dictates that a candidate's leftover money can be transferred into their presidential campaign, becoming a "war chest" of sorts going forward. For instance, the New York Times reports some Democrats have already voiced concerns about the size of O'Rourke's war chest (and the fact that he's not sharing it with other liberal candidates).
"It's not a presidential cycle, but it kind of is. You're going to see some of these people who have an eye on 2020," Bryner adds.
So who is spending the most to hold on to their seat? Money looked at data from the Federal Election Commission to rank senators' spending totals this cycle. Take a look at the numbers and notable fundraising efforts below. (The information is updated through Oct. 17 unless otherwise indicated.)
Ted Cruz, R-Texas
Tasos Katopodis—Getty Images
Total spent: $34,009,305.31
The Texas Senate race is one of the most closely watched matchups in the country, and it just passed the $100 million mark. Cruz has prioritized TV over digital, spending about $5 million on commercials and only $427,000 on Facebook ads since May. Incidentally, his opponent, Rep. Beto O'Rourke, is the biggest ad buyer on the social media network, having spent $5.3 million on Facebook.
Claire McCaskill, D-Mo.
Bill Clark—CQ-Roll Call,Inc./Getty Images
Total spent: $33,594,412.90
McCaskill is running against Josh Hawley, who has spent about a fifth of what she has. Her campaign has paid for about $8.2 million in TV ads since May, according to the Wesleyan Media Project. Also of note: Outside groups have spent more money opposing McCaskill in the Missouri Senate race than in any other state.
Tammy Baldwin, D-Wisc.
Bill Clark—CQ-Roll Call,Inc./Getty Images
Total spent: $27,303,364.27
USA Today reports that Baldwin still has $2 million worth of commercials set to air through Election Day. She's spent almost eight times more than her rival, Leah Vukmir, according to Madison.com — but Vukmir has the crucial support of wealthy GOP donor Richard Uihlein.
Bill Nelson, D-Fla.
Chip Somodevilla—Getty Images
Total spent: $25,482,421.94
The Florida Senate election is another uber-expensive midterm race. According to the center, nearly $160 million has been spent on Nelson's matchup with Gov. Rick Scott, who is largely self-funding his campaign. Nelson has devoted millions of dollars to TV ads, though experts told USA Today in August they worried he waited too long to blanket the airwaves in the Sunshine State.
Sherrod Brown, D-Ohio
Total spent: $22,592,154.91
Brown is hoping to secure his third term in the Senate over Rep. Jim Renacci. According to the Wesleyan Media Project, Brown has only spent about 3% of his ad funds on digital advertising, instead pouring over $6 million into TV. His spokeswoman says the campaign has spent $2 million on digital ads and $14 million on TV. Also, one of his commercials stars his dog, Franklin.
Elizabeth Warren, D-Mass.
Hadley Green for The Washington Post—The Washington Post/Getty Images
Total spent: $20,769,150.05
Although her race isn't considered a close one, Facebook says Warren's campaign has spent over $560,000 on ads since May — ones the Boston Globe reports reached up to to 10 million people in the first few days of October alone. Warren has said she plans to "take a hard look at running for president."
Dianne Feinstein, D-Calif.
Tom Williams—CQ-Roll Call,Inc./Getty Images
Total spent: $18,090,526.14
A five-term senator, Feinstein has invested just over $5 million into her own campaign. She's running against Kevin de Leon, who has spent about $1.3 million. Her team also recently threw a fundraising event where former Vice President Joe Biden spoke, but she did not attend due to the Senate calendar.
Jon Tester, D-Mont.
Chip Somodevilla—Getty Images
Total spent: $17,946,600.61
The Associated Press reports that, at one point in this election cycle, Tester had received more money from lobbyists than anyone else in Congress. Tester's Republican rival, Matt Rosendale, told backers recently that his campaign was functioning "hand to mouth" and had been "outspent by millions of dollars." Tester's other opponent, Libertarian Rick Breckenridge, has not filed any campaign finance documents with the FEC.
Bob Casey Jr., D-Pa.
SOPA Images—LightRocket via Getty Images
Total spent: $16,881,201.24
Casey has been particularly successful in collecting cash from joint-fundraising committees and women — the Morning Call reports that, as of September, nearly 60 percent of his donors were female. He's spent nearly $4 million on TV ads, at least one of which he had to pull after his opponent Lou Barletta slammed its content.
Tim Kaine, D-Va.
Katherine Frey/The Washington Post via Getty Images
Total spent: $16,530,314.56
According to the Washington Post, Kaine has spent $1.6 million placing ads on digital platforms like Spotify, YouTube and Hulu. He's up against Republican Corey Stewart and Libertarian Matt Waters, the latter of whom is running on a "money = freedom" platform. Kaine had much more cash on hand than both candidates heading into October.
Heidi Heitkamp, D-N.D.
Bill Clark—CQ-Roll Call,Inc./Getty Images
Total spent: $16,356,442.65
Heitkamp is one of the banking sector's favorite candidates this cycle, according to Vox, and she's using her money to flood the internet with ads for her campaign against Rep. Kevin Cramer. But one of her TV commercials drew the wrong kind of attention when it identified sexual abuse victims. She also voted "no" on Brett Kavanaugh's confirmation to the Supreme Court, a move that helped her raise $12.5 million in early October.
Debbie Stabenow, D-Mich.
Michael Brochstein/SOPA Images—LightRocket via Getty Images
Total spent: $15,720,981.25
Stabenow spent most of the cycle out-raising opponent John James in her bid to secure a fourth term. But the Detroit News reports that James recently got a surge in donations thanks to the support of President Donald Trump and Vice President Mike Pence. But she's not worried: Stabenow told the News that she feels "very comfortable with where we are in terms of having the resources to run an effective campaign."
Joe Donnelly, D-Ind.
Tom Williams—CQ-Roll Call,Inc./Getty Images
Total spent: $13,872,981.74
The Indiana Senate race pitting Donnelly against Mike Braun saw about $28 million from outside groups in October, among them the Senate Leadership Fund and the National Association of Realtors PAC, according to the Indianapolis Business Journal. Donnelly's team bragged earlier this month that the vast majority of the $3 million in donations he collected in the most recent quarter were under $100. He also produced an ad inspired by Veep.
Dean Heller, R-Nev.
Total spent: $12,538,859.00
Heller has fallen behind Rep. Jacky Rosen, a Democrat the AP reports recently raised three times the sum he did. But Heller has the support of a few pharmaceutical and health companies as well as fans of Trump, a group that gave him $17,000 after the president appeared at a Heller event. Rosen has blasted Heller for accepting money from gun rights organizations like the National Rifle Association.
Kirsten Gillibrand, D-N.Y.
Aaron P. Bernstein—Getty Images
Total spent: $11,789,798.78
Gillibrand has devoted nearly $1 million to Facebook ads but has avoided TV — and touching much of her money. The fact that she's used so few funds has pundits thinking she's preparing for a 2020 presidential bid. Gillibrand has insisted she's planning on staying in the Senate; she told the New York Times she's being frugal because she doesn't think she "need[s] to spend that money in that way right now because of the type of campaign we're running." She's up against Chele Farley.
Bob Menendez, D-N.J.
Michael Brochstein/SOPA Images—LightRocket via Getty Images
Total spent: $11,225,693.91

Pundits raised their eyebrows earlier this month when the Senate Majority PAC launched a $3 million effort to support Menendez in what was viewed as a bailout of sorts. He's pursuing his third term after his corruption case was dismissed in January, and he's battling Bob Hugin, who has self-funded over 90% of his campaign. However, Menendez told NorthJersey.com he knew Hugin was on track to spend more than him, admitting that his campaign wasn't "competitive by any stretch of the imagination in dollar amounts."
Chris Murphy, D-Conn.
Sarah Silbiger/Congressional Quarterly—Getty Images
Total spent: $9,422,996.83
Murphy's first ad centered around his walk across the state rather than his opponent, but since then Republican Matt Corey has seen a boost in donations — largely due to Kavanaugh's confirmation. Even so, Murphy was in such a good position a few weeks ago that he sent over $300,000 to the state Democratic party, according to the AP.
Maria Cantwell, D-Wash.
Bill Clark—CQ-Roll Call,Inc.
Total spent: $8,326,605.23

Cantwell wants a fourth term, and to get it she's raised over $11 million. Her donors include Microsoft, Amazon.com and the University of Washington but not super PACs, which she's avoided since she first ran for Senate nearly two decades ago. In the past, her supporters have included Craigslist founder Craig Newmark and Amazon CEO Jeff Bezos.
Joe Manchin, D-W.V.
Chip Somodevilla—Getty Images
Total spent: $7,781,161.27
Manchin outraised his rival, Patrick Morrisey, in the most recent quarter. He has the support of Goldman Sachs and Capital Group as well as the backing of Democratic donors like Duty and Honor, a nonprofit that gave him $500,000 earlier in the year. He ramped up his advertising in the final weeks.
Amy Klobuchar, D-Minn.
Chip Somodevilla—Getty Images
Total spent: $7,700,359.40
Klobuchar, who famously raised $17,000 from her ex-boyfriends in 2006, has contributors like General Mills and the University of Minnesota on her side. The New York Times reports the possible 2020 contender has been spending on targeted Facebook ads as part of her bid against Republican Jim Newberger.
Tina Smith, D-Minn.
Bill Clark—CQ-Roll Call,Inc./Getty Images
Total spent: $7,308,790.74
Smith filled former Sen. Al Franken's seat after his resignation and now has the support of EMILY's List and Democracy Engine heading into her matchup with Karin Housley. Smith has been fiercely fundraising as the election gets closer, urging her Twitter followers Monday to chip in $8 for the eight days left in the cycle.
Bernie Sanders, I-Vt.
Alex Edelman—Getty Images
Total spent: $7,209,918.36
With support from the University of California, MoveOn.org and the National Association of Letter Carriers, Sanders is almost definitely going to win against Lawrence Zupan. In lieu of worrying about his own race, Sanders has used his highly coveted email list to throw support behind Democratic candidates like Andrew Gillum, who's running for governor in Florida.
Martin Heinrich, D-N.M.
Alex Edelman—Getty Images
Total spent: $7,126,034.69
Heinrich recently reported nearly 3,000 donations from ActBlue to the FEC, according to the Taos News, and many of them came after former Gov. Gary Johnson jumped in the race in August. Heinrich is also up against Mick Rich. The incumbent senator had $1.3 million on hand heading into the final weeks of the election compared to Rich's $116,000.
Roger Wicker, R-Miss.
Total spent: $6,176,711.50
Wicker's top donors include Charter Communications and Berkshire Hathaway. He also has the support of former Bush adviser Karl Rove, who appeared at a $5,000-a-host-couple dinner to raise money for Wicker back in August, according to the Jackson Free Press.
John Barrasso, R-Wyo.
Tom Williams—CQ-Roll Call,Inc./Getty Images
Total spent: $5,603,348.98
Barrasso is popular with Delta Air Lines and out-of-state donors who support his bid for re-election against Gary Trauner. The Casper Star-Tribune points out that he recently gave the National Republican Senate Committee $500,000, which may be an indication he feels he'll win.
Sheldon Whitehouse, D-R.I.
Bill Clark—CQ-Roll Call,Inc./Getty Images
Total spent: $5,312,657.94
Whitehouse announced this summer that he would no longer accept corporate PAC money, but he has still out-raised Republican rival Bob Flanders. Flanders, though, released a commercial calling Whitehouse "kind of a doofus."
Deb Fischer, R-Neb.
Bill Clark—CQ-Roll Call,Inc./Getty Images
Total spent: $5,063,996.52
Fischer opponent Jane Raybould has hit the incumbent for taking super PAC money, even creating a website that brands her a "senator for sale" who's "available for purchase by special interests." But Fischer, who has spent more than Raybould, has a 93% chance of winning.
Angus King, I-Maine
Tom Williams—CQ-Roll Call, Inc./Getty Images
Total spent: $4,464,581.36
King is not in danger of losing his seat, but he's taking the election seriously: The Portland Press Herald reports his campaign spent over $500,000 on mailers and digital ads in the first part of October.
Tom Carper, D-Del.
Michael Brochstein/SOPA Images—LightRocket via Getty Images
Total spent: $4,295,685.94

Carper spent big on his primary in hopes of securing a fourth term. Now he faces attack ads from groups like the Patients for Affordable Drugs, which told the Intercept it was splashing out over $8 million on midterm matchups. In one such commercial, the group put Carper's face on a mock Monopoly game titled "Drugopoly."
Ben Cardin, D-Md.
Leigh Vogel—Getty Images for Procter & Gamble
Total spent: $3,906,863.53
Cardin's campaign took money from Lockheed Martin and Blue Cross/Blue Shield. He also out-raised his opponents, Tony Campbell and Neal Simon.
Mazie Hirono, D-Hawaii
J Scott Applewhite—AP/REX/Shutterstock
Total spent: $3,329,663.43
Hirono is yet another campaign that benefited from the Kavanaugh hearings, according to the Honolulu Civil Beat. Heading into the final days of the cycle, her team had about $1.5 million on hand.
Cindy Hyde-Smith, R-Miss.
Total spent: $2,194,121.87
Hyde-Smith is up against the Robert Mercer-backed candidate Chris McDaniel, but she has ex-Facebook president Sean Parker on her side. She declined to debate McDaniel because she didn't want to give him free publicity.
This story has been updated to include information from Sherrod Brown's spokeswoman.