Amazon Has a Huge Halloween Candy Sale Right Now On the Name Brands Trick-or-Treaters Love Most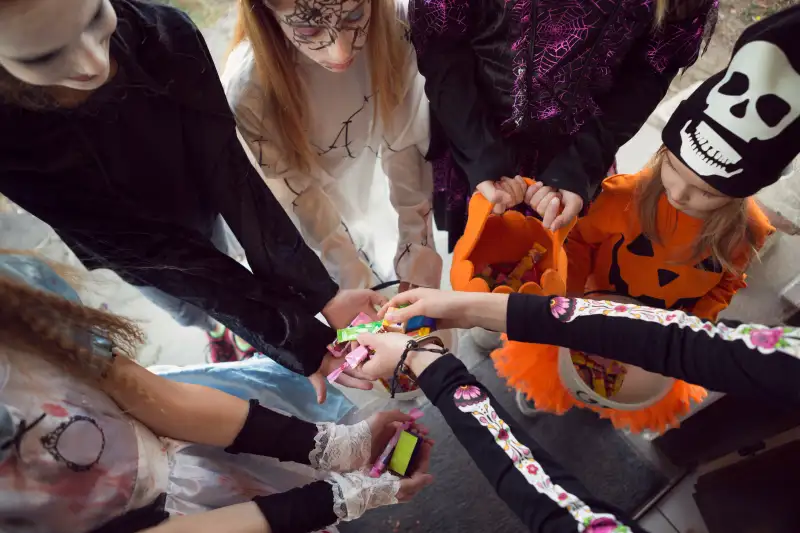 Elva Etienne—Getty Images
Sure, it's easy to find Halloween candy sales — on the day after Halloween. But you don't have to wait until November 1 to snag awesome Halloween candy deals.
Today only, Amazon is knocking down prices on a whole slew of name-brand Halloween candy. That's right, the good stuff, including popular candy brands like KitKats, Hershey chocolate bars, Twizzlers, Reese's peanut butter cups, Jolly Ranchers, Whoppers, and more.
Bear in mind that when it comes to Halloween candy deals, you've got to take Amazon's discounts with a grain of salt. As with so many other Amazon deals, the candy prices may indeed be quite cheap, but the slash-through "regular" prices stated by Amazon tend to be wildly inflated in order to make the discounts seem more impressive.
For instance, take this spooky-cool Addams Family Skull filled with mini Hershey bars and peanut butter cups. It's on sale today at Amazon for $14.66, and that's a better price than the roughly $20 you'd pay at either Walmart or Target. But there's literally no way any red-blooded American shopper, no matter how chocolate-crazed, would drop the $30.99 listed as Amazon's "regular" price for this candy bundle. We have no idea where Amazon comes up with such lists prices, and they seem wholly unrealistic for the marketplace.
All of these sweet treats below are listed as Amazon "Deals of the Day," which means if you want to score this loot, you should order it right now. The prices are valid for one day only, and sometimes become unavailable sooner if they sell out. And really, these prices are so low that we won't blame you if you stock up on a little extra for your own noshing. After all, if you've got your own stash, you'll be less tempted to pilfer your kid's haul.
This adorable pumpkin bowl is overflowing with chocolatey and fruity miniatures — and you can save the bowl to reuse it for future Halloweens. When we checked today, the price for this same item online at Walmart was $19.54.
The "dark" in the name doesn't refer to the type of chocolate — these are the same peanut butter cups, Hershey bars and Kit-Kats you know and love — but to the cool glow-in-the-dark wrappers that make this the perfect trick-or-treat giveaway.
You know how everybody loves that one house that goes all-out and gives away full-sized bars of Halloween candy? Yeah, you know what we're talking about. Be that house.
We tend to think of Halloween candy in terms of chocolate (with peanut butter as a supporting actor), but if you prefer fruity and tangy treats, this pack delivers the (watermelon, cherry, strawberry) goods.
Your whole neighborhood will know that your devotion to peanut butter knows no bounds with this nommable combo of regular and white chocolate Reese's cups, Reese's pieces and sticks.
Going for quantity? This nearly seven-pound mix of Halloween candy has you covered, with an assortment that includes Bubble Yum, Jolly Ranchers and other tangy fruit flavors along with the usual chocolate suspects. How good is this candy deal from Amazon? For what it's worth, we spotted the same 400-piece package for $23.98 at Walmart.com.
This is roughly 200 red Twizzler twists, which is a great deal, but are red Twizzlers really Halloween candy? Really? We leave you, readers, to debate this candy conundrum.
We've included affiliate links into this article. Click here to learn what those are.