Amazon Has Some Secret Sections That Are a Dream for Bargain Hunters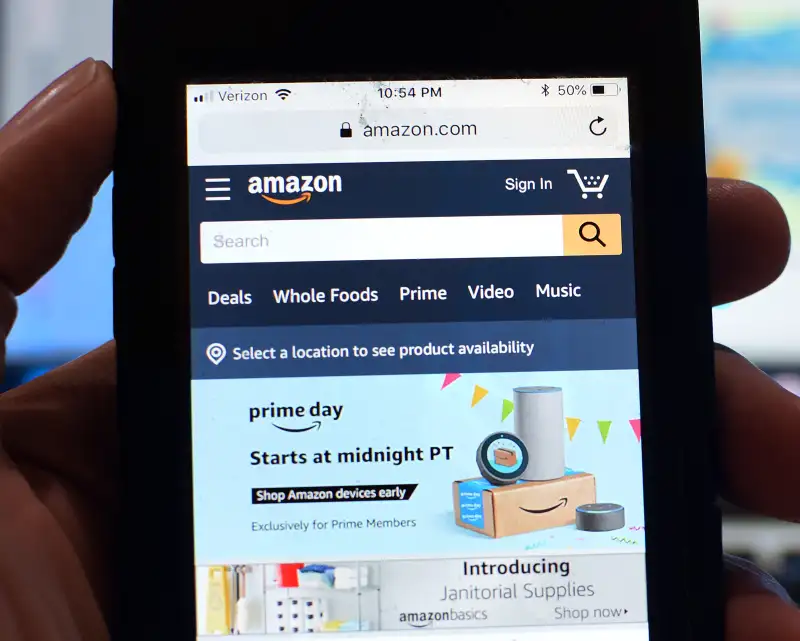 NurPhoto—NurPhoto via Getty Images
E-commerce behemoth Amazon built its reputation on aggressive pricing, and low prices are a core part of its branding and business model.
But while the everyday Amazon deals can be good, there are a few sections within the site's sprawling platform where you can uncover even deeper discounts. Here's a rundown of three big ways to save at Amazon, along with some current deals we found in these under-the-radar sections. And down below, take a gander at the tips and tricks we've picked up shopping these parts of the Amazon retail universe.
Amazon Warehouse is a kind of clearinghouse that primarily deals in used and/or refurbished goods. If you don't need the newest gadget or tons of bells and whistles, this might be a great place to hit for your next smartphone or voice-activated speaker. (It's also a good place to get a cheap phone for your kid if they're in the habit of dropping or losing them.)
What kinds of deals are in Amazon Warehouse? When we looked, the popular Ring motion-activated smart doorbell was $30 off — $169 instead of $199.
Or, for another example, you could get an Alexa-compatible refurbished Roomba robot vacuum for just over $200 (via third-party seller), compared to $279 regularly.
The Bargain Finds section of Amazon.com is the place where you can find lots of crazy-cheap, often quite random products. For instance, you could score a five-pack of these popular Japanese-inspired wooden utensil sets for roughly $18 (including 99-cent shipping).
Or snag this wireless mouse that has a nearly 21,000 (seriously!) glowing reviews for just $9.99. (If you want to go for broke and pay an extra $1.50, you can pick from a slew of different colors.)
Think of the Amazon Outlet section as sort of like Overstock.com — it's full of closeout inventory and the like that you can often scoop up for rock-bottom prices. Among the deals we spotted there was a two-pack of "tactical" vests for kids' Nerf gun battles priced at just $12.15.
Prefer quiet time instead? These remote-operated LED lights for your patio umbrella come in at under $10 — way cheaper than we've seen them anywhere else.
Amazon Deal Savings Tips

No matter what part of Amazon you're browsing for deals, keep these shopping tips in mind so you can make smart purchases.
•Pay attention to shipping terms. We've noticed this most in the Bargain Finds section; sometimes that "cheap" price becomes less attractive once you realize the seller has tacked hefty shipping charges. Likewise, shipping times are all over the map — and are sometimes you won't get delivery until weeks in the future.
•Read the fine print. The photo may depict multiples of an item, but read the listing carefully. Some customers have left disappointed reviews upon receiving only a single item (which also can make your buy way less of a deal).
•Read the fine print (again). Think of these platforms as virtual flea markets. If someone was selling "Roolex" watches on the street corner for $20, would you buy one? Same idea here. We ran across some items that were clearly dupes of well-known brands, and we spotted at least one scarf with the word "cashmere" in the title that revealed itself to be 100% polyester about four paragraphs down in the listing text.
•Don't expect name brands. Name brands are a rarity in both Bargain Finds and Outlet, although we did spot this Craftsman 22-piece drill bit kit for less than $8 and an Anker lightning charging cord for roughly $7.
•If you want it, jump on it. Many of these deals, especially in the Outlet section, are fleeting. There's a limited quantity of inventory, so when it's gone, it's gone.
•Let reviews be your guide. If something seems too good (or too cheap) to be true, the user reviews can be a good way to suss out the deals from the duds. Check not only the star ranking, but how many people have weighed in. We'd rather see 5,000 reviews and a four-star ranking than a five-star ranking with only a dozen reviews. Hundreds or thousands of reviews make it less likely that you're dealing with an unscrupulous seller who goosed their ranking by unethical or prohibited methods.
We've included affiliate links into this article. Click here to learn what those are.