This Man's Side Hustle Came With an Unexpected Bonus — He Lost 30 Pounds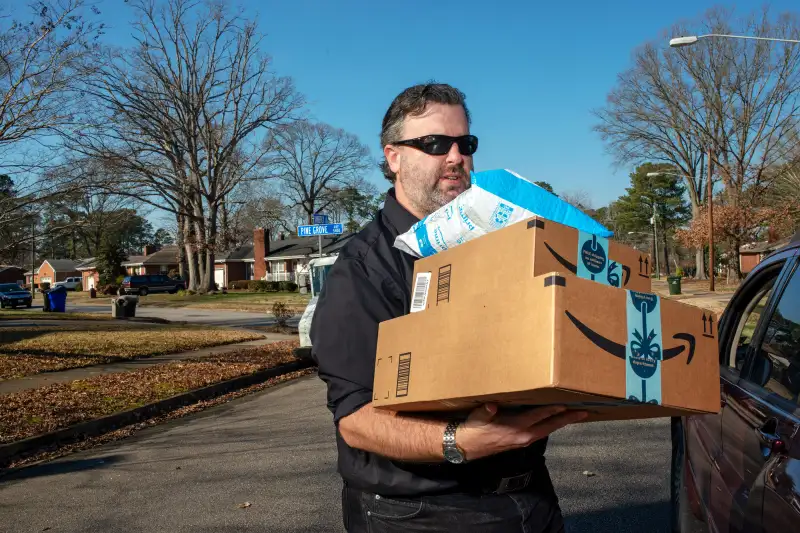 Swipe, drive, pack, hide, repeat.
That's Joel Manzer's daily checklist — and the key to his livelihood.
The 44-year-old Virginian follows the routine dozens of times a day as a driver for Amazon Flex, a delivery service that pays ordinary people to distribute packages. As an independent contractor, working for Flex gives Manzer a lot of freedom: He sets his own schedule, uses his own car and controls his own profits.
But he's got to do it right. Swipe to claim shifts, drive to the delivery centers, pack the car full of boxes, hide the packages at each house, and repeat until finished. Each step is crucial because Flex is cutthroat. There's a huge pool of people vying for a limited number of routes, which pay $18 to $25 an hour.
"You're in competition with each other," Manzer says. "You're fighting for it every morning."
And that's not the only challenge. Flex drivers have to deal with porch pirates, bad weather, bathroom breaks, hackers and the volatility of Amazon. When Manzer gets in the car, he may know what he's doing — swiping, driving, packing, hiding and repeating — but he never knows quite what's coming.
"It's a bit of a Wild West scenario," Manzer says. "It's like, where am I going today?"
Blocks, Boxes and Bills
As you can probably infer from the increasingly dramatic headlines about Jeff Bezos' growing wealth, online shopping has never been bigger. Amazon recently announced that net sales passed $232 billion in 2018, an increase of 31% from the year before.
UPS, FedEx and the postal service can't handle all those packages, so Amazon created Flex. It relieves some of the pressure on third-party delivery services and allows the company to retain more power over its deliveries. It's not just late-night impulse buys: Flex also covers orders from AmazonFresh, Prime Now, stores like Whole Foods and some restaurants.
Manzer joined Flex when he found himself between jobs last year. The founder of a marketing company for nonprofits, he says Flex provides an opportunity "to pay the bills" while he works on passion projects and cares for his autistic teenager.
In order to apply for Flex, a person has to be 21, have a smartphone and drive a vehicle that can fit several packages. Drivers pass a background check and watch a series of training videos and then are "thrown into the fire," as Manzer puts it.
From there, they mostly learn on the job. The first hurdle? Getting shifts, or blocks, in the Flex app. Each block comes with an offer price attached, but drivers can't spend too long mulling it over — they're assigned on a first-come-first-served basis.
"Blocks go by so fast," Manzer says. "They'll drop 200 [blocks], and they'll be gone in two seconds."
It can be so difficult to claim a block that some drivers have created apps and clicker machines that automatically select shifts. But if a person gets caught cheating, they could be deactivated by Flex and shunned by their peers.
When Flexing Gets Fun
By comparison, the driving itself is easy. In fact, Manzer has it down to a science.
Once a week, he checks the oil, lights and tires on his Mitsubishi Endeavor, which he leaves equipped with a flashlight and a bright vest for nighttime deliveries. Before each block, he puts down the seats in the car, eats and limits his fluid intake. While delivering, he always looks for a column or bush to place packages behind so they don't get stolen.
"The delivery part is fun," he adds. "You get to drive around your area, learn about your neighborhoods, [and] sometimes you get to meet customers."
Manzer spends between 20 and 30 hours a week Flexing, though it varies depending on weather. He can usually complete a five-hour block in three and a half hours. His car can fit about 60 packages if he organizes it right.
It's hard to pinpoint how much money that actually translates to. Amazon says Flex drivers earn between $18 and $25 an hour, but because they're contractors, they're responsible for expenses like gas and vehicle maintenance. Offer prices also fluctuate based on supply and demand.
"Flexing is best used if it's a part-time gig," Manzer says. "If you need an extra couple hundred bucks a week, it's great, but if you're trying to do it full time, you'll need to plan things out."
This can be especially difficult because Flexers operate in a gray area. They don't work at Amazon warehouses or get benefits, and they're not Delivery Service Partners in official vans. They can't answer questions or troubleshoot.
They can only hand off boxes.
"Flex drivers, we're doing this for the money," Manzer says. "Are we there as customer service agents? No, because we're not Amazon. We're Amazon Flex. It's a different program."
Making Friends and Slimming Down
Despite its faults, Flex has proven to be a reliable way for Manzer to make money. He especially likes the community of Flex drivers, many of whom talk on the phone while driving, crowd-source car problems and share advice about Amazon.
"Flex drivers become good friends," Manzer adds. "We help each other out. We're trying to make sure everybody can fulfill their obligations."
Flex drivers also congregate online in Facebook groups, where they share screenshots of blocks, funny photos from their routes and tips for tracking mileage. But there's an undercurrent of uncertainty, too, in people's questions about why shifts are vanishing, why some facilities have closed and why there are waitlists to join Flex.
Despite this, Manzer says he doesn't think Flex will disappear anytime soon. The unpredictability is just "the nature of the game."
Besides, for now, the gig is working for him.
In addition to money, companionship and freedom, Manzer has discovered a lesser-known perk of Flexing: exercise. He's shed about 30 pounds thanks to the unique side hustle.
"When you work a desk job in logistics for a decade, you start putting on pounds," Manzer says. "[Flex] gets me out of the house."