The Real Reason Amazon Is Eliminating Inflated List Prices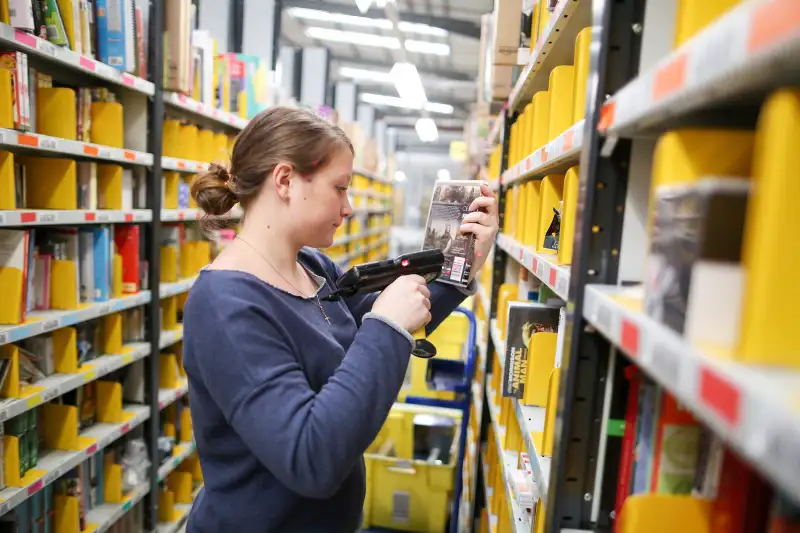 Chris Ratcliffe—Bloomberg via Getty Images
Many shoppers think list prices are often so inflated that they're meaningless. Now, as the New York Times reported this weekend, it appears as if the world's largest e-retailer is inclined to agree—with a new policy that could simultaneously (and conveniently) decrease shopper confusion and increase profits.
Amazon.com began winning over shoppers two decades ago by offering deep discounts on products' list prices, which might also be shown as "original prices," or "manufacturer's suggested retail prices." But lately, the site has been eliminating any mention of such prices altogether, so that only one (final) price is shown to customers.
For previous stories about online pricing, the Times gathered a roundup of 47 random products sold on Amazon. In a recent check on these products, 39 of them no longer had list prices shown on the site. Other studies have also indicated that list prices are being phased out at Amazon. In some cases, Amazon is instead subbing in a comparison for the previous price listed at Amazon itself, rather than some list price cooked up by a manufacturer.
On the one hand, Amazon's move—which, like most things at Amazon, hasn't been officially confirmed or acknowledged by the company—is a confirmation of how meaningless and potentially misleading list prices can be. Back in 2010, J.C. Penney admitted that less than 1% of its items were sold at full price. After a failed attempt to eliminate fake pricing and nonstop sales, J.C. Penney reverted to the deep discounting strategy that's standard across the industry.
Read Next: Amazon Prime Day 2016 Is Confirmed for July 12. Here's What to Expect
Yet when things are always on sale, it's impossible for shoppers to tell if anything is on sale—or if anything is truly a good deal. Consumers have grown so frustrated with store pricing that they've sued retailers like Macy's, Jos. A. Bank, and J.C. Penney for listing fraudulent original prices that no one ever paid.
Quite obviously, showing items with misleading, inflated list prices is a sales pitch meant to manipulate shoppers. The concept is called "price anchoring," and it works by providing the shopper with an idea of the value of an item. Once some semblance of an item's value is anchored in place, the retailer can create a sense of urgency to purchase it by offering discounts that seem quite impressive compared to that original or list price.
If that original price is so heavily inflated that it's meaningless, however, the discounted comparison to that original price is also meaningless. So, in a way, Amazon's decision to eliminate many list prices is refreshing.
On the other hand, it's pretty obvious Amazon isn't taking this step to ensure that customers are informed and are getting the best value for their shopping dollars. Over the years, as Amazon transitioned from retail disruptor to the industry's 800-pound gorilla, it has pursued a comprehensive strategy to aggressively recruit customers into its sphere and then make shopping so easy that people effectively turn off their brains and don't notice that prices are no longer cheap. More than anything, Amazon wants consumers to be members of the $99-per-year Amazon Prime program, because Prime subscribers shop with Amazon far more than non-subscribers; they're far less likely to do price comparisons with other sites, or to be price sensitive on purchases.
Prime subscribers are also very likely to be wealthy. All in all, Amazon has attracted an ideal client base—one that's got money to burn, and that is so content with the service it doesn't care, or even notice, when competing retailers offer lower prices.
Read Next: Amazon Quietly Scraps Price Match Refunds
"When Amazon began 21 years ago, the strategy was to lose on every sale but make it up on volume," Larry Compeau, a Clarkson University professor of consumer studies, explained to the New York Times. "It was building for the future, and the future has arrived. Amazon doesn't have to seduce customers with a deal because they're going to buy anyway."
List prices may indeed be meaningless. But that's probably not the reason Amazon is getting rid of them. Or not the only reason anyway. Instead, after first establishing itself as the place shoppers should turn to for nearly every purchase, Amazon is now pushing the idea that shoppers should make their purchases at the site at whatever price is there.
Amazon will still use periodic flash sales and deep discounting to boost purchases—the second annual Amazon Prime Day sales event is happening on July 12—but what the company really hopes is that shoppers keep turning to the site for everyday purchases, regardless of whether the prices are discounted at all.