Why People Aren't Using Their Amazon Dash Buttons to Buy Stuff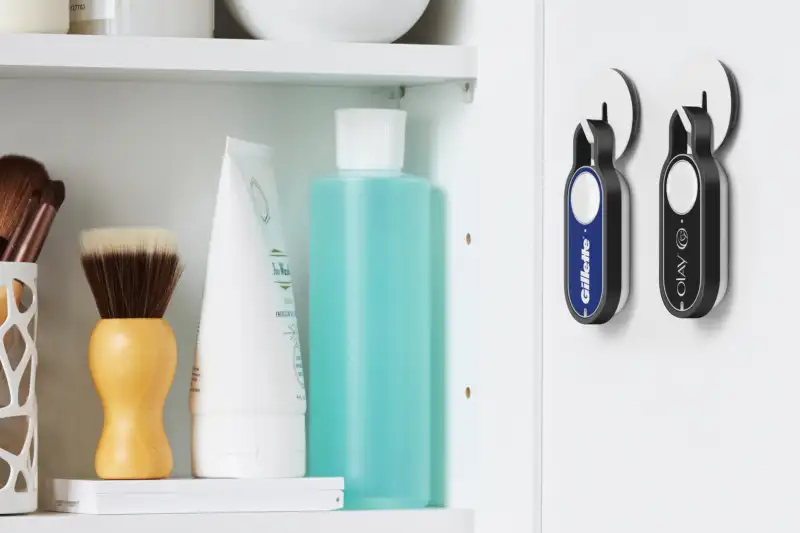 When Amazon unveiled the Amazon Dash program on April 1, 2015, roughly equal numbers of people thought it was either a joke or the future of shopping. We now know that the program, which allows shoppers to buy specific branded items with the simple tap of a button, was no April Fool's gag. A year after it was launched, offering on-demand household staples like laundry detergent and diapers with convenient one-touch shopping, Amazon Dash expanded to include "essentials" like Doritos and Trojan condoms.
Whether or not Amazon Dash will be the future of shopping, however, is very much up for debate. The Wall Street Journal reports this week that while Amazon Dash continues to expand by adding more brands and products to the long list of items that can be ordered via buttons installed in the homes of Amazon Prime members, it turns out that most customers with Dash buttons rarely or never use them to buy stuff.
The Journal points to data from the market research firm Slice Intelligence, which shows that fewer than half of the customers with Dash buttons have placed a single order via the one-touch shopping system. Each Dash button costs $4.99, but customers get a $4.99 credit on the first order made with each button. So it's essentially free once you place an order with one of the buttons. Even so, apparently the majority of customers with Dash buttons never get their $4.99 credit because they never use them.
And why don't they use them? Well, Amazon's over-arching business model has been the removal of any friction in the shopping experience. It began by promising the lowest prices—specifically, on books—and has expanded its selection to the point it's now known as the "Everything Store." Consumers grew accustomed to Amazon having the cheapest prices on everything, and the broad push to boost Amazon Prime subscriptions made it easier than ever to shop at Amazon without bothering to shop around: Once you pay your $99 annual membership fee, you know that two-day shipping is free for most Amazon purchases, hence the reason that Prime members spend so much more at Amazon.
Read Next: Amazon Will Host Another Prime Day This Summer, But It Won't Say When
Amazon Dash would seem like the ultimate in convenience for shoppers. But there's a crucial part of the Amazon shopping experience that's missing with Dash buttons. Remember, the reason most people became Amazon shoppers in the first place is that it had the best prices. In many cases the prices for products ordered via Dash buttons, on the other hand, are poor values.
The Journal points to one Amazon customer with a Dash button for Gatorade. She made one purchase of a 12-pack with the button for $9, but never placed another because the second time around the price for the same product leaped to $22. What's particularly frustrating to shoppers is that the Dash buttons don't display prices or order information—customers must go online or wait for text messages after ordering to find these details. "If I have to check on the price every time," she said, "it's not actually saving me time."
Obviously, a system that saves the shopper neither time nor money is unlikely to be the future of shopping.
A Fast Company reporter who ordered Dash buttons to install all over his house wrote last summer that in his experience, it was almost always more cost-effective for him to order normally through regular old Amazon, rather than having to cope with the limited selection allowed by the Dash program:
It's been argued that shopping tech like Amazon Dash makes us stupid, turning off the portion of our brains focused on getting a good bang for the buck, and even for considering whether one needs to purchase a product at all. But based on how few Dash button owners are apparently using them to make purchases, shoppers are not stupid. They are not foolish enough to fall for overpaying just for the novelty and slight convenience of one-tap buying.
Read Next: The Reason You First Started Shopping at Amazon Is Disappearing
Amazon has succeeded through the years by offering terrific convenience, service, selection, and price. It's done right by shoppers in so many ways that it's easy for customers—wealthy, educated Prime subscribers in particular—to be lulled into knee-jerk Amazon shopping, regardless of whether Amazon truly has the absolute lowest prices. (In fact, increasingly, Amazon gets beat on prices by a variety of competitors.)
For Dash to be successful, though, Amazon needs shoppers to not think about much of anything beyond "Need More Doritos" or "Need More Condoms." Amazon needs shoppers to turn off their brains and focus solely on convenience, with little or no regard for price or value.
But Amazon became a giant in retail by making it easier than ever for consumers to shop around for the best value. The site's existence helped train shoppers to expect the best prices. So in a way it seems hard to believe Amazon Dash as it now operates will be the future of shopping. Amazon itself helped teach shoppers to not be that stupid.