You Can Now Hit a Button to Order Doritos, Red Bull, and Trojan Condoms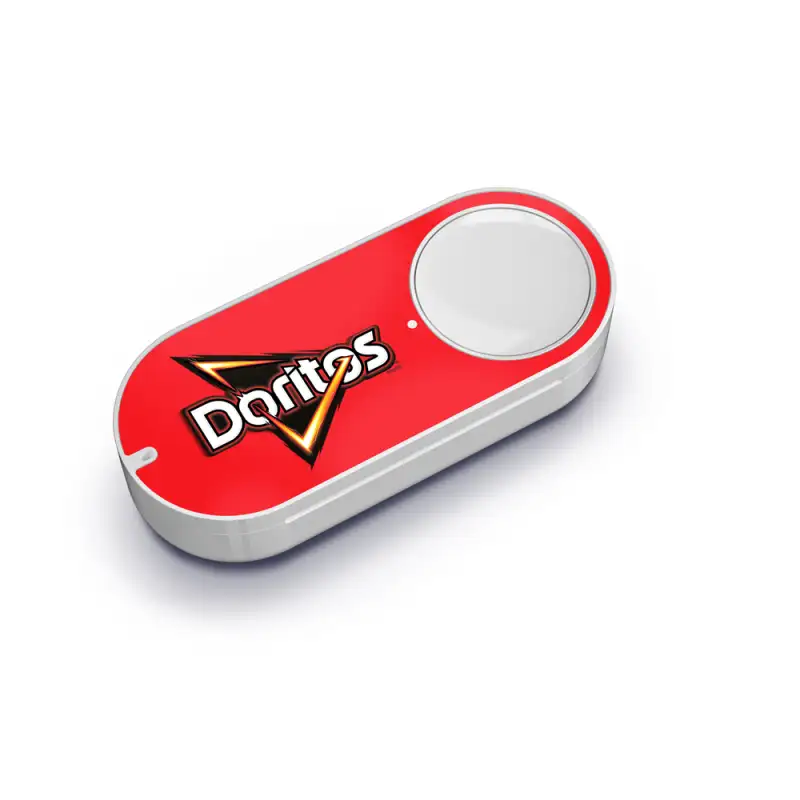 Until recently, Amazon Dash was useful for a fairly limited selection of purchases. Amazon Dash, for those who don't know, is an automated ordering system that Amazon users install in their homes. Your press a button and presto! an order for a specified good is placed automatically via Amazon. In marketing materials, the company's main example was a Tide Dash button, which could be slapped on your washing machine and tapped whenever the time arose to reorder laundry detergent.
Today, Amazon added 78 buttons to its lineup of brand-specific Dash buttons, giving consumers the option of getting even more products ordered with the tap of a finger. The buttons work on your WiFi network and trigger a standard order whenever you're running low on something. Among the new brands added to the Dash button selection are Burt's Bees, Charmin, Dasani, Doritos, Honest Tea, OxiClean, Red Bull, Slim Jim, and Trojan.
Although the buttons listed cost $4.99 each, people who buy them get an automatic $4.99 credit to their Amazon account for stuff each button orders. So they're essentially free if you want to participate in this system.
Here's the complete new list of what you can buy on the fly. It's pretty ideal, especially for a college dorm room (so long as a parent is footing the bill!).
Ageless La Cure
Air Wick
Airborne
all Laundry Detergent
Angel Soft
Aquaphor
Arm & Hammer Cat Litter
Blue Sky
Brawny
Brita
Burt's Bees
Caleb's Kola
Carefree Feminine Liners
Charmin
Clorox
Dasani
David Sunflower Seeds
Derwent
Doritos
Downy
Eagle Pack
Energizer
Gain
Garnier SkinActive
Green Works
Hansen's Soda
Holistic Select
Honest Kids
Honest Tea
Hunt's Tomatoes
Illy Bottled Coffee
Illy Coffee
Jolie Paris
La Roche-Posay
L'il Critters Vitamins
Litter Genie
L'Oréal Paris Revitalift
Lysol
MegaRed
Milk Baby by Milk & Co
Milk by Klim by Milk & Co (men's line)
Move Free Joint Health
Mucinex
Nature Valley
Near East
O.N.E. Coconut Water
Ocean Spray PACt
Old Mother Hubbard
Orville Redenbacher's Gourmet Popping Corn
OxiClean
Peet's Coffee
Playtex Sport Tampons
Pure Leaf Iced Tea
Purina Beyond
Quaker
Quartet
Quest Nutrition
Rayovac
Red Bull
Rid-X Septic Treatment
Schick Men's Razors
Schick Women's Razors
Schiff Glucosamine
Seventh Generation
Slim Jim
Snuggle
Solid Gold Pet Food
Stacy's Pita Chips
Starbucks Doubleshot Coffee
Stayfree Feminine Pads
Trojan
Vanity Fair Napkins
Vichy
vitafusion
Vitamin Water
Wilson Jones
Wisk Deep Clean Laundry Detergent
ZICO Pure Coconut Water

And the old ones for good measure:
Amazon Elements
Bounty
Clorox wipes
Cottonelle
Depend
Digestive Advantage Probiotic Supplements
Dixie tableware products
Finish Dishwashing Detergent
Gatorade
Gerber Formula
Gillette
Glad trash bags
Greenies
Hefty Trash and Storage Bags
Huggies
IceBreakers
Izze
Kraft Mac & Cheese
Lärabar
Maxwell House
Mrs. Meyer's Clean Day
Olay
Orbit Gum
Optimum Nutrition Gold Standard 100% Whey Protein
Smartwater
Tide
Wellness pet food
Ziploc