Most Americans Still Trust Banks Despite Recent Collapses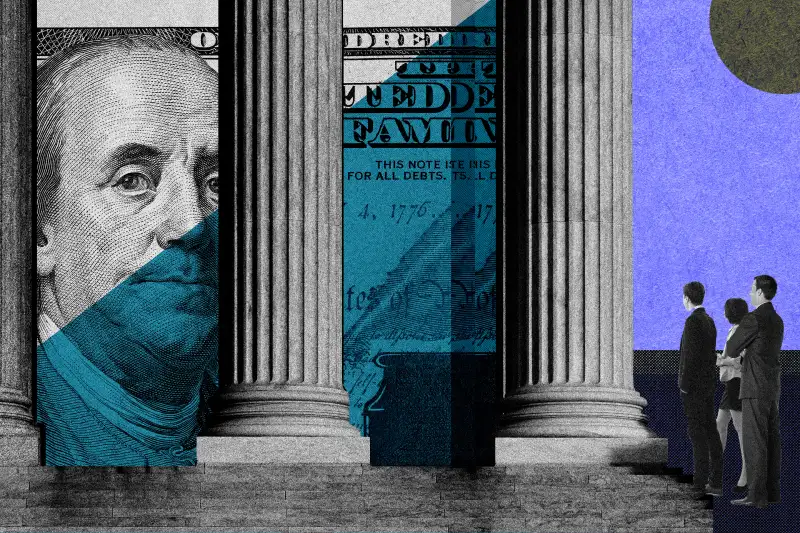 Eddie Lee / Money; Getty Images
The collapses of three major U.S. banks this month shook the nation — but not Americans' confidence that their money is safe, according to a new poll.
Research firm Morning Consult surveyed U.S. adults about whether they still trust banks and found that the majority said they weren't worried about the security of their money following the failure of Silicon Valley Bank, Silvergate and Signature Bank. However, Americans reported trusting some types of financial institutions more than others.
What the survey says
Americans' belief in banks is still steady despite the news of closures: Some 70% said they trust U.S. banks to "do what is right," up from 66% who answered the same last month (before the bank closures).
When it comes to other types of financial institutions, only 44% of Americans overall said they trust digital banks, while 69% said they trust credit unions.
About 1 in 3 respondents reported being "very confident" about their bank's ability to give them all their funds upon request. Only 5% said they have no confidence.
People with incomes over $100,000 and older adults were more likely to say they trust banks than younger adults who earned less.
Customers of regional banks had the highest trust levels, followed by customers of national banks, community banks and credit unions, in that order. Digital bank customers were the least trusting.
Keep in mind
Despite Americans reporting high levels of trust in general, the survey also found that 1 in 5 adults with bank accounts has withdrawn some or all of their money and put it elsewhere, like a home or a safe, due to recent events. Fifteen percent took all or some of their money to another bank or credit union.
That's consistent with reports that Bank of America and other national institution are seeing billions in new deposits following the trio of bank failures.
Changing banks is normal — Morning Consult data shows that between 8% and 10% of customers open and close accounts every month. But now, cryptocurrency owners are primarily the ones driving the trend in people taking their money outside financial institutions.
"The share of consumers moving specifically because of SVB's collapse is not alarming, but the share of adults withdrawing their money from banks is certainly surprising," Charlotte Principato, Morning Consult's financial services analyst, said in a new release.
More from Money:
'A Whole New Level of Uncertainty': How the Silicon Valley Bank Collapse Could Affect Mortgage Rates
Nearly Half of Home Sellers Are Now Giving Concessions to Buyers to Close the Sale