Sorry, iPhone Fans, Surveys Say Apple's Not That Cool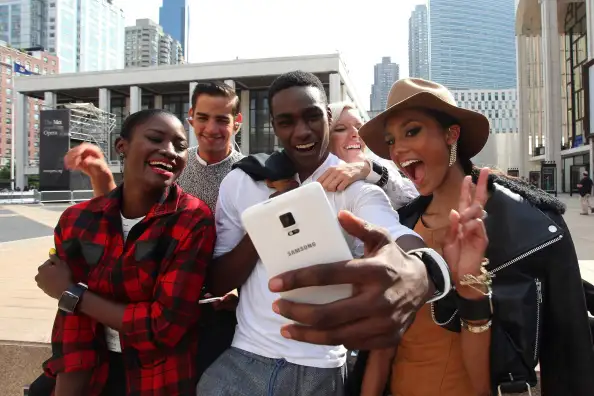 Donald Bowers—Getty Images for Samsung
For the most part, reviews of the iPhone 6 glow with praise. Pre-orders of the new iPhones shot through the roof. Stories from around the globe on Friday showed lines stretching for blocks outside Apple Stores, filled with shoppers willing to brave cold temperatures, monotony, and discomfort just so that they could hand money over to Apple and the wireless provider of their choosing.
In light of the extent to which fans are going to score the new iPhone, Apple must universally be regarded as the coolest consumer tech brand on the planet, right? Well, maybe not.
The results of a new Reuters/Ipsos poll actually give the coolness edge to Android over Apple. Survey respondents typically come to that conclusion because of the perception that brands like Samsung (which uses Android as its operating system) have taken the lead in innovation, especially in terms of larger smartphone size. Lately, Samsung has been mocking Apple in ads, accusing the iPhone maker of playing catch-up and basically imitating larger "phablet" gadgets that it brought to the market a couple of years ago. In the Reuters survey, more people were of the opinion that Apple has grown less cool than Android over the last two years (16% versus 11%). And while 50% of respondents said Android had grown cooler over the past two years, a slightly smaller percentage (48%) indicated Apple increased its cool factor.
Earlier this year, a brand preference study from ConsumerMetrix rated Samsung as the top tech brand among consumers. Apple was rated fifth (after Sony, Microsoft, and HP, believe it or not), and researchers noted that ratings fell in particular among its "core affluent and younger demographics," and that the "weak performance may be attributed to its relative lack of new product introductions."
Bear in mind that the ConsumerMetrix study was obviously conducted before Apple introduced the iPhone 6 and the Apple Watch, that survey participants were from the U.S. and Europe, and that Android has a far bigger share of the market in Europe than it does in America. By the summer of 2013, nearly half of all smartphones sold in Europe were Samsungs.
The question arises as to which came first: Have people been buying Samsungs and other Android devices because they think they're cooler and more innovative than Apple? Or are they saying that Samsung is cooler simply because that's their brand of device, and they want to feel like they made the cool choice?
In yet another survey, this one conducted on the behalf of Chegg, the discount college textbook sales and rental site, around the time of Apple's unveiling of its new devices, American high school and college students seem to have concluded that "Apple is losing its cool factor among its technology contemporaries." When asked what tech brands were "cool," more students felt that the word applied to Amazon (72%) and Google (71%) than Apple (64%). Three out of ten students decreed that Apple is "smug," more than half (55%) felt that Apple's new phones are "more style than substance," and one quarter agree with the idea that Apple may have lost its edge.
What's especially interesting about the Chegg study, which originally had a headline suggesting that "Apple [Is] Losing Its Cool," was that it was quickly undercut by the folks who published it (supposedly by mistake). The results are no longer to be found among Chegg's press releases. Why? Chegg admitted that the headline didn't really match the results, especially data showing that 36% of students would "probably" or "definitely" be buying the new iPhone. "A third of students saying they're definitely or probably going to buy the phone to me didn't jibe with Apple losing its cool," Chegg's Usher Lieberman explained to Investors Business Daily. "What should have been the headline is that a third of students are planning on buying the phone."
That's the headline that truly matters to Apple as well. It doesn't really matter if some people think that Apple is uncool or is somehow losing its edge. Money and action speak louder than words and opinions, and clearly Apple devices are cool enough to make fans wait in lines for days and pay astronomical prices just to get their hands on the new iPhones. Apple's gotta consider that behavior to be very, very cool.