Under Armour Wants You to Wear 'Avengers' Underwear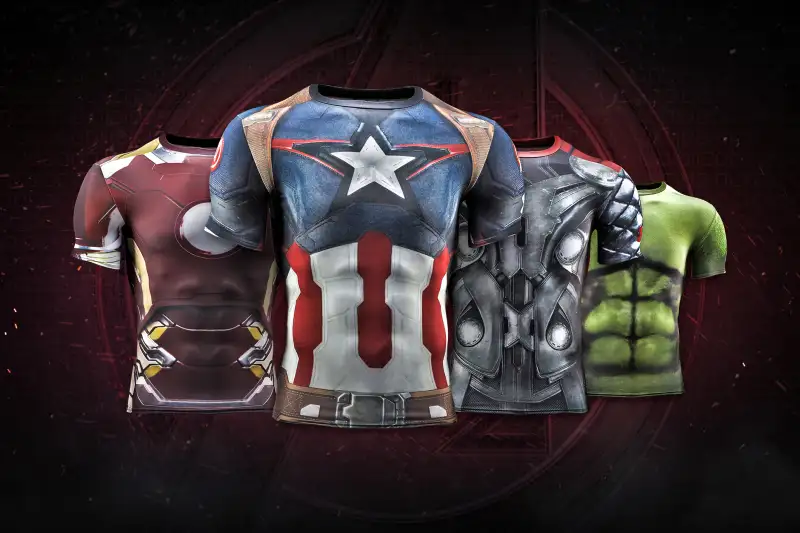 At long last, it appears to be acceptable for grown men to wear Underoos. That's essentially what Under Armour's new Alter Ego line of Avengers-theme shirts and leggings is, isn't it?
The product line includes polyester T-shirts, as well as skin-tight "compression" shirts and leggings that make the wearer resemble superheroes such as Iron Man, Hulk, Captain America, and others from the new film Avengers: Age of Ultron. The first Alter Ego products from Under Armour were released in 2013 featuring Super Man and Batman gear, and a new roster of items has been timed to coincide with the latest Avengers movie hitting theaters on May 1. The options include a $59.99 shirt that makes you look like the Hulk, complete with faux six-pack abs, and unlike the original Underoos for kids, Alter Ego gear is made in adult sizes and is intended for the world to see rather than serving as mere undergarments.
Avengers' costume designers actually worked with Under Armour for the new film, and in what seems to be some brilliant product placement the company's "tactical gear" is worn by superheroes in the movie. If a shirt is good enough for Captain America, Thor, and Tony Stark, after all, it must be more than adequate for your workout at the gym, right? Here's a little about how Under Armour was incorporated into Age of Ultron:
The partnership with the surefire blockbuster hit movie is the latest in an incredibly hot streak for Under Armour. When 21-year-old golfing phenom (and UA client) Jordan Speith recently won the Masters, it was estimated that the exposure was tantamount to $33.6 million in advertising. Meanwhile, another high-profile Under Armour athlete, Stephen Curry of the Golden State Warriors, is on everyone's short list for regular season MVP in the NBA, and yet another (New England Patriots quarterback Tom Brady) started the year by grabbing the Super Bowl MVP while leading his team to the championship.
Oh, and about the same the Patriots were winning the Super Bowl, Under Armour was releasing a product line featuring one of the greatest and most famous athletes of the 20th century: Muhammad Ali.
To recap, Under Armour has got some of the best and most popular players in sports on their side, as well as "The Greatest" period. And now, with the Age of Ultron partnership, the company has teamed up with the Hulk, Thor, and Captain America. No wonder Under Armour seems capable of convincing grown men that they want to dress up like superheroes, and pay $60 for T-shirts while they're at it.
To be fair, Under Armour isn't the only apparel company playing the superhero card to an adult audience. Sets of actual adult-sized Underoos (briefs and T-shirts) in varieties like Batman, He-Man, and Captain America went on sale last fall and promptly sold out in a few hours.
Call us crazy, but we're partial to the original, just-for-kids Underoos like the ones advertised in this classic commercial:
MORE: 12 Things Made for Kids That Are Now Marketed to Adults