What You Have in Common With Bankrupt Pro Athletes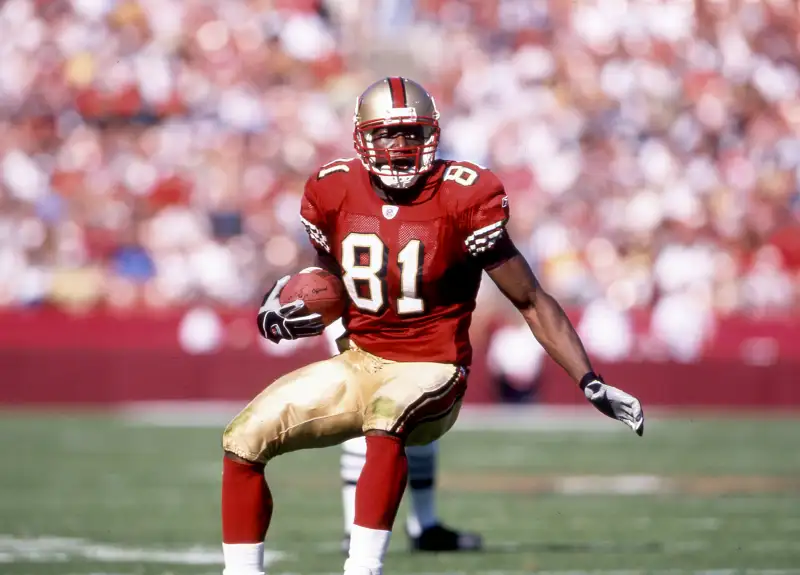 The typical fan doesn't have much empathy for a highly paid athlete who goes broke. But it is tragic all the same, and it happens often enough for a cottage industry to have blossomed around those at the center of what is often a rags-to-riches-to-rags saga.
Even if you don't have millions to lose, there are lessons for everyone in these sad tales. When wealthy athletes go broke, it's often a story of reckless spending, divorce, debt, and paying too little attention. That's a lot like the root financial problems of ordinary folks too—only the numbers aren't as big.
Sports Illustrated reported that an astounding 78% of professional football players go bankrupt or are under financial stress within two years of retiring, and that the same is true of 60% of professional basketball players within five years of leaving the game. These include six-time NFL pro-bowl receiver Terrell Owens. with $80 million in career earnings, and NBA star Antoine Walker, who made $108 million.
Owens filed for bankruptcy in 2012, crippled by large child support payments and investments he didn't understand. Walker suffered the same fate in 2010 after years of splurging on cars and bling, investing poorly, and financially assisting his family.
Their stories, common among rich athletes that lost it all, have given rise to specialty financial education programs designed with young athletes in mind. With the Major League Baseball and the NBA drafts this month, this cottage industry is gearing up for another crop of instant millionaires in their early 20s and their problems with maturely handling their sudden wealth.
This month, Personal Capital, an online financial firm, signed a deal with the National Basketball Players Association to provide tools to help young players learn how to take charge of their wealth. Calamos Wealth Management in Chicago has advisers that specialize in athletes' personal finances. Two years ago, Morgan Stanley launched its global sports and entertainment division and now has 82 advisers with $35 billion under management.
At the invitation of pro teams, university athletic departments, and sponsors of special events like the college football senior bowl in Mobile, Ala., Morgan Stanley sends in a team free of charge to talk about the challenges of gaining instant wealth in a career that lasts, on average, less than six years in any major pro sport. "Our ROI is in fewer negative headlines," says Drew Hawkins, head of the division, referring to return on investment. "We make it comfortable for them to ask questions. If we get the financial education part right, the economics will be there."
The Morgan Stanley teams include big-name athletes who have faced their own financial challenges: former NFL star Bart Scott, who has made adjustments and is on solid footing, and Walker, a poster child for poor financial management. Walker's descent into bankruptcy is the subject of a documentary that Morgan Stanley is underwriting and hopes to find a home for on HBO, ESPN, or some other cable network later this year.
Stories like his prompted the University of Arizona to start a personal finance course for athletes. California's Haas School of Business has its own version of such a course. And now some former players, like Walker and Scott, are on the paid-speaking circuit talking about athletes and money. In April, Teachers College at Columbia University honored former NFL great Justin Tuck for his financial education advocacy through Tuck's R.U.S.H. for Literacy foundation. In his acceptance Tuck explained how a $60 million contract could leave an athlete with just $5 million in a hurry. That's easy to fritter away if the athlete is fixated on the bigger number.
Of course, most people would view $5 million as a sizable nest egg. So yes, highly paid athletes are different from the rest of us. Medical expenses, not Ferraris, are the biggest issue for most normal individuals who struggle financially. These bills directly lead to 42% of personal bankruptcy cases. Yet job loss, uncontrolled spending and debt, and divorce are next in line for the population as a whole. They ring true of rich athletes too.
Financially assisting your family, which helped put Walker in a tight spot, doesn't typically lead to bankruptcy. But ordinary people who, say, put college tuition ahead of retirement savings or take a lot of time away from work to care for an aging parent can wind up in a financial jam they didn't see coming.
Such outcomes among ordinary people don't make headlines. But they occur regularly and hurt just as badly. So take a cue from all those bankrupt athletes. Pay attention to the terms on your mortgage. Spend less than you make. Save 12% to 15% of pay. Create an emergency fund. Learn how to say no to loved ones and friends when they ask too much, and how to put your own retirement saving at the top of the priority list. In the end, financial difficulties are mostly about carelessness, bad habits, poor planning, and following poor advice—and wealthy athletes have no monopoly on those.