When Banks Pay Colleges to Market Their Debit Cards, Students Pay Millions More in Fees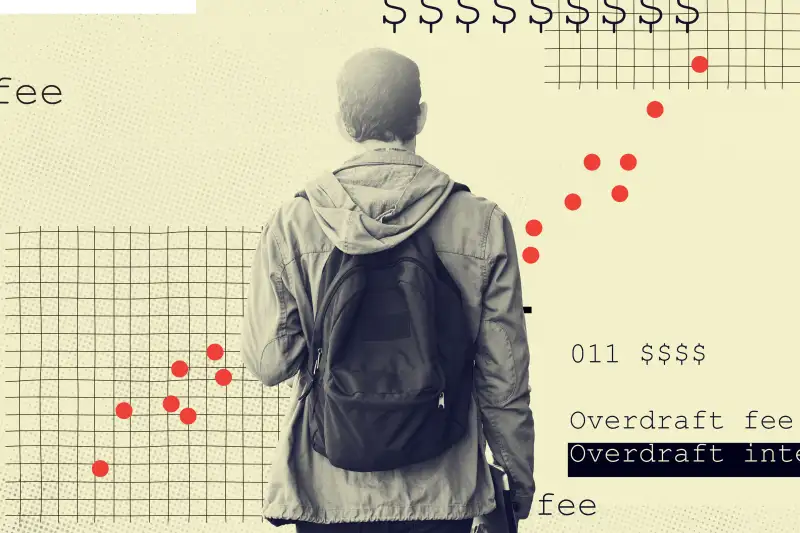 Photo Illustration by Lixia Guo; Getty Images
College students paid more than $24 million dollars in overdraft, ATM, and other bank fees last year—and a majority of those penalties stem from accounts marketed to students as part of a paid agreement between colleges and the bank offering the account.
Roughly 430,000 students hold accounts at colleges where banks pay six-figure sums in return for direct access to students, according to a new report from U.S. Public Interest Research Groups. Students with these campus debit cards pay higher fees on average than their peers at colleges that do not have paid marketing deals. All of the cards waive monthly service fees, but students get hit with penalties for certain actions, like when they overspend their account.
"It's abundantly clear that some of these debit card agreements are not in students' best interest," said Kaitlyn Vitez, the higher ed campaign director at U.S. PIRG.
For colleges, the bank partnerships offer a helpful source of non-tuition revenue. Some agreements even include provisions where schools get a bounty for each new account opened. But those payments to colleges can be dwarfed by the size of the fees students pay to the banks.
The report singles out Wells Fargo as particularly problematic. Students with Wells Fargo accounts represented about one quarter of all campus debit card account holders, but they paid $11.3 million in fees—close to half the total fees.
Wells Fargo rolled out new card benefits for all its campus card account holders in March, announcing them publicly on Wednesday. They include waiving one overdraft fee per month, four free out-of-network ATM withdrawals per month, and one refund per month for incoming wire transfers. The bank will also waive the transfer fee that kicks in if a student overdraws a checking account but has a linked savings account to dip into. Those changes make the Well Fargo campus cards among the most competitive accounts designed for college students at national banks.
College-sponsored debit accounts used to be even more lucrative for banks—and more expensive for students. But in 2015, the U.S. Department of Education passed stricter oversight on agreements between colleges and banks that were primarily for dispersing financial aid refunds. (After the amount for tuition and other direct bills is covered, a college gives the remaining amount of loans to students to cover living expenses and books. That money is deposited into a student's personal checking account.)
Those rules were effective in stopping colleges from pushing students to open a specific high-fee account to receive their financial aid, says Lauren Sanders, associate director of the National Consumer Law Center. But they've been less effective in addressing the more general problem of colleges promoting a specific bank account in a way that implies the accounts are a good deal for students, regardless of whether they actually are.
As a result of the 2015 rules, a two-tiered system now exists: At more than 320 colleges that have to follow the rules for agreements created to manage financial aid disbursements, students paid an average of $15.11 in bank fees in a year, according to the U.S. PIRG report. But at the 95 colleges with paid marketing agreements— which fall outside those stricter financial aid regulations since they're not involved in disbursing financial aid—the average fee was more than double, at $34.34.
With an average annual fee of $63.78, Riverside Community College District in California had the highest average amount in the report. At Texas State University, University of Arizona, and Florida International University—all with campus accounts where average annual fees are $45 or higher—students paid a collective $1 million at each school.
At Florida State University, the average fee is lower, but because 95% of students have a SunTrust campus card, the bank also still collected an estimated $1 million in fees, according to the report. In all, at ten of the 95 colleges that reported paid marketing agreements, more than half of the student body held a campus debit card account.
"You've got the perfect storm of high fees and high market penetration," Vitez said.
After the PIRG report was released, Florida State officials said the share of current students with a SunTrust bank account is far below 95%. While FSU's disclosure required for the Education Department—on which the U.S. PIRG report is based—lists about 38,000 SunTrust accounts, the FSUCard account is also open to faculty and staff, and graduates can maintain their account after leaving the university, officials said. University records show about 9,300 students chose to receive financial aid refunds to a SunTrust account, though it's unclear how many of those are tied to the campus card.
Among the 20 colleges with the highest average fee for the 2017-2018 academic year, 19 had agreements with Wells Fargo. (The other was a U.S. Bank agreement; PNC Bank also has several paid campus agreements.) Wells Fargo says it expects the new benefits will cut the average fees paid by students with the card in half.
"It's important for us to make sure we are continually working to improve how we serve our student customers by listening to them and remaining competitive in the marketplace," Ed Kadletz, head of Wells Fargo's Deposit Products Group, said in a news release. Kadletz also said the bank benefitted from the findings of "the industry study of campus card programs" released last year.
In December, a Consumer Financial Protection Bureau report, released through a public records request, highlighted similar findings as today's U.S. PIRG report, including that Wells Fargo accounts had the highest average fee over a 12-month period.
Katie Craig, who works as a campus organizer for PIRG at the University of North Carolina-Chapel Hill, remembers attending orientation five years ago as a rising freshman and signing up for a Wells Fargo account branded with her school logo. She already had a bank account, but the bank representatives showed up at organization fairs and when she was issued her student ID. She thought it'd make it easier, with all the Wells Fargo ATMs around campus.
"There were multiple times where they were present, and they just make it seem like (the account would) be better than whatever banking situation you already have," she said.
Craig opened an account, but cancelled it one year later after realizing it wasn't any more convenient than her existing bank account.
This story has been updated to include additional information on Florida State University's account.