Obama Says This is the Best Perk of Being President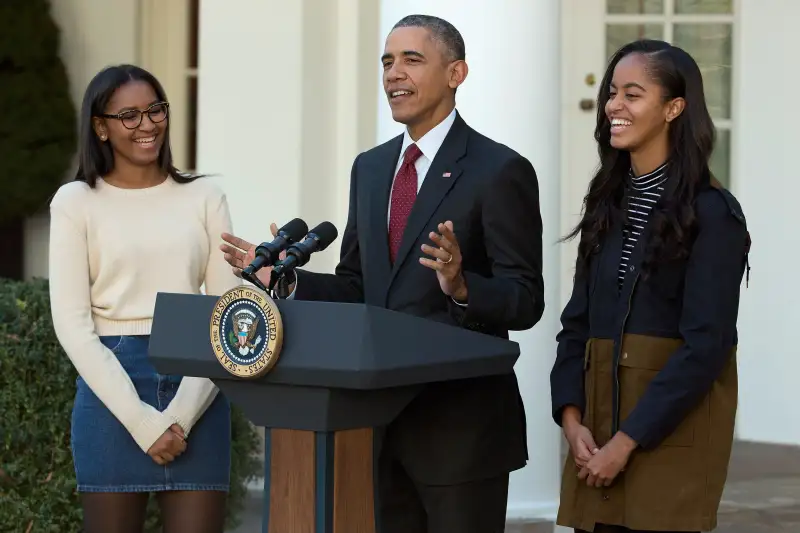 Chip Somodevilla—Getty Images
Sure, Air Force One and an in-house chef are great, but when it comes to the job perk he values most, President Barack Obama says it's working close to his family.
In an article for Glamour published on his 55th birthday Thursday, Obama touted the benefits of a short commute.
"For the past seven and a half years, [my] commute has been reduced to 45 seconds—the time it takes to walk from my living room to the Oval Office," Obama wrote. "As a result, I've been able to spend a lot more time watching my daughters grow up into smart, funny, kind, wonderful young women."
According to a recent academic paper, the average commute is 38 minutes. It's no surprise that Obama values his proximity to the office: As Dan Buettner, author of the book Thrive, told NPR in 2011, a shorter commute makes people happier in their day-to-day lives.
"The top two things we hate the most on a day-to-day basis is, No. 1: housework and No. 2: the daily commute in our cars," Buettner told NPR. "In fact, if you can cut an hourlong commute each way out of your life, it's the [happiness] equivalent of making up an extra $40,000 a year if you're at the $50- to $60,000 level."
Obama went on to express how important it is to him that he provides a decent, feminist role model for his two daughters, Sasha and Malia. He emphasized how far things have changed for women economically in a few decades, but recognized the need for more progress before true equality is reached between the two sexes.
He also praised First Lady Michelle Obama for balancing the duties of her office with the responsibilities of motherhood.
"Like many working mothers, she worried about the expectations and judgments of how she should handle the trade-offs, knowing that few people would question my choices," he wrote.
Throughout his speech, he emphasized the need for society to become more accepting of evolving roles of men and women in families—and in the work place.
Speaking for work-life balance advocates everywhere, Obama stressed the need not to stigmatize men for "changing a diaper" or being full-time dads, and to be more accepting of working mothers. According to a 2014 Pew study, the number of fathers who do not work outside the home has increased "markedly" in recent years, and men are picking up increasing amounts of housework and childcare responsibilities (though women still do more, on average). Meanwhile, women are the breadwinners in about 40% of U.S. households.
"We need to keep changing the attitude that values being confident, competitive, and ambitious in the workplace—unless you're a woman," Obama wrote. "Then you're being too bossy, and suddenly the very qualities you thought were necessary for success end up holding you back."