This Multi-Billion-Dollar Business Is Trying to Get Your Kid Hooked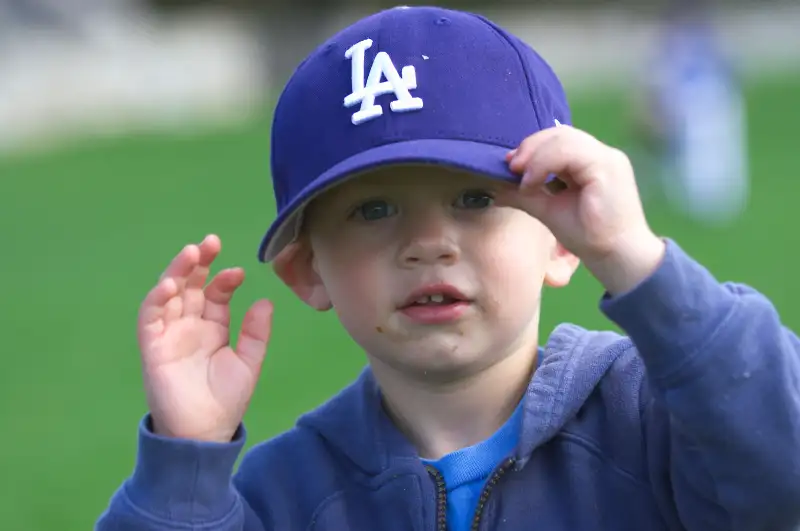 It's … baseball.
For American kids today, the idea that baseball is the national pastime holds true only in the past. The number of kids who play baseball fell 24% during the '00s, and it has continued to decrease since.
Unsurprisingly, the percentage of kids who are fans of the sport has been on the decline as well. In an ESPN Sports Poll conducted last year, 18% of 12- to 17-year-old Americans described themselves as avid baseball fans. That's the lowest it's been since the survey started being conducted in 1995. It's also the first time ever that baseball's level of fanaticism among kids was matched by that of (gasp!) Major League Soccer. Four in ten, meanwhile, say they are diehard NFL fans.
Still, baseball executives say other sports have little to do with kids losing interest in baseball. "Today, the fastest growing activity among young people is nothing," Major League Baseball Commissioner Rob Manfred recently said, rather bizarrely, in a Sports Illustrated for Kids interview. He quickly clarified that "being involved with electronics and non-sporting activities" is largely why baseball has become less popular with kids.
In any event, baseball has fallen so far off most American kids' radar that the problem is being openly discussed around the league. Newly adopted rules meant to speed up the game are aimed at removing the lulls and making the game more exciting for all fans—but especially for young people, what with their nonexistent attention spans. Teams across the country are also pumping up promotions and freebies to new heights to woo the next generation of spectators.
"I think we all recognize that we can't live by the long-held premise that a child will automatically fall in love with baseball," Boston Red Sox senior adviser Charles Steinberg said to the Boston Globe in early March. "We have to recognize that we are one of many options."
With that in mind, the website of every Major League Baseball team has a section devoted specifically to kids—where else would you learn fun factoids about the team mascot?—and teams also encourage children to sign up for their special kids club programs. Membership is often free, and comes with perks like team swag, baseball cards, and access to discounted or free ticket promotions.
The Red Sox program, dubbed Kids Nation, used to cost $30, but this season ownership decided to make membership free for fans 14 and under. Each member gets a free ticket to Fenway Park (with an adult ticket purchase, of course), plus a 10% discount on team merchandise and "Exclusive Kid Nation Email Newsletters."
Other MLB teams with free basic membership for kids programs include the Chicago White Sox, New York Mets, Pittsburgh Pirates, and Miami Marlins. The latter comes with buy-one, get-one-free tickets at select games—kids club members eat free at the ballpark at some games too.
Most teams try to upsell families on VIP kids club membership, which runs $20 and up and includes more perks and freebies. Other MLB franchises charge for all kids club memberships, though they don't seem to be making money on the sales considering what's in the package. For example, the Los Angeles Angels Junior Angels program costs $18 but comes with a voucher good for four tickets, plus a team shirt, socks, and shoelaces and a $5 gift card at the Angels Team Store. Meanwhile, the Seattle Mariners' $15 kids club membership includes a team cap, cooler, activity book, and access to $1 tickets at select games.
Obviously, the short-term goal of these programs is to boost attendance and revenues for this season. Even though the programs may break even or lose money on the surface, they succeed in attracting more people out to the ballpark—and bringing them out more often—where they'll undoubtedly fork over cash for parking, food, beverages, and souvenirs.
But wooing kids is hardly a short-term play. What baseball truly hopes is that kids programs and other child-centric marketing efforts help create lifelong fans who head out to the stadium, buy team merchandise, and watch on TV for decades to come. The idea is to hook them while they're young with cheap tickets, free swag, face painting at games, and whatever else it takes. After all, few people wake up when they're grownups and decide that they will suddenly become diehard fans of the Cincinnati Twins or San Diego Padres or whoever.
Data collected by the Red Sox indicates that people who went to games as children are nearly three times more likely than others to turn into "core" fans or at least go the ballpark a few times per season down the road. In his SI for Kids interview, MLB Commissioner Rob Manfred agreed that it is absolutely essential to turn children on to baseball while they're young: "Our research shows the two biggest determinants of fan avidity are did you play as a kid? And how old were you when your parents took you to the ballpark for the first time?"