How to Watch the 2019 March Madness Sweet 16 Games Online for Free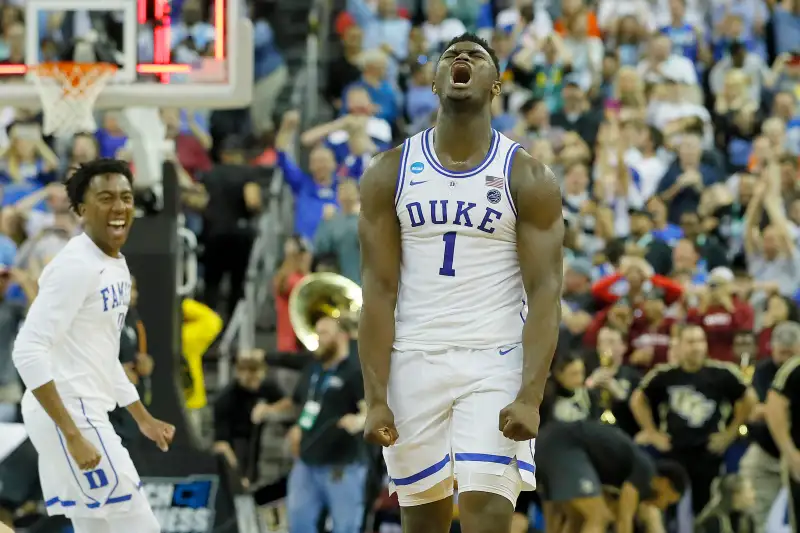 Kevin C. Cox—Getty Images
The 2019 March Madness Sweet 16 round started on Thursday, with matchups like Florida State vs. Gonzaga and Oregon vs. Virginia. On Friday, four more Sweet 16 games tip off, including Duke vs. Virginia Tech and North Carolina vs. Auburn.
For the most part, the favorites in the 2019 NCAA March Madness men's basketball tournament have avoided upsets as the field of teams has been narrowed to 16.
Duke, the overall top seed and favorite to win the 2019 championship thanks to the play of freshman superstar Zion Williamson, is still alive after barely beating UCF 77-76 last Sunday.
The other three No. 1 seeds in 2019 March Madness, Virginia, Gonzaga, and North Carolina, are still alive in the tournament as well. Here's all the information you need to watch March Madness for free — online or on TV — during the Sweet 16 round and beyond.
What Channel Is March Madness on for the Sweet 16?
What's the remaining 2019 March Madness TV schedule? All Sweet 16 games, being held on Thursday, March 28, and Friday, March 29, will be broadcast on CBS or TBS.
Here's the full college basketball TV broadcast schedule for the NCAA men's tournament tonight and beyond — including the Final Four and the 2019 national championship game on Monday, April 8.
SWEET 16: THURSDAY, MARCH 28
• Florida State vs. Gonzaga, 7:09 p.m. ET on CBS
• Purdue vs. Tennessee, 7:29 p.m. ET on TBS
• Texas Tech vs. Michigan, 9:39 p.m. ET on CBS
• Oregon vs. Virginia, 9:57 p.m. ET on TBS
SWEET 16: FRIDAY, MARCH 29
• LSU vs. Michigan State, 7:09 p.m. ET on CBS
• Auburn vs. North Carolina, 7:29 p.m. ET on TBS
• Virginia Tech vs. Duke, 9:39 p.m. ET on CBS
• Houston vs. Kentucky, 9:57 p.m. ET on TBS
ELITE 8: MARCH 30-31
• Saturday games on TBS
• Sunday games on CBS
FINAL FOUR, APRIL 6
• TBD vs. TBD, 6 p.m. ET on CBS
• TBD vs. TBD, 8:30 p.m. ET on CBS
2019 NCAA NATIONAL CHAMPIONSHIP GAME, APRIL 8
• TBD VS. TBD, 9 p.m. ET on CBS
How to Watch March Madness Live on TV
All remaining 2019 March Madness games are being broadcast on CBS or TBS. If you have cable TV, satellite TV, or another traditional pay TV package, it probably comes with both of these channels.
TBS is included in most basic cable packages, and CBS is a major broadcast network that's also included with almost any pay TV bundle. To watch Florida State vs. Gonzaga on Thursday, or the Duke game on Friday night, simply find the appropriate channel (your local CBS affiliate in both cases) and tune in.
What if you're wondering about how to watch March Madness without cable? There is no need to have cable or any pay TV service to watch all March Madness games being broadcast on CBS.
CBS, along with ABC, NBC, and Fox, are free, over-the-air broadcast networks that you can view in most of the country totally for free by connecting your TV to an HDTV digital antenna. A decent digital TV antenna costs somewhere in the neighborhood of $25. It's a small price to pay if you're hoping to watch March Madness for free on TV.
Once you have a digital antenna hooked up to your TV, you should be able to tune in local affiliates of the major free networks — including a CBS channel showing 2019 March Madness games. Bear in mind, however, that the exact list of channels you can watch for free with a digital antenna can vary based on where you live, the strength of your antenna, and the position of the antenna in your home.
On the other hand, you cannot watch the March Madness games on TBS with a digital antenna, because it's a pay TV channel. But there are other ways you can catch college basketball games on TBS for free, including free March Madness live streams.
How to Stream March Madness Online for Free
There are many options to live stream March Madness 2019 games for free. Among the possibilities, there is NCAA's March Madness Live stream, which you can watch in a browser or with an app for Android or Apple.
The March Madness Live website (or app) generally lets you stream March Madness games for free for about three hours — which should be more than enough time to watch a full game. After that extended free March Madness preview, you will be asked to log in with a pay TV account and password.
Alternately, you could sign up for a free trial of a live-streaming TV service that includes TBS (and CBS too) to watch all of the 2019 March Madness games online for free tonight and through the weekend.
The live-streaming TV services FuboTV, DirecTV Now, Hulu + Live TV, PlayStation Vue, and YouTube TV all come with TBS and CBS in their channel bundles. These services start at $40 to $45 per month, but they all offer free trials lasting five to seven days for new subscribers. So you could register for a subscription and watch March Madness games for free while the free-trial period is still in effect.
Another streaming service with March Madness games is Sling TV. All basic Sling TV packages let you stream March Madness games on TBS, and new subscribers get a free seven-day trial. Sling TV is the cheapest streaming service for watching March Madness games: Right now, there is a special discount from Sling offering its basic streaming TV package for $15 a month for the first three months. (The price goes up to $25 afterwards.) Bear in mind that Sling TV does not include CBS, but that might not be a problem if you already can watch CBS for free with a digital antenna.
Yet another option for live streaming March Madness is available from CBS itself, with its CBS All Access service. CBS All Access lets you stream all CBS content, including March Madness games airing on the network, on any device you like. The service costs $5.99 per month, but you can check it out (and stream March Madness games free) if you're a new subscriber and sign up for a one-week free trial.
If you ultimately decide you do not want to become a paying subscriber for any of these live streaming TV services, you must remember to cancel before the free trial ends. If you miss the deadline, you'll automatically be charged for the first month.