Meet the Richest Man in Europe, a 69-Year-Old Fashion Mogul Who Has His Own Island and Loves 'Being Number One'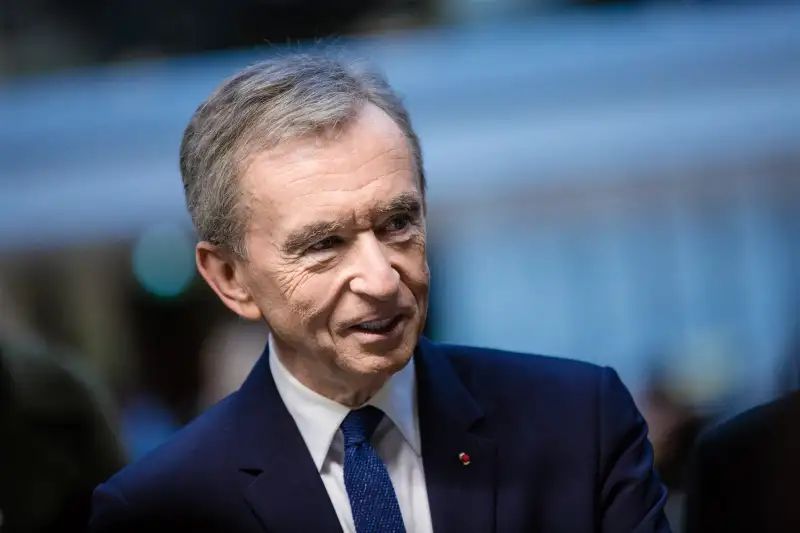 Bloomberg—Bloomberg via Getty Images
There's fashion, and then there's Bernard Arnault.
The billionaire CEO of LVMH Moët Hennessy Louis Vuitton, the luxury conglomerate that includes some of the most high-profile names in fashion, had a remarkable year with a 10% growth in sales last quarter and a high-profile purchase of Christian Dior. And as of Thursday, Arnault holds the newly secured title of the world's richest European. That places the 69-year-old among the ranks of American billionaires like Microsoft founder Bill Gates and Berkshire Hathaway chairman Warren Buffet — as well as Amazon CEO Jeff Bezos, who became the first billionaire to surpass a $100 billion net worth earlier this year.
Of course, Arnault has long been one of the world's richest people. But the record sales reported last year placed him above Zara's Amancio Ortego on Bloomberg Billionaire's Index to become European's wealthiest billionaire. He had secured that title on Forbes's Billionaire's List earlier this year — and even sat above Buffett as the world's third richest-person on Forbes's real-time list Thursday morning.
Here's what to know about the French billionaire Arnault.
Bernard Arnault's net worth is one of the highest in the world
Bloomberg—Bloomberg via Getty Images
As the world's richest European, Arnault's net worth has grown by tens of billions of dollars over the last year due to a high-profile buy-out of Christian Dior and record numbers at LVMH, according to Forbes.
Forbes estimated is net worth was more than $84.8 billion, making him the third-richest person in the world ahead of Buffett. Bloomberg had a more conservative net worth estimate of more than $74.3 billion, place him as the fourth-richest person.
In 2017, Arnault didn't even crack Forbes's top 10 in its annual Billionaires List, falling behind Zara's Ortega, who was then the richest European, and Facebook CEO Mark Zuckerberg, among others.
Arnault's high net worth is in part tied to his stake in Christian Dior. LVMH bought the luxury brand in a $13.1 billion deal in April 2017 and the Arnault family moved to purchase the remaining shares they didn't already own. Dior saw shares rise 52% over the last year, according to Forbes.
Arnault owns many luxury brands you know
LVMH is a dominate force in fashion, owning brands like Louis Vuitton, Fendi, Céline, Christian Dior, Givenchy, Marc Jacobs and more. The company owns a number of cosmetics and perfumes, notably Fenty Beauty by Rihanna, which had an enormous launch last year online and in more than 1,620 stores around the world.
LVMH has a host of other businesses under its belt, including the retail chain Sephora, as well as watch and jewlery brands like Tag Heuer and Bvlgari. And lest we forget the LVMH's wine and spirits brands, which include Moët & Chandon, Hennessy and Dom Pérignon.
How Louis Vuitton is contributing to Arnault's wealth
Perhaps one of the most dominant forces at the company is Louis Vuitton, which saw better-than-expected sales last quarter with much of its growth coming from China, according to Bloomberg.
In the company's first quarter earnings report for 2018, LVMH pointed to Louis Vuitton as a leading factor for its 16% growth in organic revenue in fashion and leather goods. Indeed, the brand had a number of high-profile moments these last few months, with a fashion show at the Louvre and the appointment of Virgil Abloh, a notable fashion designer and creative director for Kanye West, as the brand's artistic director for men's wear. The appointment made Abloh Louis Vuitton's first-ever African American artistic director.
"This opportunity to think through what the next chapter of design and luxury will mean at a brand that represents the pinnacle of luxury was always a goal in my wildest dreams," Abloh told the New York Times last month. "And to show a younger generation that there is no one way anyone in this kind of position has to look is a fantastically modern spirit in which to start."
Arnault's now helping start-ups
Bloomberg—Bloomberg via Getty Images
Earlier this week, LVMH launched a new Paris-based program that aims to help around 50 international businesses get on their feet. Called "La Maison des Startups," the program includes 89 work stations at Station F, a massive start-up campus based in Paris. Participating start-ups will be able to work with the company for two, six-month terms, the company said.
"Innovation is an integral part of the history of our Maisons, which are often centuries old," Arnault said in a statement. "This is why we know, perhaps better than others, how to find ways of working with startups that benefit us all."
Arnault owns an island in the Bahamas
Like other billionaires, Arnault has his own island. The fashion mogul reportedly owns Indigo Island in the Bahamas, according to Wealth-X. The 133-acre island has hilltop villas and a small marina, along with beautiful beaches, according to Wealth-X.
The property was available for rent for $300,000 a week in 2015.
Arnault 'loves to win' — and he doesn't use email
"What I love is to win," he told the Telegraph in a wide-ranging 2015 interview. "What I love is being number one."
Arnault told the British publication he believes business can be "exciting" when making risky deals, and said money has never been his driving motivation when building his company.
The billionaire CEO, however, doesn't use email (at least back in 2014). And he never texts. "I've got no email – just a phone," he said, "and I would never text – just call."
He has an impressive art collection
Fittingly, the head of the dominant force in luxury has a luxurious life of his own. Arnault has a personal art collection that fits right in with a life in Paris.
The billionaire and his wife, Helen Mercier, who is a concert pianist, own a number of pieces from famous artists like Pablo Picasso, Andy Warhol, Jean-Michel Basquiat, Damien Hirst and Maurizio Cattelan, according to Bloomberg.
Arnault met Donald Trump
Drew Angerer—Getty Images
Days before the president's inauguration in January 2017, Arnault met with then-President-elect Donald Trump at Trump Tower in New York City to discuss the potential opening of two LVMH factories in the U.S. Speaking to reporters after their meeting, Trump called Arnault "one of the great men" who was doing "some wonderful things in this country," according to Women's Wear Daily.
In June 2017, the company was working on plans to open a factory in the U.S.
No, Arnault is not buying Chanel
Rumors and speculation suggested LVMH could use its extra cash to explore purchasing Chanel — a French luxury brand owned privately by the Wertheimer family. But Arnault has denied such a venture.
"That's fake news," Arnault said, according to Women's Wear Daily, "which seems to be in style these days."