Best All-Inclusive Resorts of 2021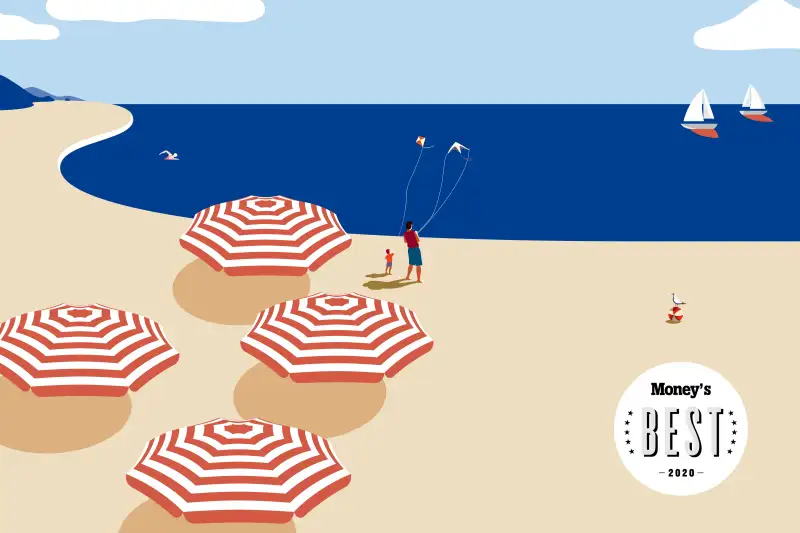 July 6 update: As the economic lockdowns ease across the world, the travel and the hotel industries are starting operations up again. More flights are being added to airline itineraries and hotels and resorts are reopening to guests. Before making travel plans, check with the airlines to see if travel to your intended destination is restricted or if there are mandatory quarantine periods once you arrive. Contact each hotel or resort individually to check availability and re-opening dates. Keep in mind that conditions related to COVID-19 are constantly changing, and the reopening dates we have mentioned for each of the resorts reviewed may change.
If you're looking for a memorable vacation destination, an all-inclusive resort can take care of all of your vacation planning so you can sit back and enjoy your time off. These resorts are designed so that you can find everything you need on the property, from multiple restaurants to amenities like spas and pools. Often, the best resorts offer packages that include entertainment options such as local excursions, classes, and other experiences.
One of the advantages of an all-inclusive resort as a great vacation option is the budgeting. "Part of the reason why all-inclusive resorts are really attractive is that you're paying for it upfront," says Erika Richter, Senior Director of Communications for the American Society of Travel Advisors (ASTA). "You know what the price is and you know what you're getting for the price you're paying."
Indeed, the biggest advantage of an all-inclusive resort is that they include food and drinks, which can eat up a large part of your travel budget. "One of the most enticing amenities of an all-inclusive stay is that meals and alcohol are typically included in the room price," according to Alexis Tiacoh, PR Manager for Expedia, one of the largest online travel agencies with over 5,000 all-inclusive properties in its listings. "Anytime you're away from home, food and drinks are usually what you spend the most money on."
Another advantage of all-inclusive resorts, according to Richter, is that they offer a little something for everyone. Imagine trying to coordinate activities for a group of people who may have different interests. By doing a little research and finding the right resort, everyone in the group will have something to do that they enjoy. "For a family that's traveling, the all-inclusive option can be a life-saver just in terms of getting the most out of your vacation if you have a short amount of time," said Richter.
While staying at all-inclusive resorts can be expensive, a quality resort that offers all the activities you're interested in plus a variety of dining options can make for an enjoyable vacation.
Important Things To Know About All-Inclusive Resorts:
Some resorts cater to specific guests, like families, couples, or seniors.
All-inclusive resorts often don't include items like tipping, spa treatments, or special outings, so be sure to ask about what's included and what isn't.
Most resorts offer a structured vacation with planned activities and, in many cases, you don't have to leave the resort at all if you don't want to.
When you consider the quality of amenities (especially food and drink) and experiences included within a package, an all-inclusive resort can be a vacation money-saver.
The Best All-Inclusive Resorts of 2020
Beaches Turks & Caicos: Best all-inclusive resort for the whole family
Sonora Resort: Best resort for wilderness lovers
Divi Little Bay Resort: Best resort for families with young children
Royal Davui Island Fiji Resort: Best adults-only resort
Sunset at the Palms Resort: Best resort with a more intimate feel
Best All-Inclusive Resort Reviews
Beaches Turks & Caicos Review
Note: Due to the travel restrictions imposed worldwide, all Beaches resorts remain closed. According to their website, the Beaches resort inTurks and Caicos will be reopening soon.
For a family-friendly experience, Beaches Turks & Caicos delivers fun for all ages. Its 12-mile beach and turquoise waters are picturesque and ideal for swimming, plus you can also choose from 10 resort pools and a 45,000 square-foot waterpark complete with a lazy river, water cannons, swim-up soda bars, waterslides, and kid-friendly pools. The resort is divided into five villages, each with a distinctive architectural style including Italian, French, Caribbean and Key West style lodgings.
Beaches Turks & Caicos features activities for kids, teens, and adults. Kids can enjoy the Kids Camp, and private childcare options are also available. Teens will love the XBox Play Lounge, enjoy playing arcade games at Trench Town, and socializing at Club Liquid, a teen disco club that turns into an adults-only dance club during late-night hours.
Land activities include beach volleyball, table tennis, day and night tennis, soccer, and more, while water sports include kayaking, windsurfing, snorkeling, and paddleboarding. Sesame Street cast members are happy to greet kids, and the whole family can take the choo-choo train through the Italian, French, and Caribbean villages.
Can't find enough to do with the all included activities? For an additional charge Beaches Turks & Caicos offers 20 additional tours including buggy rides, sunset catamaran sails, shopping tours, scavenger hunts, and an underwater submarine adventure.
All-inclusive packages include food and drink at every one of the 15 bars and 22 dining options on the property. Taxes, tips, resort fees, and airport transfers are also included, making Beaches Turks & Caicos a truly all-inclusive resort. This resort also just underwent a renovation and update, so guests will be able to enjoy Beaches' modern and up-to-date facilities.
One of the best things about this resort is that with so many things to do, you can take time off with your partner and enjoy a candlelight dinner or get a massage at the Red Lane Spa, while the kids enjoy one of the many activities intended just for them.
Sonora Resort Review
Note: The opening date for the Sonora resort has been pushed back until May 1, 2021, due to concerns over COVID-19.
Who said resorts have to be in bustling tourist attraction locations? Sonora Resort, located in British Columbia, Canada, offers a remote, wilderness-centered getaway. The experience begins with just getting to the resort: You have to take a seaplane, helicopter, water taxi or charter a plane. Once you arrive, you'll enjoy unspoiled wilderness and water views from the generously sized suites. Resort amenities include stocked fly-fishing ponds, tennis courts, and saunas. All-inclusive packages include food and drink at Sonora's Tyee dining room.
Something we like about this resort is that it offers plenty of adventurous activities. Helicopter glacier tours, ocean kayaking, helicopter fly fishing, grizzly bear tours, eco-adventure tours, and whale watching tours are just a few of the options you'll have. There are hiking and biking trails if you want to explore on your own, and for quieter moments, you can play a round of golf, head to the Island Currents Spa, or enjoy some yoga.
If the weather doesn't cooperate or you just want to stay in for the day, Sonora has plenty of indoor amenities to keep you occupied, including a flower and plant conservatory, a 12 seat cinema with a selection of over 350 classic and current movie titles to choose from, a games room with pool and foosball tables, and Xbox 360 and Playstation game consoles. After 9:00 p.m. the games room is adults only.
Sonora Resort offers many all-inclusive packages, including a birthday/anniversary option, guided salmon fishing, and wedding package. And fear not: as secluded as this resort is, your stay includes complimentary Wi-Fi, international phone calls, and use of the business center, so you can stay connected. Taxes, tips, and other fees are not included in their packages so make sure you're familiar with them prior to booking.
Divi Little Bay Resort Review
Note: The Divi Little Bay Resort reopened on July 1, 2020.
For families with young children, the Divi Little Bay Resort in St. Maarten offers exceptional value thanks to multiple special offers for children. With the all-inclusive plan, kids under 5 stay free, while kids ages 6 through 12 can stay and eat for just $63 per night. For families who opt for a room-only reservation, kids ages 12 and under stay free.
This picturesque resort is situated on a private peninsula between Little Bay and Great Bay, and its extensive amenities offer entertainment for the whole family. Outdoor freshwater swimming pools feature a hot tub and a swim-up bar. Optional features include a spa, a shopping villa with a mini-market, jewelry store, and gift shop, boat excursions, and a sports center with diving and snorkeling equipment so you can take full advantage of the stunning ocean setting.
The resort also features a full-service spa and a fitness center, in addition to five restaurants, a café, and three bars, so you always have plenty of dining options. While everything you could want is available at the resort, an on-site car rental is also available if you decide to explore the area. For those traveling with young children, there are cot and crib rentals available as well.
Royal Davui Island Fiji Resort Review
Note: Royal Davui Island Fiji is not accepting bookings until further notice.
The adults-only Royal Davui Island Fiji Resort is a premium resort that offers adults a unique escape. Located on a private island in the Beqa Lagoon, white sand beaches and turquoise waters give this all-inclusive resort an otherworldly atmosphere. The resort's 16 bungalows and villas feature thatched roofs and wooden construction in true Fijian tradition, yet they've been upgraded with amenities like climate-controlled private plunge pools, lounge rooms, sun decks, a spa bath, and a wet bar. Complete with room service, these bungalows and villas offer a respite where you can watch dolphins and other wildlife.
This private island offers plenty of activities, too. Enjoy a spa treatment or explore the lagoon and coral reefs with a catamaran, paddleboard, or sea kayak. Go snorkeling at the coral gardens, take a cooking class, or enjoy cultural village visits. Of course, you can always relax on the private beach, too, after enjoying a picnic on the beach, a private seafood dinner, or an in-room dining experience.
Meals feature seasonal ingredients that are locally sourced and harvested in a sustainable manner and the chefs are happy to accommodate requests to ensure the guests have a memorable experience. Every food and drink option is covered by this resort's all-inclusive packages as well.
Optional off-resort activities include zip lining, scuba diving, white-water rafting and excursions to Kila World Eco Adventure Park, where guests can enjoy low and high rope activities, a giant swing and forest hikes. There are also a number of activities designed to introduce the guest to Fijian culture.
Sunset at the Palms Resort Review
Note: Sunset at the Palms will not be accepting guests until July 9, 2020, in response to the COVID-19 outbreak.
If you're looking for a smaller-scale, more intimate setting, the Sunset at the Palms Resort delivers just that. Situated in Negril, Jamaica, this adults-only all-inclusive resort features treehouse-style guest rooms, each with its own private balcony for a serene retreat-like experience. You'll stay amongst palm trees, flowers, and hummingbirds, and can take a walk with the resident gardener to learn more about the Jamaican flora and fauna. All-inclusive packages cover buffet dining, a beach grill, and an a la carte restaurant. Also, be sure to enjoy the freshly brewed Blue Mountain coffee each morning.
Choose from three different dining options offering fare as simple as sandwiches and grilled favorites at the Palm Breeze Beach Bar and Grill to the reservation-required elegance of the Lotus Leaf Restaurant. While this resort has a remote feel to it, there are plenty of entertainment opportunities. Take part in non-motorized water sports, including pedal boats, sail catamaran, kayaks, stand-up paddleboards, and snorkeling.
Sunset at the Palms also offers a large variety of optional tours and activities, including scuba diving, deep-sea fishing, horseback riding by the sea, river rafting, and rum tours among many others.
Live reggae music is available multiple nights each week, and you can indulge at the private beach bar and grill, or order a drink at the swim-up bar. The resort also features Wi-Fi service, a fitness center, a coffee bar, and a weekly cocktail party.
How We Found the Best All-Inclusive Resorts
To find the best all-inclusive resorts, we weighed a number of factors, including the elements outlined below:
Experience Opportunities
The best resorts offer unique experiences, like excursions and trips, to keep you entertained and to make for a memorable vacation.
Amenities
From spas and pools to beaches and a variety of housing options, these resorts offer the amenities you would expect from a quality resort.
Dining
Access to quality, delicious cuisine can make or break a resort stay. These resorts all offer multiple and varied dining options.
Value
While none of these resorts are considered cheap travel options, their value is justified by complimentary services and inclusive arrangements that save you money on dining, entertainment, and more.
What You Need To Know About All-Inclusive Resorts
To find the best all-inclusive resort for your vacation, you'll need to think about your ideal setting and food you'd like to eat, along with the types of activities you want to be able to participate in. "You have to think, first and foremost, about why you are traveling," says Richter. Whether it's swimming with dolphins or taking hula lessons, chances are that a resort offers those activities and experiences you're looking for.
Be prepared to pay generously to stay at a resort, but realize that an all-inclusive resort package can actually save you money. However, it's important to know exactly what is included at an all-inclusive resort before booking your vacation and to budget accordingly. "Understandably, it can be frustrating when you haven't clearly understood what is 'included' in your all-inclusive rate and what's not," said Tiacoh, who went on to note that there are eight things you should always ask about before booking:
Meals: Understand which meals are free. At resorts with multiple dining options, some restaurants may be included while others may represent an out-of-pocket expense.
Alcohol: Make sure you understand which alcohol is included. Sometimes premium liquors and fine wines are only offered at an additional cost.
Resort Fees: Like all hotels, all-inclusive resorts will have fees, taxes and possibly other charges. Some of these fees may be included, others may not. Check to make sure which fees will be a separate expense.
Gratuities: Tips are typically not included at all-inclusive resorts. Always budget for tips for housekeeping, valet and restaurant staff when planning your trip.
Activities: While all-inclusive resorts will offer a variety of activities, not all of them are included in the price. Most resorts will include non-motorized water sports such as paddle boarding, surfing, and snorkeling. However, other activities like scuba diving, land excursions, and sunset sails may come at an extra cost. Check with the resort to see what activities are included and remember to budget for those that aren't.
WiFi: Some resorts may include WiFi, while others may only offer access to specific room types or in designated areas of the resort. If being connected while on vacation is important to you, check to make sure if it's included in the all-inclusive package or to include it in your travel budget.
Age Restrictions: Some all-inclusive resorts are adult-only, meaning no children under the age of 18 are allowed. Others will be more family-oriented and may even offer special pricing for small children staying with their parents at the resort. Check to see if there are any age limits before booking with any resort.
Attire: Some resorts may have fine dining options that require more formal attire, while other resorts may be extremely casual or even have clothing-optional areas. Check if the resort has a dress code and pack accordingly.
Make a Travel Budget
Once you've decided on your destination, make a budget. All-inclusive packages that provide all of your meals, alcohol, Wi-Fi, activities and even trips off the property can add up to some significant savings. Get an estimate of the total cost of the all-inclusive resort and remember to add on any extra activities you're interested in, resort fees, and gratuities.
Another way to save money is by using a travel advisor to help find the right resort. According to Richter, travel advisors will oftentimes receive special deals from resorts they have strong working relationships with and, in many cases, be able to find discounts that may not be available online or by booking on your own. The advisor is also likely to have been to the resort and be able to provide valuable on-site information. "They can tell you about their own experience at the resort and let you know what to expect," said Richter. So check with your travel agent or, if you don't have one, find a travel advisor in your area through travelsense.org.
If you're highly active and adventurous and anticipate spending a lot of time heading off the resort grounds, then carefully consider the resort's location and the nearby entertainment options. Ask about the availability of transportation and its cost. Keep in mind, though, that if you'll be spending most of your time in the local area and not fully using the resort facilities, you might be better off staying at a hotel.
The advantage of heading to an all-inclusive resort is the ease that it offers to your vacation planning and scheduling. Rather than finding and planning out activities, you can sit back and enjoy activities that have already been planned for you right on the property, and you don't have to worry about taking your wallet with you to pay for every meal. "The exotic locations of many all-inclusive resorts and the ability to find tailored vacations for families, singles, couples, and adventure seekers tops the list of reasons why travelers would opt for an all-inclusive vacation," said Tiacoh. If you enjoy social environments, trying new things, and low-stress vacations, booking your next trip at an all-inclusive resort might be a great choice.
Summary: Best All-Inclusive Resorts
Beaches Turks & Caicos: Best for families all-inclusive resort for the whole family
Sonora Resort: Best resort for wilderness lovers
Divi Little Bay Resort: Best for families with young children
Royal Davui Island Fiji Resort: Best for adults-only resort
Sunset at the Palms Resort: Best resort with a more intimate feel