Best All-Inclusive Resorts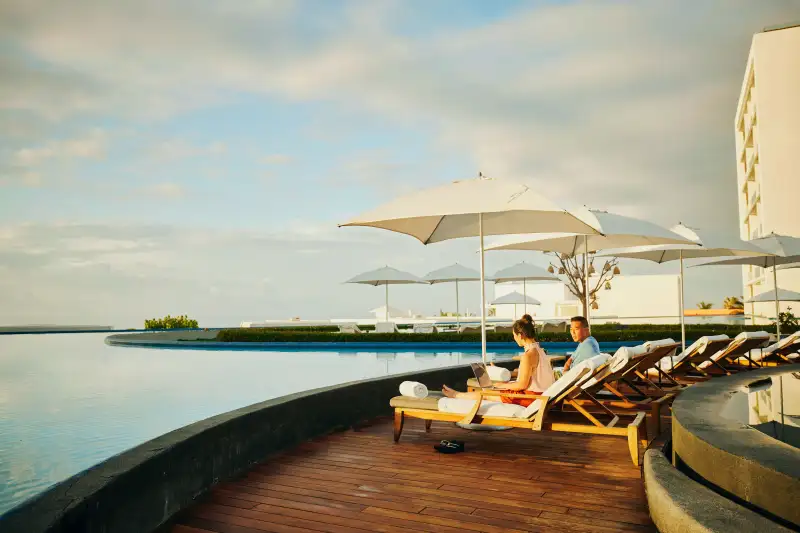 All-inclusive resorts offer guests a complete vacation experience at a fixed price, which makes them an ever-popular option among travelers. These package deals include everything from accommodations to meals, drinks and activities.
But with so many all-inclusive resorts, deciding which to book can be overwhelming. Whether you're looking for a luxurious beachfront experience or prefer family-friendly resorts with amenities for kids, our comprehensive review of the top all-inclusive resorts can help you pare down your options.
Our Top Picks for Best All-Inclusive Resorts
Best All-Inclusive Resorts Reviews
Best Adults-Only Resort: The Lake Austin Spa Resort, Texas
Pros
Meals made with produce grown in on-site organic gardens
Variety of daily exercise options, including wellness education and fitness courses
On-site salon provides complete aesthetic services
Cons
Beer and wine not included
No hard liquor served on-site; guests may bring their own
No on-site business center
Why we chose it: Only guests above the age of 16 are allowed at this resort, contributing to its serene atmosphere.
The Lake Austin Spa Resort boasts a tranquil lake and lush, green woodlands. The resort feels like it's situated in a remote nature reserve, but it's only 20 miles from the heart of Austin. Reviews cite staff as warm and helpful, and visitors consistently post rave reviews about the grounds.
Luxury accommodations, three meals per day and an endless supply of non-alcoholic beverages are all included in the resort's standard package. The package also includes the use of all lake equipment, three swimming pools and fitness activities, as well as access to spa and wellness facilities. However, alcoholic beverages are not included in the price and guests must bring in their own hard liquor, as the resort does not serve it.
Best All-Inclusive Resort in Mexico: Le Blanc Spa Resort Los Cabos, Mexico
Pros
Packages include unlimited dining and top-shelf liquor
Soaking tubs and rainfall showers
Full gym with personal trainers, classes and activities like Pilates
Cons
Can get crowded during peak season
Some former guests mention being sold upgrades they had already paid for
Why we chose it: Concierge and butler services, Ferragamo bath amenities and private pools make Le Blanc Spa Resort Los Cabos a luxurious experience.
Located on Las Palmas Beach overlooking the Pacific, Le Blanc Spa Resort features sumptuous private rooms with stunning ocean views, furnished balconies and available butler service. The resort has four large swimming pools and various hot tubs, while dining options are plentiful with 10 different restaurants serving top-notch cuisine.
Each stay includes two complimentary spa treatments and a personalized lunch or dinner each day at the BlancSpa, renowned for the quality of its treatments. Former guests review the other amenities just as highly.
However, with rates on the higher end of the range, it's not a great option for budget seekers. With that in mind, travelers may consider purchasing travel insurance to protect their investment.
Best All-Inclusive Resort for Families: Grand Palladium Palace Ibiza Resort & Spa, Spain
Pros
Three pools, one of which is a well-supervised kiddie pool
Tennis, volleyball, archery and other activities
Supervised areas for kids and teens include video games and a movie theater with recent releases
Cons
Some guests report mosquito problems at outdoor dining spots
Occasional noise due to jets flying overhead
Why we chose it: With suites providing a mix of privacy and supervision and an on-site "kids' club" that will keep the little ones happy while the grownups enjoy the other amenities, Grand Palladium is a perfect white-sand getaway for families.
The Grand Palladium Palace Ibiza Resort & Spa is a five-star resort in a prime location on Ibiza's Playa d'en Bossa. Both families and couples are welcomed at this luxurious resort perched on the edge of the island's most extensive stretch of white sand beach.
The hotel offers different classes of rooms and suites, all designed with a contemporary vibe and vibrant colors. Every room has a whirlpool bathtub — Deluxe Jacuzzi rooms are also available — and a private furnished terrace with a hydromassage tub.
Guests can choose from five restaurants and various fitness activities. With nightly live entertainment, four outdoor swimming pools and direct beach access, there's little to find fault with. Some guests have commented on a mosquito problem in outdoor dining areas, but the resort has stated it's taken steps to address it.
The Grand Palladium is one of the more affordable options on this list — and it's about an hour by plane from Barcelona, one of the best international places to travel this year — making it a great choice for families looking for an unforgettable vacation that won't require a second mortgage.
Best Affordable All-Inclusive Resort: Sunscape Curaçao Resort, Spa & Casino, Curaçao
Pros
Rates include service at five restaurants and three bars; no reservation needed
Wellness center and spa with a variety of services
Convenient to shopping and nightlife
Cons
Beach and largest pool are frequently crowded
Long lines at restaurants after early afternoon
Wi-Fi not included
Why we chose it: Rates for Sunscape Curaçao Resort, Spa & Casino include service at five restaurants and three bars — no reservations required — as well as kids' and teens' clubs, four pools, and access to a white sand beach.
This beautiful resort boasts a vast sandy beach with safe swimming and snorkeling areas, three distinct pool zones with hot tubs and stunning ocean vistas. Families with children and teens will appreciate the numerous activities available to them, including volleyball, snorkeling, kayaking and rock climbing.
Sunscape Curaçao offers vibrant, contemporary accommodations with many rooms featuring impressive ocean views. And with five restaurants to choose from and no need for reservations, guests can indulge in various culinary experiences on a first-come, first-served basis. For refreshments, there are three bars, including a popular swim-up bar.
Recent guests have praised Sunscape Curaçao's variety of food options, live entertainment and overall value. It offers some of the most affordable rates across all-inclusive resorts, plus a 10% discount for U.S. military personnel and AAA members.
However, one major drawback for anyone looking to stay connected during their trip is the resort's lack of free Wi-Fi in the rooms. While there is Wi-Fi available in the lobby, you have to pay a fee to access it anywhere else.
Best Caribbean All-Inclusive Resort: Excellence Punta Cana, Dominican Republic
Pros
On-site eco-park features a variety of flora and fauna, including flamingos and macaws
Generous, high-quality, all-inclusive food and drink, including premium liquor
24-hour room service
Cons
Airport is an hour away by taxi
Ocean often too rough for swimming or other non-motorized water sports
Why we chose it: Luxurious swimming pools and upscale dining with views of the crystal-clear Caribbean Sea make Excellence Punta Cana the ideal destination for a peaceful tropical holiday.
Past visitors have given glowing reviews of the resort's romantic atmosphere, knowledgeable and helpful staff members, and excellent spa facilities. The Miilé Spa, in particular, offers guests a space to focus on personal wellness with options like singles and couples treatment rooms, a Swedish sauna, an ice room and hydrotherapy pools.
Excellence Punta Cana caters to couples with activities such as Spanish lessons, yoga classes, beach volleyball, dance lessons and more, all included in the nightly rate. Guests enjoy full access to an elegant bar with private tables, a grand theater featuring live entertainment, luxurious suites with private outdoor spaces, whirlpool bathtubs and stocked minibars that are replenished every evening.
Punta Cana has a variety of gourmet dining options as well as a well-stocked wine cellar and one of the most affordable price ranges on our list. While it's not a great option for those looking to spend a lot of time out on the water due to frequent rough conditions and strong currents, there's still plenty to do on the beach.
Other all-inclusive resorts we considered
We rated resorts based on factors such as affordability, included amenities, range of dining and entertainment options, access to nature, nightlife and cultural sites, and overall customer reviews from a variety of rating platforms. The following selections are worthy of mention but failed to make the top five best all-inclusive resorts.
Alila Ventana Big Sur, California
Pros
Intimate restaurant features a wine cellar with over 10,000 bottles
Indoor-outdoor spa, sauna and Japanese baths
Located in a coastal redwood grove
Cons
Many additional fees for things other resorts include
"Glamping" facilities offer heated blankets, but no heating
Nestled among coastal California's redwoods, this gorgeous resort features breathtaking ocean views, extensive event space, an on-site art gallery and many other amenities. Alila Ventana didn't make the cut because while this resort has a truly unique and beautiful location, it's one of the more expensive offerings and not truly all-inclusive.
Explora en Torres del Paine, Chile
Pros
Views of mountains and lakes
Excellent location for avid hikers
Cons
Event and excursion sign-ups are disorganized and often overbooked
Some off-site events require a four- to eight-hour wait at a secondary location
Situated in the heart of the Torres del Paine National Park near Pehoé Lake, this all-inclusive accommodation offers a peaceful retreat for travelers. The Explora boasts excellent pools and spa facilities as well as excursions like horseback riding and beginner-rated hikes within steps of the resort.
Explora didn't make the cut because guests point out that excursions are often over-booked or sign-up sheets are unavailable, lost or incorrect. Rooms are also on the smaller side as far as resorts go, although they all have a view of the famous Patagonia peaks.
Twin Farms, Vermont
Pros
Beautiful views of the Vermont countryside
Excellent food and wine
Cons
Very expensive
Sometimes limited spa availability
Twin Farms is an adult-only resort that provides personalized culinary experiences, making it a popular destination for foodies. It boasts 18th-century-style cottages, impressive art collections, stunning vistas of the Vermont scenery and numerous hiking trails.
Nonetheless, Twin Farms is now quite well-known and its popularity has led to steadily increasing prices, making it one of the most expensive resorts we looked at.
All-Inclusive Resorts Guide
An all-inclusive resort can be the perfect escape from everyday life. They typically include accommodations, meals, drinks and various activities for one price. But with so many amenities in exotic locations, it can be challenging to decide on just one.
Keep reading for tips on choosing the best all-inclusive resorts worldwide, whether you're looking for a romantic getaway, a family-friendly resort or an adventure-filled experience.
What is an all-inclusive resort?
An all-inclusive resort is a type of vacation destination that offers guests a complete package that includes accommodations, meals, drinks and a range of activities or spa treatments for one fixed price. Guests can enjoy their stay at the resort without worrying about additional expenses for included amenities and experiences.
How do all-inclusive resorts work?
When you book an all-inclusive resort, you typically pay for everything upfront and receive a wristband or card that identifies you as a guest, with access to all of the resort's amenities. These can include meals at the resort's restaurants, drinks at the bar, access to the pool, beach chairs and towels and entertainment options such as live music, shows and sports activities.
What to consider when choosing an all-inclusive resort
When choosing an all-inclusive resort, consider the location, type of resort, amenities, activities, dining options and overall atmosphere you're looking for and weigh them against the all-inclusive price and any additional costs.
The type of all-inclusive resort
There are various types of all-inclusive resorts, each catering to different kinds of travelers and vacation preferences. Here are some of the most common types:
Beach resorts: These resorts are located on or near the beach, offering guests access to water sports, swimming and other beach activities.
Family-friendly resorts: Resorts that cater to families with children through amenities such as kid's clubs, water parks and family-friendly entertainment. Tip: Some of the best travel credit cards offer perks that can help you make your family vacations more affordable.
Adults-only resorts: Resorts are designed for couples or solo travelers looking for a more relaxed and romantic vacation experience.
Luxury resorts: Higher-end resorts that offer luxury amenities, services and accommodations, such as gourmet dining, spa treatments and exclusive activities.
Adventure resorts: Resorts that offer guests access to outdoor adventure activities such as hiking, kayaking and zip-lining.
Eco-friendly resorts: With a focus on sustainability and environmental consciousness, these resorts offer guests a chance to connect with nature and participate in eco-friendly activities.
Wellness resorts: Designed for guests looking to focus on their health and wellness, these kinds of resorts typically offer yoga classes, spa treatments, healthy dining options and more.
Array of amenities and services
All-inclusive resorts offer a wide array of amenities and services that cater to different types of travelers and vacation preferences. These may include:
Unlimited food and drinks at restaurants, bars and lounges
Various activities such as water sports, snorkeling, kayaking, paddle boarding, tennis, golf, fitness classes and more
Live music, shows and other forms of entertainment
Spa services such as massages, facials and body treatments
Kids' clubs, water parks and other activities that cater to children
Transportation to and from the airport or to local attractions
Travel agent expertise
When choosing the best all-inclusive resort for your vacation, a travel agent can provide tailored recommendations that match your specific needs and preferences.
They may have insider information about the best hotels, a particular resort or access to exclusive deals and promotions that can help you save money on your all-inclusive package. They can also assist with booking and planning and take care of transportation and excursion arrangements.
Resort location
The resort's location should be a primary consideration for travelers. Look into how easy it is to access the resort, its proximity to airports or transportation hubs, and whether any direct flights are available.
Other essential factors to keep in mind include the location's climate, safety, nearby attractions and activities, the quality of the beach and ocean, and access to local culture.
Resort size
The size of the resort can have a significant impact on your vacation experience. For instance, a smaller resort may be a better fit for those who value privacy and seclusion. In contrast, larger resorts may offer a broader range of activities and entertainment options.
Your budget
Consider the package price, as it can vary depending on the resort, location, time of year and amenities. You should also factor in travel costs like airfare and transportation, taxes and any additional fees. The best travel rewards credit cards can significantly increase your budget range, so check them out if you haven't already.
The type of room you choose can also affect the package price, so determine what kind of room you need and compare prices between resorts. And while all-inclusive resorts offer unlimited dining and drinks, some charge extra for premium options, so read the fine print if those are important to you.
Lastly, it's a good idea to look into the best travel insurance companies to ensure your travel expenses are covered against unforeseen circumstances.
All-Inclusive Resorts FAQ
What is not included in an all-inclusive resort?
Although all-inclusive resorts typically offer a range of amenities and services included in the package price, some things may not be included. Here are some examples:
Spa treatments and massages: Some resorts charge extra for these services.
Certain activities and excursions: Some activities like golfing, scuba diving or off-site excursions may not be included in the package price.
Premium drinks and wines: While most all-inclusive resorts offer unlimited drinks, top-shelf liquor and fine wines may cost extra.
Room service: Some resorts may not offer room service or charge an additional fee for it.
Internet access: Some resorts may not offer free Wi-Fi, or the Wi-Fi may be limited.
Gratuities: Some all-inclusive resorts include gratuities in the package price, but others require guests to tip separately.
Some resorts may offer packages that include additional services or activities for an extra fee. Review the details before booking to ensure you're getting the most value.
What do all-inclusive resorts include?
These types of resorts usually offer a range of amenities and services in the package price, which can include accommodations, unlimited meals and alcoholic beverages, live entertainment, activities like water sports and fitness classes, kids' clubs, sports facilities and even spa and wellness services. Some all-inclusive resorts even include gratuities in the package price, so you don't have to worry about tipping.
What countries have all-inclusive resorts?
All-inclusive resorts can be found in many countries, but they are most commonly found in tropical destinations popular with tourists. Some countries with a high concentration of all-inclusive resorts include:
Mexico: Famous for its all-inclusive resorts, particularly in popular tourist destinations such as Cancun, Cozumel and Puerto Vallarta.
The Dominican Republic: Home to many all-inclusive resorts, mainly in Punta Cana and Puerto Plata.
Jamaica: Has a variety of all-inclusive resorts in popular destinations such as Montego Bay, Negril and Ocho Rios.
The Bahamas: Has several all-inclusive resorts on islands such as Nassau, Paradise Island and Grand Bahama Island.
Cuba: A growing number of all-inclusive resorts are opening here, particularly in Varadero and Holguin. Though travel restrictions limit American access, Cuba is increasingly popular with Canadian tourists.
Costa Rica: Has a variety of luxury resorts in picturesque destinations such as Guanacaste and the Nicoya Peninsula.
Thailand: Has plenty of well-known resorts, particularly in popular beach destinations such as Phuket and Krabi.

All-inclusive resorts can also be found in other popular tourist destinations such as the Caribbean, Hawaii, Maldives and Seychelles.
How much do all-inclusive resorts cost?
The cost of all-inclusive resorts can vary widely depending on a variety of factors, including the location of the resort, the time of year, the type of accommodations, the amenities and services included in the package, and which travel booking sites you use . Generally, all-inclusive resorts can range from budget-friendly options to high-end luxury resorts.
In popular destinations such as Mexico, the Dominican Republic and Jamaica, budget-friendly all-inclusive resorts can often be found for around $200 to $300 per person per night. Mid-range all-inclusive resorts typically cost between $500 and $800 per person per night. In contrast, high-end luxury all-inclusive resorts can start at $900 per person per night and go up from there.
While all-inclusive resorts can seem like a higher upfront cost, they can often be a more cost-effective option in the long run, especially if you plan to take advantage of all the amenities and services included in the package.
How We Chose the Best All-Inclusive Resorts
Our criteria for choosing the best all-inclusive resorts included:
Affordability: We compared prices from a range of all-inclusive resorts, including travel expenses, taxes and fees, to determine average costs.
Range of included amenities: While offerings vary from resort to resort, we considered both the number of perks and services included as well as their quality.
Access to beaches, forests or other natural surroundings: All of these resorts are beautiful, but some have more access to greater expanses of untouched natural beauty.
Variety of available dining options: While dining options frequently change at these resorts depending on the seasonal availability of ingredients, we considered the overall range of dishes offered as well as options for those with dietary restrictions.
Travel considerations: We looked for resorts with a good balance of ease of access and sufficient distance from noise and light pollution.
Consumer reviews: We examined reviews by former guests and travel agents across a variety of platforms, including consumer advocacy and special-interest websites.
Summary of Money's Best All-Inclusive Resorts