How We Chose Money's Best Autos of 2023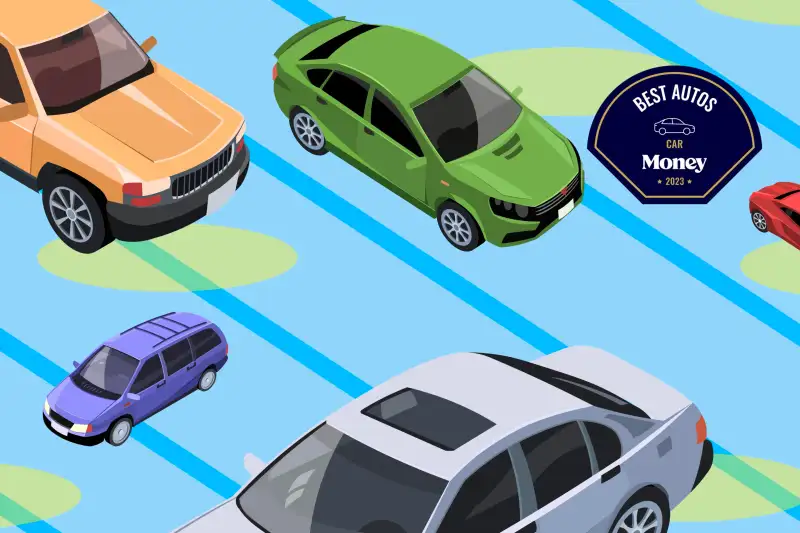 Anyone shopping for a new car is confronted with a dizzying array of options. Sedan or subcompact? Car or SUV? Gas or electric? And once you've settled on the wheels you want, you still need to select the model (or "trim," as the industry calls it) of the car that's best for your needs and budget.
We evaluated vehicles across 25 categories to pick more than 100 we judged to be the best picks. Here's how we arrived at our recommendations.
Vehicle Categories
We've included all of the traditional vehicle types, including minivans and cars, pickup trucks and SUVs in various sizes. We picked luxury vehicles in a few categories, too. However, because of our focus on value, we limited our selection to entries that cost no more than $75,000.
We also added from categories based on new fuel sources and technologies. These include:
Electric vehicles (EVs)
These are entirely electric. They have an electric motor, and a battery that is charged at a charging station, either in your home or at public stations.
Hybrids
These vehicles have an electric motor, and a battery that charges during driving, to supplement their gas engines.
Plug-in hybrids (PHEVs)
This class of vehicle has an electric motor powered by a battery that is replenished at a charging station, as with the battery for a fully-electric vehicle. But PHEVs also have a gasoline-powered engine, to which power is switched as the battery charge dwindles.
Selection Process for Our Picks
Within each category, we considered all the vehicles available on the market. Then we narrowed the choices to a long list of leading contenders, based on expert insight and analysis by Jaclyn Trop, an award-winning automotive journalist who authored our picks and whose byline has appeared in such publications as The New York Times, The New Yorker, Fortune, Consumer Reports and U.S. News & World Report.
Jaclyn then pared her long list down, typically to five top picks, except in cases (such as with minivans) where she did not judge there were that many top choices in the category.
We considered a range of factors to determine which models made the cut, and to call out their particular distinction(s) within the group.
Pricing and value for money
This assessment began, naturally, with what it costs to buy the vehicle. Specifically, we considered the starting price for the model (or "trim") of the vehicle we selected. That choice was based heavily on the trim level we judged as offering the best value for money. (The starting price for that model was the one we listed for the price in the vehicle-data list below the reviews of each vehicle.)
We also considered the cost of owning the vehicle. To evaluate that, we drew heavily from the lifetime cost of ownership data from Kelley Blue Book, which encompasses factors such as depreciation/residual value over time, insurance costs and reliability — and so the car's likely cost of repairs.
Our analysis also reflected the vehicle's fuel efficiency. For gas-only vehicles and hybrids, we've listed the manufacturers' data on the mileage per gallon in both city driving and highway driving (listed, for example, as 32/36 mpg). For electric vehicles, we list efficiency as MPGe – which reflects the equivalent energy of a gallon of gas in battery capacity.
Performance
We considered manufacturers' data on acceleration and horsepower, and other measures. We also considered the cargo capacity of the model and, for trucks and large SUVs, torque and towing capacity.
Handling
Based on Jaclyn's observations from test driving the vehicles, we considered how surely they braked, cornered and responded during other maneuvers, such as sharp course corrections.
Safety
Almost all vehicles now on the market do very well in protecting occupants during a crash, based on crash testing conducted by NHTSA. They also boast a bevy of standard safety features, such as anti lock brakes and rear view cameras. To assess the respective safety of the vehicles, then, we focused in part on additional safety features available, particularly as standard equipment, on the model we selected. These include adaptive cruise control, forward collision warning and automatic emergency braking.
We also considered the performance of the supplied headlights in independent testing, since the visibility and reach of the illumination in front of the vehicle is an important aspect of safe driving – and an attribute with considerable variation from vehicle to vehicle.
Features
We assessed the vehicle's overall array of enhancements, mostly within the cabin. These include the presence of heated and cooling seats as well as the size and capability (touch or not) of the screens on the dashboard and elsewhere.
Technology
The focus here is on any innovative and cutting-edge capabilities. These include connectivity, through built-in programs such Apple CarPlay and Android Auto along with the ability to set up a Wi-Fi hotspot through the vehicle's technology.