All the Best Cyber Monday Deals You Can Still Get Now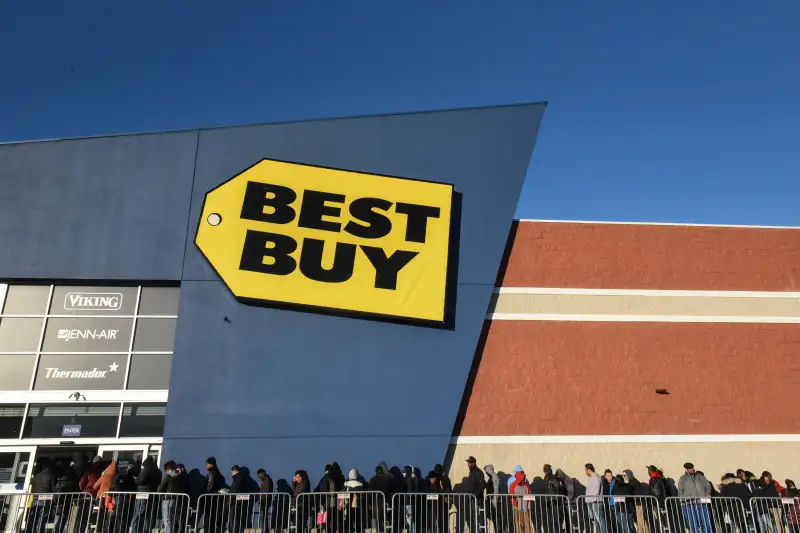 Stephanie Keith—Getty Images
Black Friday and Cyber Monday 2017 may have ended, but that hardly means that the best holiday deals have disappeared.
One day after Cyber Monday, many Cyber Monday deals remain very much alive at retailers like Best Buy, Walmart, and Amazon. So-called Cyber Week deals that are valid today include big sales on Apple tech, Amazon devices, TVs, and flights, as well as online discounts of up to 60% on everything sold by stores like Gap, J. Crew, and Lands' End.
Here are the best Cyber Monday deals you can still snag today.
TVs, Tablets, and Other Electronics
Amazon Echo Dot: The second-generation voice-controlled Echo Dot device remains on sale at Amazon for $29.99, or $20 off the list price.
Amazon Tap: While brand-new versions of the Amazon Tap smart speaker retail for $129.99, certified refurbished models are still on sale right now at Amazon for only $59.99.
Sceptre 32-Inch LED HDTV: You can get this 32-inch model for only $109.99 at Walmart. (That's $90 off the list price.)
Samsung 32-Inch LED HDTV: If you'd rather go with the Samsung brand name over the Sceptre 32-inch TV above, this model is selling at Walmart for just $158, or $89 off the $247 list price.
Amazon Kindle Voyage (refurbished): Amazon is selling certified refurbished versions of the Kindle Voyage E-reader with wi-fi for $119.99, or $50 off the normal price.
Apple iPad 32GB with Wi-Fi and Cellular: Best Buy's Cyber Monday deal for this brand-new iPad model is $259.99 ($200 off) when you get a two-year wireless contract with Verizon.
Sharp 43-Inch Smart 4K TV: Best Buy still has this Sharp model on sale for $299.99, or $130 off the regular price ($429.99).
Cyber Monday Flight Deals
Some Cyber Monday flight deals are still available for travelers booking airfare today.
Spirit Airlines has flights starting as low as $25 to $50 right now on dozens of routes, including Atlanta to Chicago, Fort Lauderdale to Cleveland, and Newark to Orlando. To get the $25 fares, you must be a member of Spirit Airlines' $9 Fare Club, which costs $60 annually. Alternately, the same flights cost $50 for nonmembers. These cheap prices are good on select dates in December, January, and February, pending availability.
Huge Sitewide Discounts
Disney Store: Enter the code MELT4THIS and you'll get 20% off everything on Tuesday. That's actually a better deal than some of Disney Store's Cyber Monday promotions.
Eddie Bauer: Use the code HOLIDAYS at checkout and you can still get the deal that was offered on Cyber Monday—which is 50% off everything at Eddie Bauer.
Gap: Gap customers get 50% off their entire purchase—a Cyber Monday deal that's still in effect on Tuesday.
J.C. Penney: The deal available to online shoppers on Cyber Monday—an extra 25% off purchases under $100, and an extra 35% off purchases of $100 or more—is still valid on Tuesday. Enter the code SHOPNOW8 to get the additional discounts.
J. Crew: The preppy apparel retailer's Cyber Monday discount, offering 40% off everything and free shipping for all orders, is still in effect on Tuesday. Enter the code SHOPFAST at checkout. Meanwhile, at J. Crew Factory, everything is still 60% off and comes with free shipping when you use the code CYBER.
Lands' End: Everything on the site is 50% off when you enter the code SAVINGS at checkout. (You'll have to enter an extra PIN, 2080, to get the discount.)
Macy's: Enter the code CYBER and you'll get an extra 20% off nearly everything—including many items already discounted by 50% or more—through Tuesday.
Old Navy: The Cyber Monday deal offering 50% off everything at Old Navy has been extended to Tuesday.
Shoes.com: Enter the code CYBER17 at checkout and you'll get an extra 30% off everything on Tuesday—a deal that matches the discount from Cyber Monday.
We've included affiliate links into this article. Click here to learn what those are.