Forget the iPhone 7. Now's the Time for Deals on Older iPhones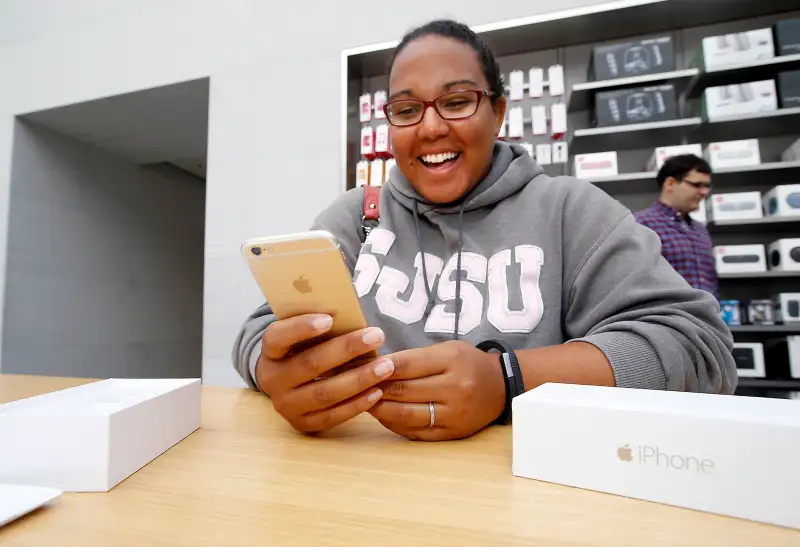 It's September, and that means the annual arrival of a new iPhone. Yet again, consumers are being asked to consider the proposition of paying top dollar to upgrade to a marginally better device.
This year, there may be more reason than usual to skip the newest model. The absence of a headphone jack on the new iPhone 7 has many people grumbling in annoyance. And overall analysts say that while Apple has "incrementally improved" the iPhone with the latest version, it's hardly a groundbreaking, must-have device. What's more, as the Wall Street Journal and others have noted, 2017 will mark the 10th anniversary of the iPhone, and it's expected that Apple will try to blow some minds with a major overhaul for the occasion.
Still, if you are overdue for an upgrade but don't think the iPhone 7 is worth the money, there is a simple solution: Purchase a slightly older iPhone for a fraction of the price. Like clockwork, the arrival of a new iPhone means that older models have just gotten cheaper. Here are some options:
APPLE
As fully expected, the same week that Apple introduced the iPhone 7, it cut the prices for iPhone 6s models. Apple is now selling the lowest price iPhone 6s for $549 (down from $649), and because the base model's storage capacity is now 32 GB (up from 16 GB), it packs in more value. The 128 GB version of the iPhone 6s, which cost $849 when it was first released, will now run you $649.
Read Next: The iPhone 7 Is Here. Is It Worth the Upgrade?
Similarly, the larger iPhone 6 Plus has also gotten a sweet price cut. The 32 GB now starts at $649 (compared with $749 for the 16 GB version in the past), while an iPhone 6 Plus 128 GB is priced at $749 (down from $949 not long ago). The iPhone SE, meanwhile, costs $399 for 16GB or $449 for 64GB—the latter represents a $50 price cut.
HOLIDAY SALES
You've waited a while to upgrade. So why not hold out a little while longer? Doing so could save you some easy money, thanks to the likely arrival of special promotions and sales on phones during the winter shopping holidays.
Last year, for instance, Best Buy effectively discounted the latest iPhone by $100 to $200 with a short-lived deal. In addition to classic price cuts, many retailers will probably roll out enticing holiday season offers like bonus gift cards, free iTunes credits, or add-on peripherals at no extra charge with the purchase of an iPhone. But if you purchase your iPhone before these promotions arrive, you won't be able to take advantage of them.
REFURBISHED
"Refurbished" generally means that a device has been repaired or restored to the point that it's "like new," but the meaning of the term—and the warranty, if one is included—can vary from seller to seller. So it's well worth your time to do some research on the fine print before purchasing any refurbished item, and only go with a seller you trust.
Apple sells many refurbished products at discounts, but unfortunately iPhones are not among them. You can, however, buy refurbished iPhones from third-party sellers, including Walmart, Best Buy, and Amazon. For instance, Best Buy was listing a refurbished iPhone 6s 64 GB for $499. That's $50 cheaper than the 32 GB version directly from Apple, even after the price was recently cut.
USED
Whereas refurbished products have been returned and fixed, the "used" category of devices is just what it sounds like—secondhand items that people have unloaded, likely while upgrading to newer models. Thanks to the annual introduction of a hyped new iPhone, a huge marketplace has developed for the selling (and buying) of older iPhones.
Naturally, prices for older iPhones drop every time a new model arrives, and as more people upgrade, more older phones hit the secondary market, causing prices to decrease as time passes by. In other words, the longer you wait, the lower prices will get for used iPhones. But all things considered, right now and for the next couple of months are as good a time as any to buy secondhand iPhones.
Read Next: How to Sell Your Old iPhone for the Most Money and Least Hassle
Among the many sources for browsing used iPhones are eBay, BankMyCell, Best Buy, and Glyde. Note that while some used phones are unlocked and can be used with any wireless carrier, many are intended specifically for use with AT&T, Verizon, or another provider. In general, you'll pay a little more for an unlocked iPhone, but that could be money well spent if you don't want to be forced into a contract with a specific provider.
As you'd guess, the older the iPhone, the cheaper the price. The phone's condition will dictate how much it costs too. At Glyde, for instance, a secondhand iPhone SE 16 GB for use on the Sprint network was priced at $463 in "excellent" condition, but only $270 for one deemed merely "acceptable," because it has "signs of heavy wear which may include lots of scratches, dents, or major cosmetic issues."