The Best Electric Pickup Trucks of 2023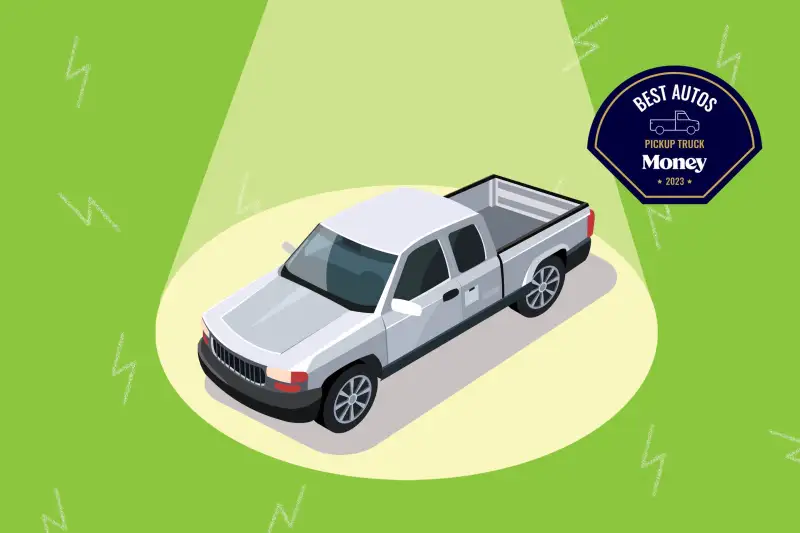 Once improbable, fully electric pickup trucks are now a reality. They're environmentally friendly, of course, and will also save you time and money you'd normally spend at the pump. Yet these trucks also boast several performance advantages over traditional gas-only pickups.
With no engine — and therefore a shorter hood and a longer cabin — a battery-electric truck often has more interior space than the typical pickup. Some even have a storage compartment beneath the hood, known as a frunk. Also, as with all EVs, electric trucks deliver instant torque, which gives them the pep to haul heavy loads or rapidly merge onto the highway.
The market has begun to heat up, with more models joining the fray each year. We evaluated the available electric pickups for the attributes that we think matter most — including value for money, safety and performance.
In the end, we were able to recommend only three vehicles for this report. Here's the list, along with explanations on how each stands out from the pack. The specs listed below each review are for the trim level we assessed, which we judged to offer the best value.
Our Picks for the Best Electric Pickups of 2023
Ford F-150 Lightning — Best for Value and Features
GMC Hummer EV — Best for Handling
Rivian R1T — Best for Safety and Technology
Reviews of the Best Electric Pickups
Best for Value and Features: Ford F-150 Lightning

Pros

Impressive ride
Innovative features

Cons

The slowest acceleration of the group, although still very fast
By its looks, the Ford F-150 Lightning could easily be mistaken for its gas-powered counterpart. That changes once you experience the burst of electrical power it delivers when you step on the accelerator. With its expansive features and fantastic ride, the Ford F-150 Lightning is our choice for the best value and features.
The Pro base model comes with heated seats, vinyl upholstery and the SYNC4 infotainment system with its standard 12-inch touch screen. Starting at about $76,000, the Lariat trim adds leather-trimmed upholstery, a heated steering wheel and an enhanced SYNC4A infotainment system with voice recognition and a 15.5-inch touch screen. Though the Lariat trim may seem pricey, it's similar in cost to what you'll pay for other electric pickup trucks, and yet provides more luxuries than some.
The standard 452-horsepower Lightning delivers 240 miles of battery range. Shoppers can upgrade to 580 horsepower, and 320 miles of range, for a $10,000 premium.
The Ford's electric pickup zips from 0 to 60 mph in under four seconds. While amazingly quick, it's not fast enough to beat the GMC Hummer EV or Rivian R1T, which take about three seconds to make the journey.
Price $75,974
Mileage 68 MPGe
Battery range 240 miles
Best for Handling: GMC Hummer EV

Pros

Robust powertrain
Exciting off-road features

Cons

Expensive, even for an EV truck
The GMC Hummer EV is a super truck like no other. The highly muscular, 1,000-hp powertrain boasts three electric motors that launch the Hummer EV from 0 to 60 mph in 3.3 seconds. Its range exceeds 350 miles – more than the 240- or 270-mile standard range of the Ford F-150 Lightning or Rivian R1T.
The Hummer EV is quick and controlled on the road, but it was built primarily for off-road adventures, with impressive optional features to help its handling. The 4-Wheel Steer shortens the turning radius to improve maneuverability in tough spots. The CrabWalk setting helps the truck traverse tight trails using the 4-Wheel Steer feature to drive diagonally at low speeds. The Extract mode raises the adaptive air ride suspension by roughly six inches.
Inside, you'll find synthetic leather upholstery, heated and ventilated front seats, heated rear seats and a heated steering wheel. The Infinity Roof and available Transparent Sky Panels create an open-air ride; removing the panels lets in the fresh air.
Price $110,295
Mileage N/A
Battery range 350-plus miles
Best for Safety and Technology: Rivian R1T

Pros

Innovative technology
Elegant cabin

Cons

No support for Apple CarPlay or Android Auto
The Rivian R1T received high marks for headlight safety from the Insurance Institute for Highway Safety (IIHS). The truck is the only model on this list to receive the agency's Top Safety Pick+ designation.
The truck also comes with Driver+ system to provide a view of surrounding vehicles, obstacles and the road. It includes adaptive cruise control, blind spot warning, a lane-keep assist and a lane-departure warning. It features Highway Assist, too, which automatically steers, brakes and accelerates on certain highways.
The Rivian R1T's onboard tech includes a Wi-Fi hotspot, wireless charger and 15.6-inch touch screen. The truck also has a Kneel mode, which lowers the vehicle to your preferred height for safe entry and exit. When activated, the Pet Comfort software keeps your pets comfortable at a consistent cabin temperature between 68 and 74 degrees when you are away from the vehicle.
The 600-horsepower R1T sprints from 0 to 60 mph in 4.5 seconds. Opting for the top-performing 835-horsepower quad-motor all-wheel drive model shaves the trip down to a mere three seconds.
Like all other electric vehicles, the R1T's battery pack affects its range. The standard range is 270 miles, but buyers can upgrade to a $6,000, 350-mile-range battery pack or a $16,000, 400-mile-range system.
Price $73,000
Mileage 73 MPGe
Battery range 270 miles
Jaclyn Trop is an award-winning journalist who road-tests and reviews vehicles and covers automotive news. Her byline has appeared in The New York Times, The New Yorker, Fortune, Consumer Reports and U.S. News & World Report, among other publications.