The Best Inexpensive Rosés for Summer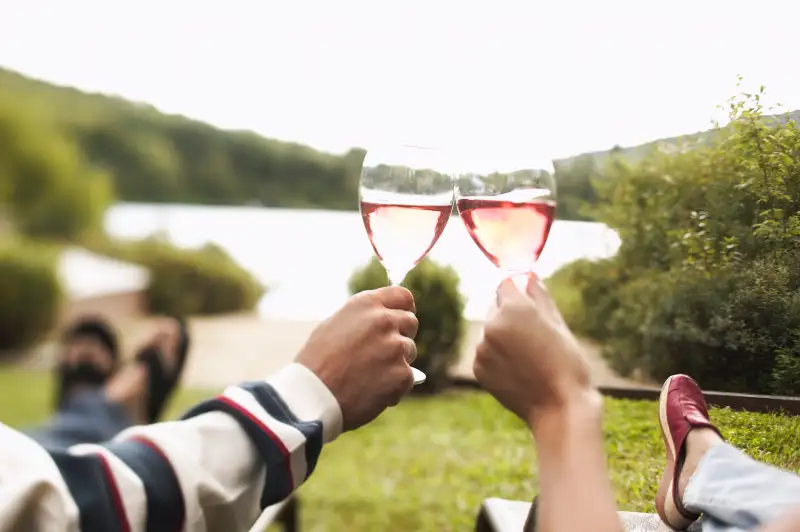 Jupiterimages—Getty Images
Whether you're brunching on a Sunday morning or kicking back after a long day of work, there's one indisputable fact: A glass of rosé makes every warm-weather occasion more enjoyable.
While there's no rule stipulating that rosé is strictly a summer drink per se, there's just something about pouring a chilled glass on a sweltering afternoon that feels right. Thankfully, summer is finally here—hello, 90 degree weather in NYC—and so rosé season is officially upon us.
"Rosé for me is the perfect summer drink. Finishing off a couple bottles with friends in the sunshine in Central Park is amazing," says Michael Shain, general manager of Porchlight in New York City. "Definitely not legal, but that makes it even more fun."
And one of the great things about rosé is that you don't need to spend a ton to get a decent bottle. You don't even have to buy a bottle at all—affordable juice box rosé (or canned) is very much accepted, even encouraged in some circles.
Read Next: Insider Tips for Choosing a Great, Cheap Wine
Ali Tuthill, marketing director for the Long Island Wine Council, says what makes rosé so wonderful is that it's suitable for any drinking occasion: "Moderate in alcohol, bright and fresh, the wine lends well to happy, outdoor occasions with family and friends."
Without further ado, these are expert picks for the best value rosés to uncork (or unscrew) this summer.
Tuthill suggests Ospreys Dominion Rosé ($15), an off-dry light red. Suggested pairings include salmon, turkey, and seafood stew.
Food & Wine suggests the 2010 Chivite Gran Feudo Navarra Rosado ($9), which it describes as bright, zesty, and "full of graceful raspberry and cherry flavors."
For those looking for a more portable option, Food & Wine calls Monte Bernardi 2015 IGT Terre Siciliane Rosato ($13.99) "the perfect beach or picnic wine." It's also organic, and the environmentally-friendly cartons create 80% less greenhouse gasses and 60% less solid waste volume than your typical glass bottle.
Channing Daughter's Rosato di Merlot ($15 - $20) is "perfectly balanced and will appeal to any rosé fan," says Shain. "It will pair well with almost anything and is very affordable."
If you have a few more bucks to spend, Tuthill suggests McCall Marjorie's Rosé ($18), Wolffer Estate's Rosé 2015 ($18), and the Macari Rose ($19).
Looking for more tips on selecting the best wine for your budget? We have you covered.