15 Best Life Insurance Companies of April 2021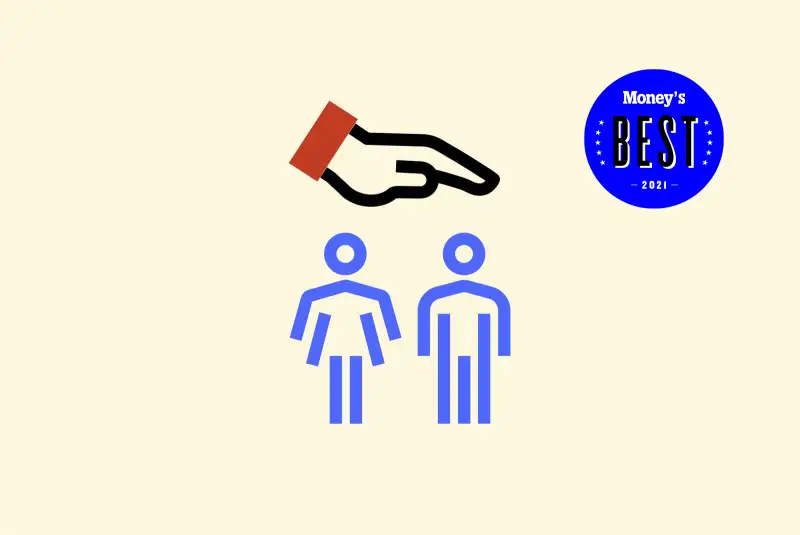 Find the best life insurance companies in 2021. Learn all about coverage options including types of policy and premiums.
Our Top Picks for Best Life Insurance Companies of April 2021
Best Online Life Insurance Options:
Ads by Money. We may be compensated if you click this ad.
Ad
What are current life insurance rates?
Find your actual rate at a top insurer in your area - click your state to get started and see your rate today.
View Rates
Best Life Insurance Companies Reviews
Northwestern Mutual Review: Best Overall
Pros
Cons
Term and permanent life policies can be combined
Fixed window of time for changing term policy into a permanent one
Term policies can be converted to permanent policies regardless of health status
Must be purchased through a licensed agent
Premium 10- to 20-year term length have a fixed price
All policy types can earn dividends
Our top-rated insurance company, Northwestern Mutual, is one of the largest insurers in the U.S. It consistently obtains high customer satisfaction rankings, with low complaint numbers.
Though it doesn't publicly list all its offerings, we found 17 different policies. Their CompLife and Whole Life Plus policies make them the only insurer on our list offering blended protection with a term and permanent benefit.
Northwestern's unique term life insurance plans have 10-, 20-, or 80-year renewable terms. They also offer whole life and universal life insurance policies, including some rarer options such as Executive Variable Universal Life (for employers), and Survivorship Variable Universal Life.
Finally, Northwestern has a large suite of available riders available. Be aware that these aren't always available in every state or on every policy.
A.M. Best: A++
JD Power Rating: 790/1000
Medical Exam Required: Yes
Buy Online: No
Nationwide Review: Highest Customer Satisfaction
| | |
| --- | --- |
| Pros | Cons |
| Term policies can be converted to whole life ones with no fee and no medical exam | Most policies don't have online quotes available |
| Credit wellness points can be put towards the underwriting ratings | 6 different universal life policies make for a confusing process |
| Hybrid YourLife Care Matters combines universal life with long-term care coverage | No guaranteed acceptance policies |
| Several policies have different investment options | |
| Multiple available riders | |
One of the most recognizable insurers in the U.S., Nationwide has one of the highest customer satisfaction ratings on our list. Though better known for its car insurance offerings, the company offers term, whole, universal, and variable life insurance policies.
Nationwide's term life policies have 15- to 30-year periods, all of which feature level monthly premiums, and usually have coverage starting at $100k. These policies have several available riders, including accelerated death benefit, premium waiver, and children's term insurance.
NY residents have access to three universal life policies, whereas people in other states can choose between four options. These include a hybrid universal/long-term care policy called YourLife CareMatters, a Survivorship Indexed UL, an Indexed Universal Life Accumulator with a death benefit and tax advantages, and an Indexed Universal Life Protector with multi-layer tax protection. These policies are generally available up to ages 80-85 for people between ages 0-18, depending on tobacco use.
Finally, Nationwide also offers a whole life policy with a lifetime coverage period, level monthly premiums, and coverage starting at $10k.
A.M. Best: A+
JD Power Rating: 803/1000, 3rd place
Medical Exam Required: Yes
Buy Online: No
Mutual of Omaha Review: Best for Complex Medical Histories
| | |
| --- | --- |
| Pros | Cons |
| Apply for term coverage without a medical exam | Policies for healthy individuals are more expensive than the average |
| Quotes available online | Must apply to discover whether you require a medical exam |
| Affordable underwriting for health conditions | Sparse website resources |
| Very customizable policies, with many available riders | New York residents have limited options |
| High cap on the face value of their policies | |
Mutual of Omaha stands out from the competition thanks to its competitive rates for people with preexisting medical conditions, underwriting according to some specifics. For cancer survivors, for instance, this includes the tumor grade, cancer stage, and how long they've been in remission. Likewise, tobacco use won't necessarily influence whole life premiums.
The company has a wide selection of 11 term, whole, and universal life insurance policies. Their riders include not just the basics (accelerated death and accidental death), but also disability income, waiver of premium, chronic illness, terminal illness, critical illness, and residential damage, among others. Some policies refund all premiums, plus 10%, if the policyholder dies during the contestability period.
Mutual of Omaha may not be a great choice for healthy individuals or elderly people, however, as premiums are higher than the industry average. Further, application and processing times can be a bit slower than with other insurers, with their website itself stating that it usually takes about a month to get covered.
A.M. Best: A+
JD Power Rating: 789/1000
Medical Exam Required: Yes, except for Term Life Express policies
Buy Online: Yes, but this may reduce your options
New York Life Review: Best for Mutual Insurance
| | |
| --- | --- |
| Pros | Cons |
| Flexible life insurance plans | Policy cost goes up once the level premium convertible option term ends |
| Term coverage include yearly and level premium convertibles | Higher premium for converting yearly or level term policies to permanent |
| Yearly convertible policy starts with a low premium payment which renews annually | |
New York Life stands as one of the nation's oldest mutual insurers. As with Northwestern Mutual, the company's shares are owned by their policyholders (depending on the specific policy), who benefit from annual dividend payouts. The company paid out 1.9 billion in dividends in 2020.
New York Life has a good selection of both term and permanent life insurance options, and their term policies can also be converted to permanent ones later on.
AARP Life Insurance Review
New York Life also underwrites the AARP Life Insurance Program, which offers both term and permanent group coverage without a physical exam. The program provides three different options to choose from: Level Benefit Term Life Insurance, Permanent Life Insurance, and Easy Acceptance Life Insurance. The latter two have guaranteed rates, while the first's premiums do increase over time.
A.M. Best: A++
JD Power Rating: 784/1000
Medical Exam Required: Yes
Buy Online: No
MassMutual Review: Best for COVID-19 workers
| | |
| --- | --- |
| Pros | Cons |
| Excellent options for building cash value | Several features are only available as riders |
| Wide selection of optional riders | Considerable overlap between benefits and features |
| Free nation-wide policy for COVID-19 workers | Pricing not stated online |
| Policyholders can earn dividends | Time limits on conversion, and not all term policies allow it |
| Direct Term life insurance can be purchased immediately online | High rates for smokers |
| Young and/or healthy applicants may not need a medical exam | |
MassMutual offers a wide selection of life insurance policies, including term, whole, and universal. Where they stood out for us is in their completely free 3-year term life insurance policy for frontline healthcare workers helping keep us safe from the COVID-19 pandemic. Death benefits are up to $25k for applicants ages 18-50, and $10k for ages 51-60, and there's no physical exam or lab testing required.
Aside from that special offer, MassMutual's standard term policies have 10-, 15-, 20-, 25-, and 30-year terms, with guaranteed level premiums. Eligibility is up to age 75 for a ten-year term. Overall, for every five years added to the term, the maximum age goes down five years.
The insurer's whole life coverage is particularly comprehensive, as customers can choose between 10 different policies. Two of these, CareChoice One Hybrid Life and CareChoice Select Hybrid Life, accumulate cash value guaranteed to increase year over year. These don't have any available riders, and are the only whole life policies from which money can't be drawn. Minimum coverage levels vary by policy, starting at $25k for some and $100k for others.
Finally, MassMutual offers three universal life insurance policies with flexible premiums, within some limits, allowing customers to build cash value. Depending on the policy, you can also get a guaranteed death benefit.
A.M. Best: A++
JD Power Rating: 769/1000
Medical Exam Required: Yes, though they will offer temporary coverage with the Direct Term policy until you can get a medical exam
Buy Online: Yes, offers immediate term life insurance online
State Farm Review: Best Life Insurance for Immediate Term Coverage
| | |
| --- | --- |
| Pros | Cons |
| Monthly premium stays the same for the initial term until it's renewed | If you renew the policy for an additional term your premium will increase |
| Optional add-ons and riders such as children's term rider or waiver of premium with disability | No live chat option available on the site |
| State Farm agents can be reached by phone or email | Not licensed in Massachusetts |
| Convert into permanent one up to age 75, regardless of health status | |
State Farm stands out for its top-ranking customer service record. With just a single complaint, State Farm's NAIC complaint ratio is also significantly lower than the national median for a company of its size.
If you're in the 16 to 45 age range, you may qualify for State Farm's Instant Answer Term Insurance, which features a $50,000 amount of coverage that doesn't require a medical exam for the underwriting process. You can get rate quotes by talking to one of the company's licensed agents, but policies can only be approved in the office.
State Farm also offers Select Term and Return of Premium life insurance. The Return of Premium option builds cash value, which you can borrow against, and gives back the value of your policy if you outlive the initial term. Select Term is available for 10-, 20-, or 30-year term lengths with a guaranteed benefit.
A.M. Best: A++
JD Power Rating: 838/1000, 1st place
Medical Exam Required: Yes, except for Instant Answer Term Insurance
Buy Online: No
Guardian Life Review: Good Survivorship Policies
| | |
| --- | --- |
| Pros | Cons |
| Online quotes and account management | Sparse policy information online |
| Large selection, including hard-to-find survivorship life | Basic term life options |
| Policies available for people living with HIV | No non-medical exam (guaranteed issue) options |
| Whole life policies up to age 121 | Must apply (and cancel) through an agent |
| Customers with whole life policies can receive dividends | No discounts for bundling |
| Website has great educational resources | |
Guardian really stands out in three ways. First is its Survivorship policy, a relatively rare sight in the life insurance industry. It's usually used by married couples jointly setting up their estate, since it covers two people on one policy, and only pays out after both spouses have passed away.
Second, Guardian offers policies to people living with HIV, under certain circumstances. Lastly, they also allow customers to convert their term policies into a whole or universal policy.
Guardian Life offers term life policies for 10 to 30 years, with online quotes available for ages 18 to 75, after which age limits may apply. Coverage limits for term life range between $250k to $5 million, and can cover you until age 85, depending on your age when the term began.
Guardian's whole life policies benefit from it being a mutual company, which means that they're eligible for dividends. Further, they also have guaranteed cash values that accumulate over time and which you can draw from as a loan. Issue ages ranges from 0 to 90, with minimum values beginning at $25k, $100k, or $250k.
Finally, Guardian also offers universal and variable universal life policies. These offer several advantages, including certain tax advantages, flexible premium payments, a guaranteed 2.5% interest rate on some plans, and several available riders.
A.M. Best: A++
JD Power Rating: 743/1000
Medical Exam Required: Yes
Buy Online: No
USAA Life Insurance Review: Best for Military & Veterans
| | |
| --- | --- |
| Pros | Cons |
| Lower complaint ratio than other comparably-sized insurers | Some policies unavailable in New York |
| Designed specifically for military members, includes coverage during war | Must be a USAA member |
| Obtain quotes online for term, whole, and universal policies | Medical exam required for all policies |
| Survivor Relations Team | |
While the design of USAA's term, whole, and universal life insurance policies are fairly standard, they do offer some benefits that are specifically tailored to active-duty military and veterans. For instance, their riders include a Military Future Insurability Rider that increases your coverage after leaving the military, and a Military Severe Injury Benefit which pays out $25k for injuries sustained during active duty.
Further, USAA offers the option to add $100k for major life events such as having a child, getting married, or buying a house between age 18-35. Should you leave the military, you can also convert your service member group policy to individual term life insurance.
We decided to review USAA despite its non-inclusion in the latest J.D. Power study, because of its extremely low complaint ratio (0.11, well below the national average of 1.0), and its strong reputation in the insurance industry.
A.M. Best: A++
JD Power Rating: N/A
Medical Exam Required: Yes
Buy Online: Yes
Liberty Mutual Review: Best Life Insurance for Quick Approval
| | |
| --- | --- |
| Pros | Cons |
| Approval process in as little as 10 minutes with no medical exam | Web interface could provide a better user experience |
| Immediate online approval of simplified issue insurance | Monthly rates are higher than average |
| Passport Term is an excellent simplified issue term offering | |
Liberty's Passport Term policy doesn't require a medical exam, just filling out an online form, after which approval can take as little as ten minutes. The policy comes in 10-, 15-, 20-, and 30-year terms with the option to renew the coverage at the end of the term and convert to a whole life policy.
With above-average customer satisfaction ratings, strong financial standing according to A.M. Best, and a below-average customer complaint ratio, Liberty Mutual a strong candidate for those looking to purchase term life insurance, and quickly.
A.M. Best: A
JD Power Rating: N/A
Medical Exam Required: Yes, except for Passport Term Insurance
Buy Online: No
Best Online Life Insurance Options
If you're looking for a simplified and more efficient way of shopping for term life insurance online, any of the options below could be a great alternative.
Bestow Review: Best Life Insurance without Health Exam – the best way to get coverage during COVID19
| | |
| --- | --- |
| Pros | Cons |
| Complete the application process online in minutes | Only those between the ages of 18 and 59 may apply |
| No medical exams, ever | 20-year term only available for under 45-year-olds |
| Premiums start from $10/mo | Bestow does not offer policies in New York |
| Assistance through phone, email, and live chat | |
Bestow is a life insurance agent that offers a quick application process and simple-term life options. The company offers 10-, 15-, 20-, 25-, and 30-year terms, with coverage from $50,000 to $1,000,000.
Bestow's policies are issued by North American Company for Life and Health Insurance.
Ads by Money. We may be compensated if you click this ad.
Ad
Get a Free Quote from Bestow
View Rates at Bestow
Haven Life Review: Super-fast access to MassMutual term life policies online
| | |
| --- | --- |
| Pros | Cons |
| Get a quote in minutes | Doesn't allow spouse or child riders |
| Online form calculates benefit amount based on annual income, household members, and combined debt | Only offers term life insurance |
| Policies are underwritten by MassMutual | Underwriting requires access to full medical history |
| Complimentary rider with free or discounted access to a fitness app, and a customized, state-specific, and legally valid will | |
Haven Life is another great option for those looking to purchase term life insurance quickly and easily online, with the warranty and financial backing of a well-established company. Haven Life offers 10-, 15-, 20-, or 30-year term life options featuring guaranteed level monthly life insurance rates and benefit amounts of up to $3 million.
Ads by Money. We may be compensated if you click this ad.
Ad
Get an Affordable Rate with Haven Life
View Rates at Haven Life
Policygenius Review: Easily compare life insurance quotes from multiple carriers
| | |
| --- | --- |
| Pros | Cons |
| Brokerage includes many types of insurance through major carriers | Policy premium quotes or ranges are non-binding |
| Users can create a will or trust using attorney-approved tools | The final price takes time to get |
| Live chat and phone assistance, 7 days a week | Underwriting requires full medical history |
| 24/7 email assistance | |
Policygenius is an independent insurance broker that partners with a range of companies. Policies are offered through insurers such as AIG, Banner Life, Brighthouse, John Hancock, Lincoln Financial, Mutual of Omaha, Pacific Life, Principal, Protective, Prudential, SBLI, and Transamerica.
HealthIQ Review: Good health can lower your monthly premium
| | |
| --- | --- |
| Pros | Cons |
| Find quotes from various life insurance carriers and products in one place | Online quotes require users to agree to be called by agents |
| Lower pricing based on your current health, health knowledge, and active lifestyle | All rates and savings advertised are hypothetical and subject to change |
| Live chat and phone assistance, 7 days a week | Website could be much more user- friendly to navigate |
| Compare rates against 30 different carriers | |
HealthIQ is the ideal option for the health-conscious consumer. The company partners with over 25 national insurance companies, including Prudential, Mutual of Omaha, and Transamerica.
HealthIQ's mission is to reward those leading active, healthy lifestyles with lower life insurance rates. Rather than looking only at your health history, HealthIQ takes into account your current health, health literacy, and activity levels to determine the monthly premium.
Ads by Money. We may be compensated if you click this ad.
Ad
See how much you can save with HealthIQ!
Get a Free Quote
ADVERTISEMENT
Sproutt Review: QL Index determines bases your premium on your overall well-being score
| | |
| --- | --- |
| Pros | Cons |
| Fast approval | No phone assistance over the weekend |
| User-friendly web interface | Coverage may be denied based on BMI, previous bankruptcy, or specific medical conditions |
| Offers term and whole life insurance policies without medical exams | |
| QL Index bases your premium on your overall well-being | |
Newcomer Sproutt Insurance is an independent broker that matches consumers with insurers — such as Prudential, Nationwide, and AIG Direct — that provide standard term or whole, no-exam, or guaranteed policies.
What makes Sproutt different is their unique approach to evaluating their users' life insurance rates via an individualized "Quality of Life Index" determined through a short quiz covering healthy habits, exercise, and emotional wellbeing. The five factors are: movement, sleep, emotional health, nutrition, and balance.
The company's insurance brokers are licensed by law in all 50 states where they do business, as well as in the District of Columbia.
Ads by Money. We may be compensated if you click this ad.
Ad
Get a Free Quote from Sproutt
Get Started
ADVERTISEMENT
Ethos Review: Simple Application Process
| | |
| --- | --- |
| Pros | Cons |
| Medical exam not required in many cases, for coverage under $1 million | Few available policies |
| Policies provided by reputable companies, such as AAA Life and Ameritas | Limited rider choices |
| Easy application process is completely online | |
| 30-day money-back guarantee | |
Ethos offers term and life insurance policies from insurers with a long history in the industry, including Legal and General America, Ameritas, and AAA Life. The company aims to make life insurance simpler, allowing prospective policyholders to get a quote in seconds and apply in just minutes, without having to talk to an agent.
Their term life policies are standard, with 10- to 30-year terms, with fairly high coverage limits between $50k and $5 million. They also offer a Guaranteed Issue Whole Life insurance policy issued by AAA Life for people between ages 65 and 85. Applicants obtain instant approval, regardless of their medical history, for coverage between $10k-$25k.
Other Life Insurance Companies We Considered
To determine our list of the top life insurance companies, we looked at three key areas: financial stability, customer experience, pay-out warranty, and product offerings.
To rank in our top four, companies had to meet strict standards, such as having high marks in J.D. Power's 2020 U.S. Individual Life Insurance Study, an NAIC complaint ratio well below the national average, and solid financial ratings (A and above) from A.M. Best.
This eliminated many companies from making our limited cut. For instance, despite being one of the ten largest insurance companies in the United States, TransAmerica didn't make it onto our list. Its financial stability grade with A.M. Best was recently downgraded, and its score in the J.D. Power survey was considerably lower than the average of 763/1000. Even worse, their NAIC complaint ratio is very high, even considering their size.
Prudential didn't make our cut either, for many of the same reasons — their satisfaction score was barely below the average, but their NAIC complaint ratio was worrying. Other companies that we eliminated included MetLife, Lincoln Financial, AIG, Amica, and Northwestern Mutual.
Still, there are still plenty of companies that offer life insurance plans that can fit your needs, budget, and standards.
Ads by Money. We may be compensated if you click this ad.
Ad
Getting life insurance shouldn't be a hassle.
No-exam policies offer the same coverage as traditional policies, without the wait. Click below to check out policies starting at just $8/month.
Get a Free Quote
Best Life Insurance Guide
In a nutshell, life insurance is a contract between a policyholder and an insurer, in which the latter guarantees to pay a sum of money to the former's named beneficiaries, on the policyholder's death. This is paid in exchange for the premiums paid during the insured person's lifetime.
You can learn more about these life insurance plans in detail in our Guide to Life Insurance Policies.
The idea behind life insurance is to protect family members and loved ones from the financial hardships attendant on losing the policyholder's income. It's more common for parents with young children or with special-needs adult children to consider taking out a policy.
However, even younger people without dependents can benefit, especially if they have considerable student debt with their parents as co-signers. Furthermore, by getting a policy young, they can take advantage of lower rates.
At its most basic, life insurance has two main components, a death benefit and a premium:
The death benefit, also called the face value, refers to the lump sum of money the insurer agrees to pay out to named beneficiaries once the policyholder passes away.
Premiums are the payments the policyholder makes to the insurer in exchange for the policy. Premiums are determined by the insured's projected life expectancy. They tend to be higher in policies for high-risk individuals, ones that have larger death benefits, or for permanent policies that accumulate cash value. Part of the premium also goes toward paying the insurance company's expenses.
Permanent and whole life insurance policies also include a cash value component that can serve two functions:
As a savings account where cash accumulates on a tax-deferred basis, and which the insured can access during their lifetime. Some policies may have restrictions on withdrawals depending on how the money will be used.
The cash value can also be used to pay premiums or get additional insurance.
It's important to note that the cash value is a living benefit that stays with the insurance company when the policyholder passes. Any outstanding loans against it will reduce the policy's death benefit.
Types of Life Insurance Policies
Term Life Insurance
Term life insurance plans last for a predetermined period (most commonly 10-, 15-, 20-year terms), and then it expires. If you were to pass away before the term length is over, a death benefit would be paid to your designated beneficiaries to cover funeral expenses, help replace lost income, and leave your family inheritance.
The death benefit can be paid out as a lump sum, in installment, or as an annuity. When you choose a lump sum payout, your beneficiary receives the whole benefit at once. Conversely, if you choose to annuitize your benefit payout, it's spread out when into fixed installments.
Term life insurance policy is the most easily accessible and the easiest one to understand, according to Alison Salka, Senior Vice President and Research Director at LIMRA.
Whole and Universal Life Insurance Policies
Both of these are permanent life insurance policies. These options are commonly used as tax-free financial products for their cash value component. According to Chris Huntley from InsuranceBlogByChris, "whole life insurance is oversold and not needed in 90% of cases. It's sold as more of an investment than as life insurance."
The main difference between a term life insurance policy and a permanent coverage life insurance policy is that term doesn't accrue a cash value, whereas permanent (whole, universal, and other variations) does. Depending on the policy, you can borrow against that money and use it as a savings tool or an investment vehicle. But keep in mind that, according to Huntley, it could take seven to ten years to break even on whole life policies because of their upfront fees.
Another important factor, brought up by Salka, is that consumers often overestimate the cost of life insurance. That's why, in her opinion, term life insurance is the appropriate and understandable option for average consumers looking for standard coverage.
What Affects Your Life Insurance Premiums and Costs
Besides speaking to your financial advisor or a life insurance agent, it's helpful to understand what factors go into determining your life insurance rates.
AGE
Your premiums will increase with the risk of disease as you get older.
GENDER
Women have a higher life expectancy than men, so their rates tend to be lower.
HEALTH
Compromised health means higher premiums, and excellent health the opposite.
FAMILY MEDICAL HISTORY
A family history of cancer or heart disease can increase rates.
HABITS
Smokers will pay higher premiums than non-smokers.
LIFESTYLE & OCCUPATION
High-risk jobs or hobbies (mining, fishing, transportation, rock climbing, skydiving) can mean higher premiums.
Life Insurance Glossary
Underwriting – The underwriting process is used by insurance companies to get a picture of how much your policy will cost based on health and family history, among others, by assigning an underwriting class that determines the life insurance rates.
Beneficiary – Person, organization, or charity that receives the payout of the death benefit.
Rider – Coverage add-ons to your policy at an increased price, such as an accelerated death benefit, chronic illness, or long-term care.
Best Life Insurance Companies FAQs
How much life insurance do I need?
There's no such thing as a hard and fast rule for figuring out a price tag on your life insurance needs and peace of mind. Still, a basic starting point is determining your financial obligations and future expenses and subtracting any liquid asset you may have. In any case, it's a good idea to consider life insurance within a larger financial context. If you can, talking it over with a financial planner is a great idea.
How does life insurance work?
Life insurance is a policy taken out on your life, and paid out in the event of your death, that protects those that depend on you financially. The funds can serve to pay your final medical expenses or be used to set a trust fund for your children's tuition, estate planning, or to pay off remaining debt and mortgages.
How much is life insurance?
On average, life insurance is a lot more affordable than people may think, with some estimates averaging between $26 and $55 per month. How much you'll pay will depend on a number of factors, as we mentioned above.
What is the difference between term and whole life insurance?
In regards to the difference between term or whole life insurance, insurance strategist David Gastwirth has to say: "I have a philosophy about insurance. If there are people who depend on you financially, who will have a financial issue if you are no longer here, I want you to concentrate on death benefit protection only, and that would be term insurance. (...)
"If you would like to have a vehicle by which you can accumulate and distribute cash in a tax-efficient manner," he continued, "whole life insurance is a wonderful product for that purpose, but not if you're focused on the death benefit."
What is supplemental employee life insurance?
Supplemental employee life insurance is coverage you can purchase through your work which is additional to any life insurance they may offer. It may cover things such as burial costs, accidental death and dismemberment, or others — and it's usually paid for out of your paycheck, though there may be a reduced fee.
Employer-provided group insurance plans are usually limited to five times your base salary, which insurance strategists such as David Gastwirth say is not enough. "My rule of thumb is that your life insurance should be 10 to 15 times what you make," said Gastwirth.
What type of life insurance incorporates flexible premiums and an adjustable death benefit?
Most adjustable life or universal life (UL) insurance policies offer flexible premiums and the ability to adjust your death benefit without taking out a new policy. Some may require a single premium or fixed premiums. Unlike term life, a UL policy can also accumulate cash value.
What is death benefit on life insurance policy?
A life insurance death benefit can cover final expenses (funeral, burial, outstanding medical bills), mortgage payments, debt, a child's college tuition, domestic labor expenses, estate taxes, and living expenses for surviving dependents.
We spoke to a number of experts — including insurance strategist David Gastwirth, Alison Salka of LIMRA, and Chris Huntley — to address your queries about life insurance coverage and how to shop for it.
How We Chose the Best Life Insurance of 2021
For our methodology, we consulted with life insurance researchers, independent consultants, insurance agents, and brokers, along with economists specializing in the insurance sector — and representatives from LIMRA. After those consultations, we narrowed the scope of our research to focus on the life insurance products that everyday Americans are most often seeking: term life insurance with simplified underwriting.
Customer Satisfaction
We used J.D. Power's 2020 U.S. Life Insurance Study, which measures insurance providers' performance in application and orientation, communications, interaction, product offerings, price, and statements on a scale of 1000 possible points.
We also used The National Association of Insurance Commissioners' (NAIC) Complaint Ratio Report, which catalogs and compares the number of complaints filed against an insurer.
Money favored companies with high customer satisfaction ratings and a low complaint ratio.
Policies and Coverage
Life insurance offerings are fairly similar across the board, so we favored companies that offer a convenient purchase process and the flexibility to customize a policy. We also prioritized companies that offered innovative term insurance products and a variety of riders.
Financial Strength
We used A.M. Best financial strength ratings to determine each company's ability to pay out claims, selecting only those that were deemed superior and excellent in financial strength. Companies with ratings below B (fair), were eliminated.
While this factor is often overlooked by consumers, financial stability matters. When an insurance company declares bankruptcy, for example, their client and product portfolios are sold to other insurers, delaying any payouts for claims that are being processed when the change takes place.
When you choose a company with a high A.M. Best rating, you're betting on their ability to pay out your claim on time, without major hassles.
Summary of Money's Best Life Insurance Companies of 2021