Yes, I'm a Guy Who Now Pays $30 for a T-Shirt. Here's Why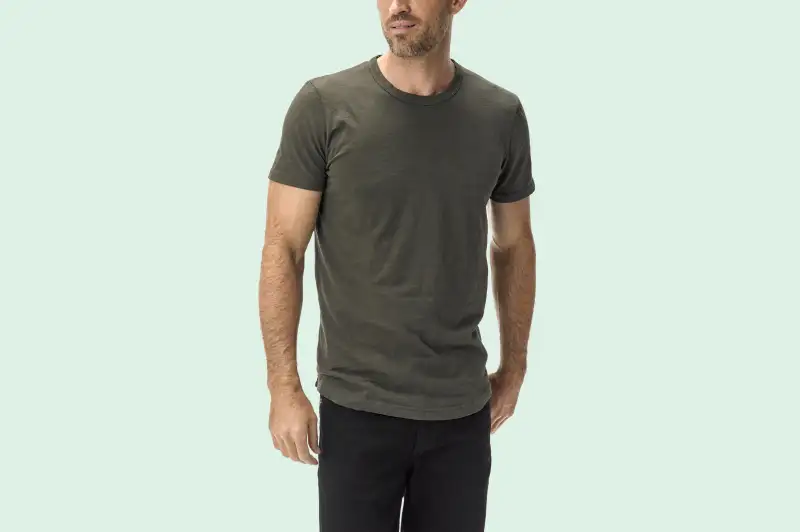 This summer I became a guy I never thought I'd become. A guy who willingly spends $30 for a single T-shirt.
At the time I first headed down this road, I remember feeling desperate, because some of my mall brand shirts were riddled with tiny holes. Worse, they felt as if I was wearing a piece of thin paper that smelled like a potent mix of deodorant and a year's worth of my own filth.
Some fancy paid marketing on my Facebook feed kept telling me over and over that Buck Mason, an upstart men's brand out of Los Angeles, would cure what ailed me (and those around me). "The softest shirt ever," was the quote the ads kept touting. After several weeks, they wore me down. I clicked through and ordered three shirts for a cool $90 — which even typing that out seems ridiculous, knowing that I could get six Hanes shirts at Target for $13.99.
Buck Mason shipped them out, and a few days later I was sporting my Heather Grey Vintage Tri-Blend Tee. At first, I was super skeptical. It felt good, and fit well — coming just below the belt line, midway through the bicep, not too tight or too loose. Actually, it felt perfect. Maybe a bit too perfect — something had to give, and I figured that something would be with the first wash.
But lo and behold, they survived the wash week after week. Summer sweat stains? Nonexistent. Signs of pending holes? Nope. Stretched out neck and collar? Hardly. Soon, I wanted to do everything in my Buck Mason Tees — sleep, run, hit the pool, even work.
Photo: Damion Lloyd, courtesy of Buck Mason
Ask the Buck Mason founders what the secret is, and they'll go on and on about how they use "long staple pima cotton" and how they got the perfect "self-neck binding constructing" just right. That a vintage baseball T-shirt found in a closet was the inspiration, the idea being to perfect something so useful in a person's everyday life. And more importantly, how lame shirts use silicon in their cotton to essentially simulate softness, which according to them, comes out with the first wash, leaving you with a crappy shirt pretty much immediately. They told me that Buck Mason makes sure that every T-shirt is garment-dyed, after the shirt is constructed, which also prevents shrinkage.
"A lot of less expensive garments are going to be yarn-dyed, which in my opinion, is an inferior process," Buck Mason co-founder Sasha Koehn told me.
I asked about their price point and how they see that as a value in today's ever-changing retail industry. They say that $30 is a fair price if you're buying staples that are going to last. "We were probably naive, but we were pretty stubborn about the way we wanted to make it," said Buck Mason's other co-founder Erik Allen Schnakenberg.
Months later, my Buck Masons are still going strong. I wear them weekly and am happy to report no signs of holes. No signs of stretching or shrinkage. And so far, they still smell great.
We've included affiliate links into this article. Click here to learn what those are.