The Best Blood Pressure Watches for Your Money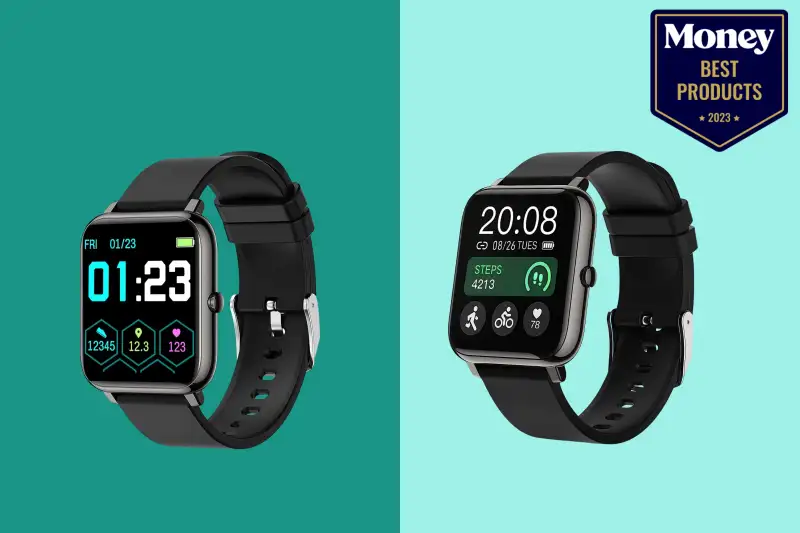 An accurate blood pressure reading provides helpful insight into your health. Closely monitoring your blood pressure can go a long way in preventing, reversing or mitigating a wide range of health conditions, including hypertension and cardiovascular diseases. One of the easiest ways to track your blood pressure between doctor visits and at various points in the day is to invest in a blood pressure watch. These handy devices are easy to use and allow you to monitor important biometrics from anywhere, at any time.
In this article, we'll review the finest watches for blood pressure monitoring of 2023, breaking down each option's pros, cons and features, and we'll also share our expert buying tips to help you find a product that suits your needs. If you're looking for a convenient way to keep tabs on your health from home and while on the go, keep reading to find out how you can benefit from a blood pressure watch.
Best Overall: KALINCO Blood Pressure Wrist Monitor
Best Battery Life: Popglory Smartwatch Blood Pressure Monitor
Most Stylish: FITVII Waterproof Blood Pressure Tracker
Best for Fast Charging: ZURURU Blood Pressure Tracker Watch
Best for Durability: AMAZTIM Blood Pressure Smartwatch
Reviewing the Top Blood Pressure Watches of 2023 in Detail
List Price: $35.99
The KALINCO Blood Pressure Wrist Monitor earned its spot at the top of our list thanks to its multifunctionality and stylish design. Packed with useful features, this smartwatch is a blood pressure monitor, oximeter, heart rate monitor, fitness tracker, clock, stopwatch, sleep monitor and timer all rolled into one compact, convenient device. It also displays the weather, notifies you when you have an incoming phone call and sends you alerts if you've been sedentary for an extended period of time. This pick features a sleek, stylish design, and it's available in six color choices.
This watch's face is customizable for a personalized touch, and the 1.4-inch LCD screen offers a crisp display and five brightness settings for excellent visibility in both bright and low-light conditions. This monitor also features an integrated, rechargeable battery, offering an impressive runtime of up to one week on a full charge. It's compatible with Android and iOS, and it's backed by a 12-month manufacturer's warranty so you can purchase with confidence and peace of mind.
Pros
Features seven sports modes
Tracks multiple health metrics
Comes with a 12-month warranty
Cons
Can't answer calls or texts
May be too tight for some
List Price: $36.99
A great choice for anyone who doesn't want to worry about charging their device every day, the Popglory Smartwatch Blood Pressure Monitor offers a generous 10-day runtime on a single charge and can remain in standby mode for over a month. It features changeable wallpapers and a customizable face, as well as an adjustable wristband for a comfortable, tailored fit. In addition to tracking your blood pressure, this handy device also functions as a sleep monitor, oximeter, pedometer, heart rate monitor, stopwatch, timer and more.
With seven different sports modes to choose from, a calorie counter and automatic sedentary alerts, this product offers excellent motivation to increase your activity and stay on top of improving your health. Plus, it also displays call, text and social media notifications, making it easy to stay connected while you're on the move. With seven attractive color options to choose from, you should be able to find one that suits your style.
Pros
Convenient, touch-screen operation
Fast two-hour charge time and long battery life
Versatile, user-friendly design
Cons
Occasionally inconsistent results
Magnetic charger can easily disconnect
List Price: $59.99
Featuring a sleek, attractive design, the FITVII Waterproof Blood Pressure Tracker makes it easy to monitor your biometrics in style. The neutral black color pairs well with any outfit, and there are four additional colors to choose from, including fancy gold- and silver-colored bands. Not only does this device track your blood pressure, but it's also equipped with a wide range of features, including seven sports modes, to help you stay active and maintain a healthy blood pressure level.
Thanks to its impressive IP68 waterproof rating, you don't have to worry about sweating or getting caught in the rain while wearing this device. The 1.47-inch screen clearly displays your blood pressure, heart rate, oxygen saturation level and other important health metrics. This product also has other convenient features and functions such as message and call alerts and sleep tracking.
Pros
Offers multiple functions for tracking biometrics
Has an IP68 waterproof rating
Features a stylish appearance and sleek band
Cons
Not compatible with computers or tablets
Not compatible with some phones
List Price: $39.99
Not only does the ZURURU Blood Pressure Tracker Watch have a generous runtime of up to one week on a single charge, but it only takes between one and two hours to reach a full charge. This means you'll never have to wait long to use it, and you'll always have fast, easy access to your blood pressure readings. Plus, the integrated USB plug saves you the hassle of carrying and untangling cables, as you can simply remove the band and plug the watch directly into a USB port.
It boasts an attractive, sporty design and is available in black, pink, blue, and purple color selections. There are 11 exercise modes built into the watch, which can help you track your activities and stay motivated and active. The device is compatible with most smartphone GPS apps so you can keep track of your walks, jogs and hikes or map out your workout route. It also features a high-definition screen with a color display to easily view your metrics and notifications.
Pros
Built-in USB plug
Adjustable, washable wristband
Clear, colorful display
Cons
Only four color choices
Difficult to use for some
List Price: $65.99
The AMAZTIM Blood Pressure Smartwatch is as sturdy as it is versatile. It features an impact-resistant construction, anti-corrosion materials and an IP68 waterproof rating. It can withstand exposure to high temperatures, frequent use and regular wear and tear, making it a smart, reliable choice for outdoor use and rigorous activities. It's pre-programmed with 24 sports modes including skiing, tennis, swimming, hiking and golfing. The device tracks blood pressure and other biometrics in real-time to deliver precise, up-to-the-minute results.
Stay connected with family, friends and co-workers while you're on the move with convenient message, text and call notifications. The touch-operated screen and intuitive controls make this product easy to use while its multifunctional design allows you to keep an eye on your heart rate, oxygen level, calorie intake and other important information. On a full charge, the watch offers up to one week of runtime and up to 50 days in standby mode.
Pros
Resists damage from impacts and water
Can withstand high temperatures
Includes 24 sports modes for versatile use
Cons
May feel heavy on the wrist
Can't interact with it while charging
Buying Guide: Blood Pressure Watches
As you're shopping for a blood pressure watch, there are some essential factors to keep in mind. This buyer's guide will walk you through these considerations so you'll have all the information you need to make an informed purchase.
Durability
Choose a blood pressure watch that's designed to last. A watch's durability is largely determined by its materials and construction, so be sure to choose one that's ruggedly built from high-quality materials. Ideally, the device should be resistant to wear, damage, impacts, water and extreme temperatures.
Size and adjustability
Wrists come in many sizes, so it's important to choose a watch that'll fit well on yours. Some brands offer different sizes, in which case you should measure your wrist and consult the manufacturer's size chart to determine which size will suit you best. If you choose a one-size-fits-most option, then make sure it has an adjustable strap so you can customize the fit to your comfort.
Accuracy
A blood pressure monitor's job is to deliver fast, reliable readings. It's crucial to choose a device that offers precise, accurate results, as inaccurate results can give you a false perception of your health status. The best way to ensure accuracy is to read customer reviews written by buyers who have used the product and compared its readings to feedback from other devices. This will give you insight into how accurate and reliable a product is before purchasing it.
Versatility
To get the most out of your purchase, look for a blood pressure watch that has a multifunctional design and can be used for other purposes. For a more complete picture of your general health, choose a watch that functions as an oximeter, sleep tracker and heart rate monitor as well. Many products also have features that promote physical activity and aim to help you reach your fitness goals. Some of these features include calorie counters, step trackers and sports modes that can track progress for specific activities.
Display
Being able to clearly view your biometrics is as important as getting an accurate reading. After all, what good is a precise blood pressure reading if you can't see it? Opt for a watch with a large screen and a clear display; devices featuring high-definition LCD screens are great choices. Additionally, the screen should be backlit and have multiple brightness settings so you can clearly view the display in different lighting, including low-light conditions.
Runtime
For optimal convenience, choose a blood pressure watch that'll work for a long time without needing to be recharged daily. Some of the best models will run for up to 10 days on a single charge. Also, aim for a device that doesn't take long to reach a full charge so you'll never have to wait long to be able to use it. Ideally, the watch should charge completely in two hours or less.
Warranty
Choose a product that's backed by a manufacturer's warranty. Be sure to check the product description to determine what the warranty covers and how long the coverage will last. This will allow you to purchase with confidence and peace of mind, knowing that your purchase is protected should you experience issues with the product down the line.
People Also Ask
When should I check my blood pressure?
We recommend checking your blood pressure first thing when you wake up (before eating or drinking anything) and again at night for comparison. To keep closer tabs on blood pressure fluctuations, many users wear their monitors all day long and check their blood pressure at various points throughout the day.
What do the two numbers in a blood pressure reading mean?
Blood pressure results are displayed as two numbers separated by a slash. The top number is your systolic blood pressure, which measures your arterial pressure as your heart pumps blood through your body. The bottom number is your diastolic pressure, which measures your arterial pressure between heartbeats.
Why are my blood pressure readings inconsistent?
Minor fluctuations in blood pressure are normal and should be expected. However, if you take multiple blood pressure readings in a short time span and the results are drastically inconsistent, there may be something wrong with your watch or monitor. If your device has a rechargeable battery, ensure it's charged. If it uses replaceable batteries, try swapping out the existing batteries with new ones. If your results are still inconsistent, consult the device's user manual for troubleshooting tips. If all else fails, reach out to the manufacturer for assistance.
What are the benefits of using a blood pressure watch?
A watch for blood pressure provides an easy way to monitor your blood pressure from anywhere. This is especially beneficial for people who suffer from hypertension or hypotension, as it can help you determine whether certain lifestyle changes, activities, medications, therapies or dietary changes are helping to improve your condition.
How can I lower my high blood pressure?
This depends on the cause of your hypertension. Some of the most common ways to bring your pressure down to a healthy level include losing weight if you're overweight; improving your sleep quality; meditation, breathing exercises and other stress-reduction techniques; limiting your sodium and alcohol intake; and increasing your activity level.
Why Trust Us
Our commitment to customers begins with a carefully curated product selection process, ensuring we provide high-quality and reliable options. We meticulously vet each blood pressure watch, analyzing quantitative aspects, such as star ratings and review count, and qualitative factors, including review content and product features. Our dedicated team of bargain hunters consistently prioritizes your budget by meticulously scouring the market and identifying the best blood pressure watches available without ever compromising on quality or performance. Our panel focuses on presenting the pros and cons of each blood pressure watch and converting technical specs into understandable insights. We aim to ensure reliable and accurate blood pressure readings with top-rated biofeedback devices.