It's the Best Time of Year for Bitcoin Prices
Money is not a client of any investment adviser featured on this page. The information provided on this page is for educational purposes only and is not intended as investment advice. Money does not offer advisory services.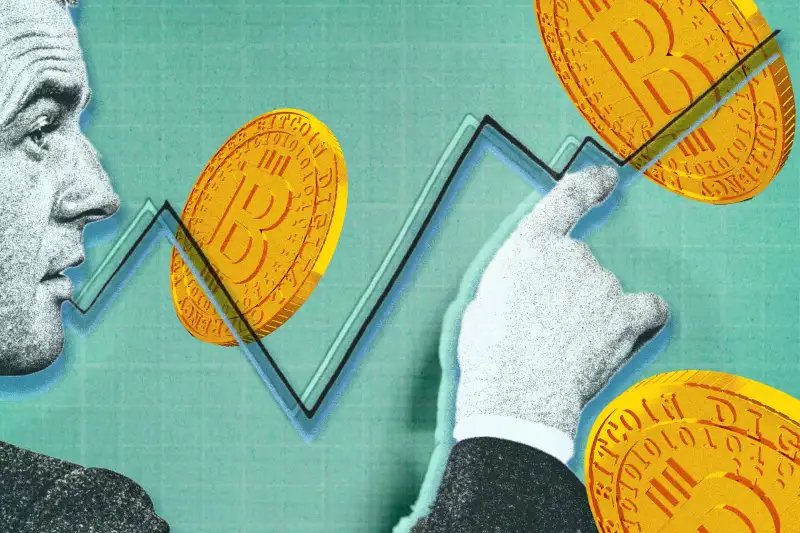 Olive / Money; Getty Images
After a rough year for cryptocurrency prices (and investing in general), bitcoin has been clawing its way back up.
Prices for the most famous cryptocurrency have risen from $16,625 in January all the way to over $37,400 in November, including an increase of around 27% over the past month. And now we are in a time when bitcoin has historically performed the strongest.
Bitcoin's price has often seen significant spikes in the fourth quarter of the year, suggesting a seasonal trend. In 2016, for example, bitcoin gained 63% from the beginning of October to the end of December. In 2017, it gained 267% in that same time frame. In fact, between 2016 and 2021, the crypto has gained an average of 25% in October, 8% in November and 11% in December, according to data by investing research company Bespoke Investing Group.
This gives a lot of hope for investors that bitcoin can add onto its recent surge. But no one can accurately predict where volatile investments like crypto are headed at any given time, and some experts question whether there's any truth to the theory that bitcoin prices often get a bump toward the end of the year.
Do bitcoin prices rise at the end of the year?
The numbers indicate that the fourth quarter has been historically favorable for bitcoin prices. But experts have not come to a consensus on why or even if bitcoin prices often surge in the fall.
A popular theory is that crypto buyers, just like stock investors, are apt to trade heavily toward the end of the calendar year. Bitwise Asset Management's chief investment officer, Matthew Hougan, previously told Money that while investors are looking to strategize their portfolios for the year's end, lots of money has tended to end up in crypto allocations.
Others say it's just too early to draw any conclusions about bitcoin pricing trends. Omid Malekan, crypto expert and adjunct professor at Columbia University's Business School, tells Money that he's "not certain if bitcoin has a strong seasonal trend or if it's coincidental."
Crypto may be over a decade old, but it's still infantile compared to other assets like stocks or bonds. This lack of sufficient data, Malekan says, makes it difficult to assess the validity of any crypto trends.
Malekan says bitcoin is defined by "eras" perhaps more so than seasonal trends. "The last bull market and crash were driven by central bank liquidity and fears about inflation and the resulting monetary tightening," he says. These eras are not seasonal trends that hold up over time, but rather shorter-lived events driven by investor behavior.
Do bitcoin prices and stocks rise and fall together?
But wait, don't stocks often rise in the fourth quarter as well? That's true. As it turns out, bitcoin prices and stocks seem to be more linked than you might expect. And this relationship could be what gives some credence to the idea of bitcoin price seasonality.
In February, researchers at Georgetown University discovered that a correlation between cryptocurrency prices and the stock market continues to grow stronger. Specifically, they find that price movements of bitcoin and the S&P 500 Index are correlated, and continue to become more so. They said that the linkage "may reflect the fact that the two markets are becoming more connected, as institutional investors increasingly enter the crypto world."
While the reasons why the two investments follow the same price patterns aren't totally understood yet, it would make sense that crypto is prone to the same kind of selloffs that happen in the stock market.
If this is true, then there is reason to believe that bitcoin prices tend to rise at the end of the year at least partly because stocks also frequently rise at the end of the year. Since 1950, the S&P 500 has posted an average gain of 4.2% in the last quarter of the year. That's twice as good as the next best-performing first quarter, which averages a return of 2.1%. And just like how September is typically a bad month for bitcoin prices, it is also historically one of the worst months for stock performance.
Where are bitcoin prices heading now?
If the theory that bitcoin prices rise at the end of the year holds true, the crypto could continue its recent hot run. However, as the saying goes: Past performance is not indicative of future results.
Last year, the coin dropped by 12.3% over the course of the fourth quarter. Of course, bitcoin's 2022 was marked by losses throughout the entirety of the year, with the crypto losing 66% over 12 months. In retrospect, banking on a strong end of the year in 2022 would have proved foolish. Ultimately, for what it's worth the October-December period in 2022 was bitcoin's second-worst quarter in the year.
With wind behind bitcoin's sails this year, though, as well as building excitement over likely upcoming changes in crypto investing options, many experts have voiced bullish predictions for the near term.
"We're one step closer to a spot bitcoin ETF, and investors are optimistic that an approval could happen fairly soon," says Anthony Georgiades, general partner at investing fund Innovation Capital. "There's also much anticipation about the next bitcoin halving, which typically serves as a catalyst for bull markets."
A bitcoin ETF is an investment fund made up of bitcoin or bitcoin-related companies. Right now, bitcoin ETFs only consist of futures contracts, instead of the cryptocurrency itself. Investing companies Fidelity and BlackRock are both waiting for approval for their spot bitcoin ETFs, which would be the first ETFs to contain bitcoin itself. Bitcoin halving, meanwhile, is a process in which the rate at which coins are released is cut in half; it happens every four years, and the next halving is expected in spring of 2024.
Others say that the potential for the Federal Reserve to cut interest rates in 2024 is also driving optimism. Zachary Townsend, CEO of crypto company Meanwhile, says "the cost of servicing the existing and new debt will simply be too high" for the Fed to avoid cutting its rates.
One consequence of this, Townsend says, is "debasement of the currency," or a drop in value of the U.S. dollar. "It's in these kinds of environments in particular, when fiat currency is getting debased, that bitcoin performs best."
Keep in mind, though, that these cuts might be further off than previously anticipated. In fact, some experts expect the Fed to raise interest rates one more time in December before a pause. Even without one final hike, more optimistic experts still foresee a long pause, with the first rate cut not coming until the second half of next year. So, this bullish catalyst might be a ways off.
More from Money:
8 Best Crypto Wallets of November 2023