Here Are All the Best Black Friday Deals From the Biggest Retailers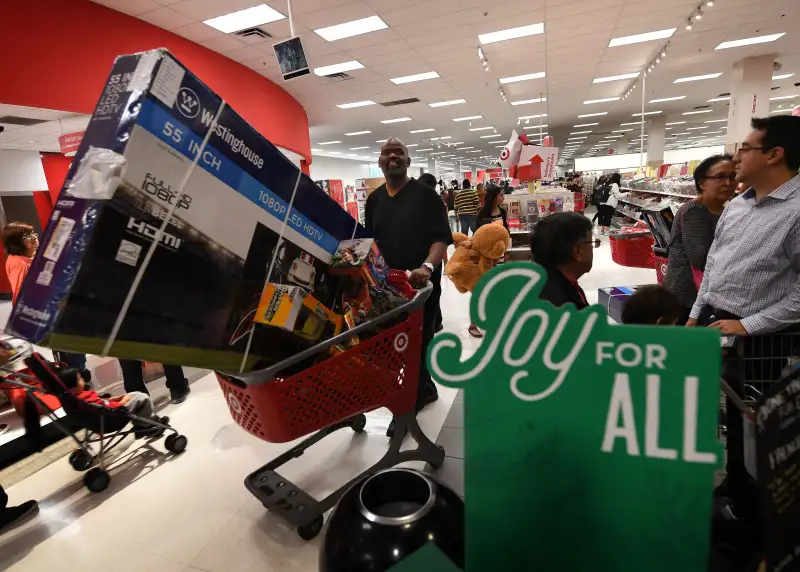 MARK RALSTON—AFP/Getty Images
Each product we feature has been independently selected and reviewed by our editorial team. If you make a purchase using the links included, we may earn commission.
If you're hunting for the biggest Black Friday deals, you're in the right place. Money has been tracking Black Friday deals across the board, including the best prices on TVs, Instant Pots, and tech and electronics, with guides focused on major retailers like Amazon, Target, and Walmart. And for the busiest shopping day of the year, we thought it would be handy to gather all of the best 2018 Black Friday deals in a one-stop spot.
Without further ado, here are the best Black Friday 2018 deals, listed by retailer. Take note that while many of these stores are open on Thanksgiving Day, the deals are often available online — so you can always shop at home in your pajamas without missing out. We will add to this story as more Black Friday deals are released.
Amazon's Best Black Friday Deals
Amazon's Black Friday deals roll out over the entire Thanksgiving week. Some Amazon deals have been available to online shoppers for days, while many of the best deals go live right on Black Friday. Here are the best deals you'll find at Amazon.
Fire TV Cube: $59.99 (list price: $119.99)
Best Buy's Best Black Friday Deals
Most Best Buy stores will open on Thanksgiving Day at 5 p.m. with tons of deals, with even more deals going live on Black Friday itself at 8 a.m.
Costco's Best Black Friday Deals
Costco is closed on Thanksgiving, and open on Black Friday starting at 9 a.m., when you can score these items.
Best Black Friday Deals at JCPenney
JCPenney stores open on Thanksgiving Day 2018 at 2 p.m., and the retailer's best Black Friday deals include all of these finds.
Kohl's Best Black Friday Deals
Kohl's is open on Thanksgiving starting at 5 p.m. in most of the country, and shoppers are rewarded with $15 in Kohl's Cash for every $50 spent through Friday, November 23. Online shoppers also get an extra 15% off the prices below by entering the code JOY at checkout.
Macy's Best Black Friday Deals
Most Macy's stores open on Thanksgiving at 5 p.m. and stay open until 2 a.m., before closing briefly and reopening for Black Friday hours starting at 6 a.m. Online shoppers get an extra 20% off most purchases when they enter the discount code BLKFRI at checkout.
Best Black Friday Deals at Target
Target stores generally open at 5 p.m. on Thanksgiving for early-bird Black Friday shoppers, with many deals also available to online shoppers the day before Thanksgiving. What's more, when you spend $50 at Target on Black Friday, you'll get a 20% off coupon that can be used from November 27 to December 8.
Apple iPad 9.7: $249.99, regular price $329.99 — plus save $80 on all 6th generation iPads
Element 55-Inch 4K UHD Smart TV: $199.99, regular price $379.99 (in-store purchase only, limited availability)
Instant Pot DUO60: $69.95, regular price $99.95; plus get a $10 Target gift card
Walmart's Best Black Friday Deals
Most Walmart stores are open 24/7 even on Thanksgiving Day, and Walmart's Black Friday deals go live in most stores at 6 p.m. on Thanksgiving.