5 Ways the Brexit Could Affect You
Money is not a client of any investment adviser featured on this page. The information provided on this page is for educational purposes only and is not intended as investment advice. Money does not offer advisory services.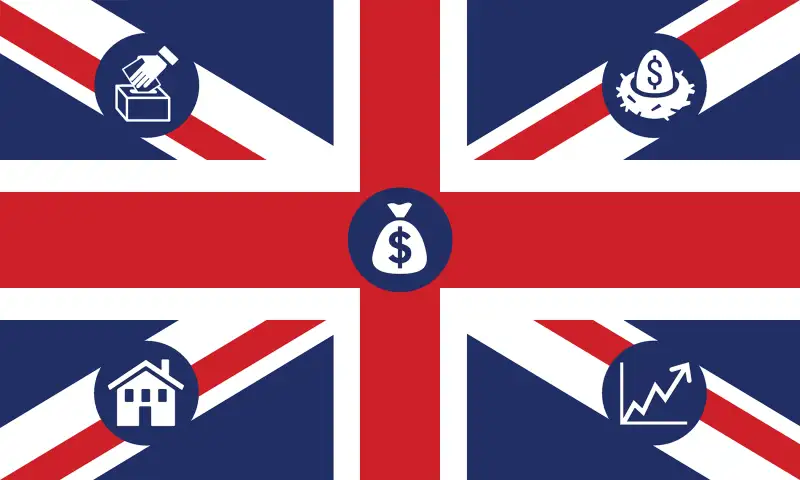 Photo illustration by Sarina Finkelstein for Money; Getty Images (1)
Britain voted to leave the European Union on Thursday. While the vote is certainly historic and could have big, unintended consequences in Britain and beyond, it's important not to overreact.
Even with the referendum tally finally in, the U.K. likely won't extricate itself from the union for a couple of years. What's more there are still plenty of details to be hammered out. One thing you can count on though, is that the vote will eventually ripple though the U.S. economy and American lives. Whether the British voters like it or not, we live in a highly inter-connected world.
Here are five ways the vote might affect you.
1. The dollar. If you saw just one financial headline Friday morning, it probably referenced the "plunging" British pound. Indeed, thanks to the economic uncertainty posed by the vote, both the pound (which fell as much as 11%) and the euro (down 2%) are off sharply against the dollar today.
The pound's tumble reflects concern that even partially severed trade ties with the rest of the continent will crimp Britain's growth. The euro's drop reflects those same concerns from the continent's perspective, and perhaps also the implicit vote of no-confidence that British voters just cast on the broader pan-European project that gave rise to the common currency in the first place. But given that most of us don't trade currencies, these fluctuations are probably a simple gauge of market anxiety—and not a reason to take any sort of action with your money.
That said, there is a way Americans might take advantage of the currency volatility in the short term: A cheaper pound and euro could make European travel slightly more affordable because your dollars will buy that more European meals and hotel nights than before.
For more on the travel implications of Brexit, read Money's 5 Things You Need to Know About Traveling to the U.K. Post-Brexit and Here's How Brexit Will Affect Your European Travel.
2. Your investments. It wasn't just European currencies that fell on news of the Brexit vote. U.K. stocks, represented by the FTSE 100, were down more than 2.4% Friday morning. German stocks fell even more—by 6.2%. And fear had also spread to the U.S. market, where the S&P 500 opened down 2.2%.
In other words, even before you finished your morning coffee, British voters had taken a big bite out of your 401(k). But don't panic. Markets typically react negatively to uncertainty, and not necessarily because traders in London and New York know something you don't. The closeness of the Brexit vote made it particularly hard to predict. And the fact that London, the U.K.'s money center, voted strongly to remain in the EU suggests many professional investors may have gotten caught off guard by the exit vote.
So just how will this affect your portfolio? It's impossible to completely rule out the worst-case scenario—that the vote will completely unravel the European economy and then go on to infect global markets, including those in the U.S. But at this point, that fear seems pretty remote.
If the problems are mostly contained within the U.K. and other foreign markets, your portfolio should remain relatively stable. For instance, look at the Vanguard Target-Retirement 2045 Fund, a common default holding for 401(k) investors in their mid-30s. The fund has only 36% of its investments in foreign equities, compared to 54% in domestic stocks. Meanwhile any stock market losses should be offset set by the fact that the fund (and others like it) also has about 10% of its assets invested in bonds, which rallied on the Brexit news, helping offset your losses.
3. The U.S. economy. While it's important to keep the Brexit in perspective when it comes to your investments, let's not sugarcoat it either. Most prominent economists recommended that Britain remain in the union. The prognosticators at the International Monetary Fund, for example, predicted that a Brexit would shave at least 1.4% from Britain's gross domestic product—and that it could even throw the country's economy into a recession and send unemployment as high as 7%.
If that happened the vote is likely to have significant spillover effects for the U.S. Britain is our seventh largest trading partner, while Germany and France, which risk having their own economies disrupted by loss of faith in the EU, are numbers five and eight. European economies had been limping along already, still struggling to recover from the financial crisis, which happened a full seven years ago, and the Greek debt crisis that followed on its heels.
Their halting growth, and the fact that dollar is only getting stronger, will make it that much harder for U.S. companies to sell their goods to European buyers. That could be a problem for your employer, especially if it's a big-name publicly traded corporation. Overall only about half the revenue earned by S&P 500 companies comes from the U.S., and roughly 14% comes Europe (and another 14% from Asia.)
4. Interest rates. All year, the Federal Reserve has been looking for a chance to raise interest rates, which have been near historic lows ever since the financial crisis. While the Fed did manage a quarter point hike in December 2015, one financial problem after another has prevented it from taking further action. Fed Chair Janet Yellen has already said Brexit concerns were a factor in its decision to skip a rate hike earlier this month. Now that the Brexit vote has come to pass, uncertainty about how Britain's exit will unfold can only make it harder for the Fed, at least in the immediate future.
That's not all bad news, however. When it comes to U.S. economic growth, lower interest rates should help offset headwinds like a stronger dollar, by making it easier for companies to borrow and invest. Lower interest rates could be a boon for you too. The average American household had $762 in credit card debt in March, up from $673 in 2010. Lower interest rates should make that financial burden less onerous to bear. Meanwhile, the average 30-year mortgage rate, at 3.6%, is lower than it's been since early 2013. That could smooth your path when refinancing a mortgage or buying a home.
5. The presidential election. Britain's surprise decision to cut ties with Europe has widely been interpreted as stinging rebuke of the U.K.'s ruling elite. Prime Minister David Cameron has already said he will resign. Meanwhile, parallels have rapidly been drawn between Britain's vote and the rise of elite-skewering Donald J. Trump to be the presumptive presidential nominee of the Republican party. Trump, in Scotland on Friday on a business trip, was quick to proclaim the British have "taken their country back."
Does Britain's vote raise the chance of a Trump victory in the U.S.? It should give anyone who has continued to underestimate the New York real estate mogul pause. At the same time, politics are rarely that simple. The electoral college math for Trump remains daunting, especially considering recent poll numbers that show him lagging far behind his opponent, Hillary Clinton.
Further, even before the Brexit vote, Clinton was striving to head off the populist economic anger that has unseated Cameron. She used an economic speech on Wednesday to emphasize policies like infrastructure improvements and more stringent overtime rules that might appeal to middle class voters. Will it be enough? As with the British vote, disruption may await the U.S. as well.