8 Ways To Throw a Memorable Wedding for Less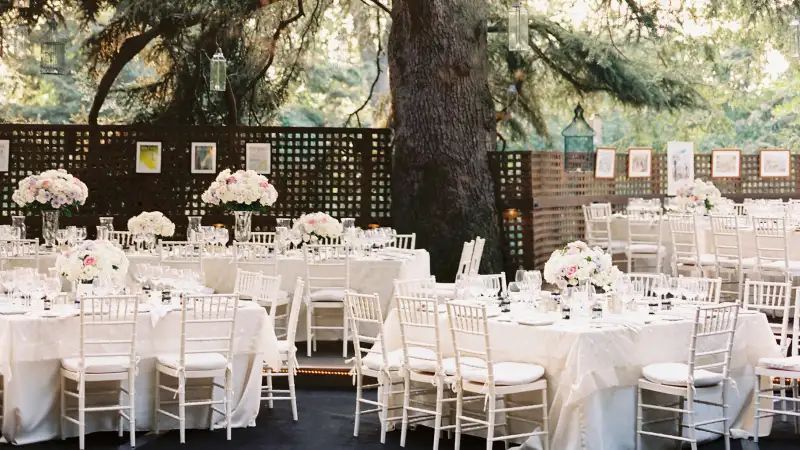 Charlotte Jenks Lewis Photography
Updated on June 26, 2014.
Couples spend nearly $30,000 on average to get married in the U.S., according to TheKnot.com. In this three-part series, we asked in-the-know wedding bloggers to share their best ideas for throwing a great party on a budget. Up first today: the place, which is your single biggest expense (typically about half of the budget). Coming tomorrow and Friday: Food and drink, and the all-important dress.
1. Book a Table (or 10)
"Renting a restaurant can sometimes be an incredible cost saver, and chances are you'll be able to find one that fits your style (and taste buds). For my wedding, we found this great old French home that is a restaurant on the Mississippi Coast. It even had our color-scheme, white with touches of green. Because it was a restaurant, we didn't have to pay extra for tables, chairs, tablecloths, silverware, and wait staff. We only paid for food. We didn't even have to pay the normal fee for renting a restaurant, because we had it in a small side courtyard and the restaurant stayed open the whole time. I think we saved around $4,000 doing it this way than if we'd had it at a more traditional venue. This works best for more intimate weddings. We only had 40 people at ours." — Sarah Darcy, Classic Bride
2. Stay Away From the Peak
"A day in June will command a higher price than a day in January. If you are able to keep your date flexible, you should be able to save between $1,000 and$1,500, or even more if you opt for a weekday instead of weekend. Because it's an off-peak time, you may also be able to get a lower rate for some vendors, like a wedding band. Your guests may also thank you for the winter wedding, as airfare and hotel rates for on off-season destination will be lower as well." — Lisa Sokolowski, A Bride On a Budget
3. Be a Savvy Decorator
"Look for in-season blooms. Re-use bridesmaids bouquets for reception decor. Or skip flowers altogether! Use candles and Chinese lanterns to set the mood, and ribbon for a little extra oomph. Know a bride who is getting married around the same time you are or one who is using the same event space? Go in with her to share decorations! Everyone saves!" — Dana LaRue, The Broke-Ass Bride
4. Stick to One Place
"The wedding industry can pressure you into thinking you need a great creative place for the ceremony and another great creative space for the reception. But there is no reason to pressure yourself to have two separate places. Your guests are not going to care if it's in the same location, and while they will travel to both spaces for you, they will probably be relieved you saved them another car trip. If you do marry in a church, you obviously can't have the reception in the same space as the ceremony, but check if the church has a reception hall. They're often underused and really nice." — Meg Keene, A Practical Wedding
5. Don't Be Shy About Borrowing
"Most venues host events other than weddings and may have items in storage for those occasions that you can borrow for free. My wedding was beach-themed and for the centerpieces I wanted hurricane lamps with floating candles. When I described what I was picturing to staff, they brought almost the exact same centerpieces out of storage and let me use them. Another friend wanted string lights, and when she asked the venue for recommendations on where to rent some, they already had them in a closet." — Lisa Sokolowski, A Bride On a Budget
6. Lean on Your Friends
"If you know you'll have lots of extra hands willing to help on your wedding day, consider going the DIY route on flowers. My biggest advice would be to keep it simple. Choose only one or two varieties of flowers. It's hard to make a bouquet of creamy white peonies and hydrangeas look bad."— Sarah Darcy, Classic Bride
7. Buck Tradition
"Consider having your wedding in a local park (check permit limitations), library, movie theater, or museum. The less they hold standard events, the better chance you may be able to negotiate a really stellar price. Consider what you and your fiance love doing and explore from there." — Dana LaRue, The Broke-Ass Bride
8. Think of Everything
"When you book a venue, be sure to find out what 'extras' are included. The 'cheapest' venue might come without tables, linens, silverware, and many other items that you will need to rent. A full service venue can save you money—and save you from having to coordinate multiple vendors. A friend rented a beautiful courtyard and loft. But the outdoor courtyard had no lighting, a problem for nighttime dancing, and the venue only had seating for 80, despite fitting 120. So my friend needed to rent lights and seating for 40. What had initially seemed like the best deal quickly became as costly as other venues." — Lisa Sokolowski, A Bride on a Budget
Update: Tip No. 4 from Meg Keene was changed from the original published version.