This Man Won a Buffet for 2 In Vegas, So He Treated a Homeless Man to Dinner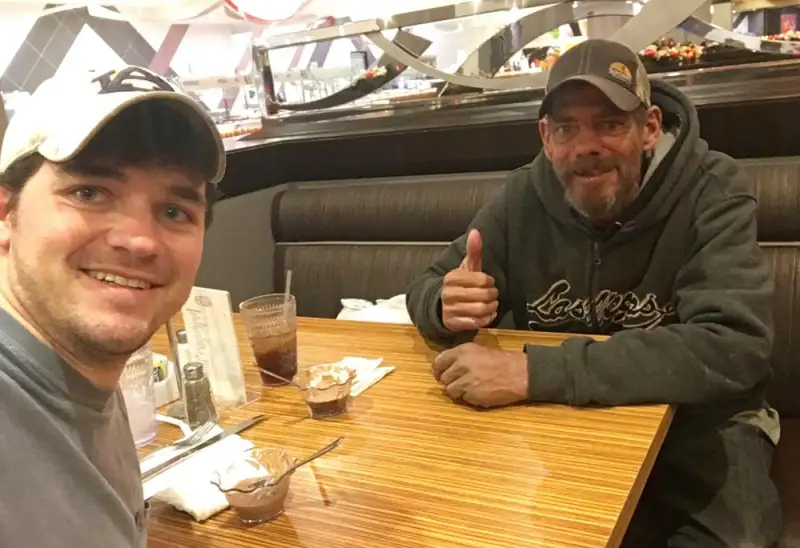 After having a great and fulfilling dinner with a homeless man at a Las Vegas buffet, Reddit user Stenotrophomonas wanted to capture the moment he knew he would always remember. So he snapped a quick photo. When he posted the photo to Reddit, he didn't realize his act would inspire so many people.
Stenotrophomonas was in Las Vegas for a conference with his friends. After an incident at Excalibur casino, he was given a free voucher for two to the casino's buffet. His friends were leaving, so instead of going alone or giving the voucher away, he invited Todd, a homeless man he met near the casino.
In a Reddit post, Stenotrophomonas explained that Todd told him about a car accident he recently endured.
"It was only 3 years ago, but he was in the hospital for months," Stenotrophomonas said in the Reddit post. "He had to do PT and speech therapy to get back to normal. The first thing [Todd] did when he got out was buy a pack of cigarettes and a beer."
Stenotrophomonas (who declined to give his full name because he is applying for post-graduate programs) posted the photo he snapped with Todd to Reddit with the caption "Won a free casino buffet for 2 in Las Vegas, so I took Todd - a homeless man." The post made it to Reddit's front page and was upvoted more than 56,000 times.
To show that his story wasn't fake or a hoax, he uploaded a picture with his receipt from the dinner.
Stenotrophomonas said in the post that he hopes to run into Todd again someday to give him a copy of the picture they took together and take him out to eat again.
Todd's favorite part of the meal? The mashed potatoes.