Buying Furniture Online Doesn't Have To Be Scary. Here's What the Pros Say To Do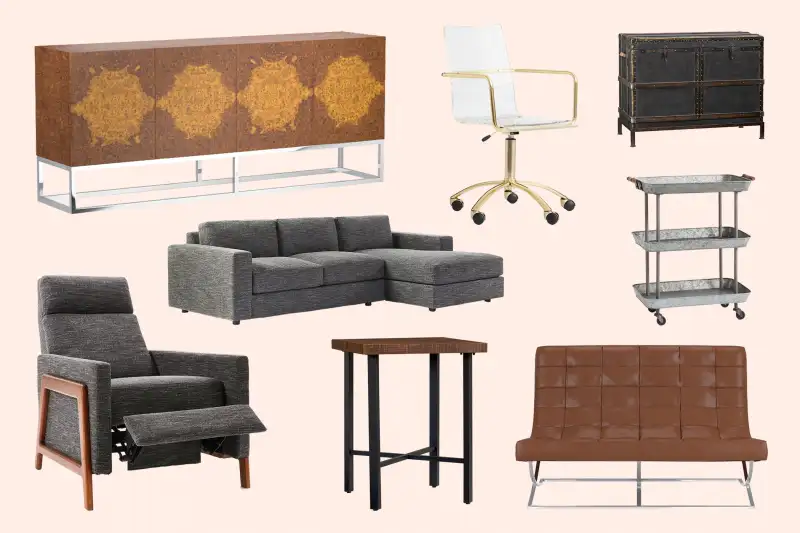 Experts say July is one of the best months for finding deals on furniture. Since new models generally hit store showrooms in August, retailers are eager to clear out old merchandise and make room for the new goods.
In many cases, though, today's furniture "showroom" might be virtual. That's good news for buyers: If you want a living room set, you no longer have to kill a Saturday fighting traffic and driving around to every furniture store in a two-county radius. You can browse and buy right from your (soon to be replaced) couch.
But buying furniture also involves a very uncomfortable leap of faith. Sure, it might not take a big commitment to score a cute bar cart (the one below is $99 at Pottery Barn and could double as a plant stand — just sayin') or an all-purpose industrial-style desk.
But going online to purchase a room-anchoring statement like an extra-long credenza (below, on sale from Williams Sonoma for $1,450, normally $1,995) or a big piece like a kid's bunk bed might feel too risky.
Courtesy of Williams Sonoma Home
Still, there are big benefits to buying online: You can often score better bargains on the web, you're not limited by geography in your selection, and you don't have to wrangle heavy, bulky items home on your own.
To help shoppers make the best possible decisions when buying furniture online, we turned to Monica Bhargava for advice. Bhargava is executive vice president of product development for Williams Sonoma Home and Pottery Barn, a family of brands that also includes Pottery Barn Kids, PBteen, and West Elm. In other words, if you can sit on it, eat off it, or put stuff in and on it, they sell it. (By the way, all of these retailers have sales in effect right now. For example, use the code FIREWORKS for 25% most items at Pottery Barn, valid through July 5.)
Here are Bhargava's need-to-know tips before you click.
Measure it out. "The first thing to think about is scale and sizing," Bhargava says. "One thing I love to do is take blue painter's tape and tape off the scale of the piece within the space." If you're getting something like a recliner (like the one pictured below, from $800) or an expandable dining table, make sure you mark off the extended dimensions, as well, to ensure that the item fits the space well.
Build a model. For taller items like a bar-height set of dining-room table and chairs, Bhargava doesn't just rely on an outline on the floor. "I've even taken cardboard boxes to mark off the space visually for the height. It gives me a sense of volume," she says. "I would highly recommend trying to make it as three-dimensional as possible just to get a visual frame of reference." Once you have your cardboard mock-up, live with it for a little bit before deciding to make the purchase. The point is "to make sure the space is not overcrowded and is still going to be functional for you, especially if it's a hallway or highly trafficked area."
Watch the lights. "If you're doing a highly dramatic piece that's tall, be careful of the lighting," Bhargava advises. You don't want your big entertainment console to bump up against a wall sconce, or to inadvertently pair a bar-height table (the one below normally retails for $899) with a low-hanging chandelier.
Look for legs. If you're worried about a large piece of furniture overwhelming a room, opt for a model with legs, rather than one where the base sits right on the floor for an airier look. In a small room, see-through acrylic or lucite accent furniture (on sale for $315, below) also doesn't visually gobble up space the way solid pieces can.
Ask for samples, use photos and close-ups. While the color accuracy depicted on screens has come a long way, Bhargava suggests taking advantage of the opportunity to get free fabric or leather swatches sent to you. This goes especially if you're investing in, say, a custom leather loveseat from Williams Sonoma that you can't return.
Courtesy of Williams Sonoma Home
If that's not an option, a Google image search or a scroll through Pinterest might turn up photos by people who own the piece you're considering. Taking a really close look at the material can give you a good feel for the color. "I'm also a huge fan of zooming in on the texture," Bhargava says. "You're able to see the highs and lows of the print and pattern."
Consider comfort and support. Perhaps the biggest stumbling blocks for going online to buy upholstered pieces like a sofa or sectional is that you can't give them a test-sit in advance. But Bhargava says there are ways to figure out how the piece will feel.
"Look at the depth — it's super-important to think about," she advises. If you're going to use the piece mainly for lounging, or you love lots of throw pillows, you're going to want a deeper seat. Lower sofas will also give a more deep-seated feel, she says. And don't forget about materials: "The fill is the other thing. Down sits a lot cushier and a lot softer versus polyfill, which allows you to have more support."
We've included affiliate links into this article. Click here to learn what those are.