Here's How to Help Firefighters Battling the Deadly California Fires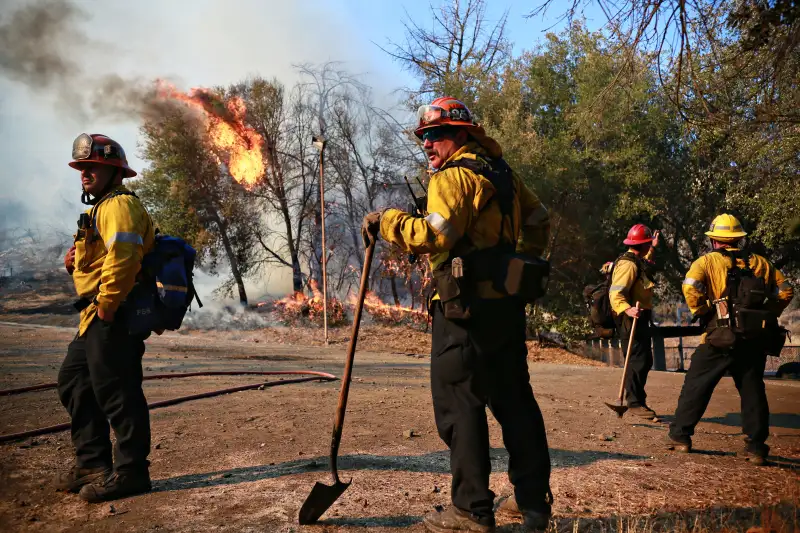 Sandy Huffaker—Getty Images
Thousands of firefighters are battling deadly, fast-moving flames across the state of California amid what has become one of the most destructive and deadly wildfire seasons in decades.
As two particularly destructive fires have taken shape over the last several days in the Golden State, firefighters are working 24-hour shifts or longer with little rest, building crucial containment lines, spraying fire retardant, protecting homes, and ushering evacuation protocols.
The Camp Fire, burning up in Butte County northeast of Sacramento, quickly became the most destructive wildfire in state history as it tore through more than 6,450 homes, and became the deadliest fire in state history with 42 deaths. Down in Los Angeles and Ventura counties, the Woosley Fire has destroyed 370 homes and resulted in two deaths.
At least 40 firefighters who are currently battling these fires lost their own homes, and that number will likely rise, according to the International Association of Fire Fighters (IAFF), an organization that represents 85% of firefighters in the U.S. and Canada. And a slew of firefighters from states out West are working alongside their colleagues to fight these tumultuous fires.
There are a number of ways to help firefighters battling these flames. But contributing to foundations and organizations that help these firefighters and their families is perhaps the most productive and useful way to donate, firefighters and officials tell Money. Material items — like clothing and other supplies — are not only unwarranted in some cases, but also require work from officials to sort through these kinds of donations, says Darren Dow, the vice president of Cal Fire Local 2881, the union that represents many of California's state firefighters.
"A lot of times cash donations are better because they can actually utilize those dollars for specific needs rather than taking away some manpower," Dow says.
Here are the best places to donate to help firefighters in California.
How to help California firefighters: IAFF's Disaster Relief Fund
IAFF, which represents 315,000 firefighters and responders, is accepting donations for its Disaster Relief Fund. The 100-year-old organization uses these funds to help firefighters who are working on the front lines and their families in a variety of ways, from financial to emotional support.
Displaced firefighters, meaning those whose own homes were destroyed or damaged during these horrific events, will receive a $500 debit card to find temporary housing for their families as they're working the front lines. The disaster relief fund also helps deploy more than 2,000 members — including firefighters and first responders — who have been trained in peer support counseling to help affected firefighters and their families.
"We need to make sure firefighters are able to serve their community," says Mark Treglio, director of strategic campaigns at IAFF. "We need to make sure they and their families have someone to talk to."
IAFF offers the same support for first responders in other disasters and tragedies, from hurricanes to mass shootings. The organization says it has raised about $1.5 million this year for this kind of work.
"Firefighters are tough, and for generations, firefighters were told to suck it up. We don't do that anymore," Treglio says. "It's a lot easier for a firefighter to talk to another firefighter. We've been there, and we know this situation."
You can donate to the organization here.
Other ways to donate to California firefighters
A number of other foundations and organizations provide firefighters with financial and emotional support throughout their careers.
The California Fire Foundation, a nonprofit founded by California Professional Firefighters, provides support for firefighters and the families of those who have died while at work. This assistance comes in the form of emergency funding for these impacted families, community improvement programs, and maintaining a statue dedicated to fallen firefighters at the State Capitol in Sacramento. Donate here.
The CDF Firefighters Benevolent Foundation provides funding for injured or fallen firefighters and their families, as well as burn victims. Since its founding over 10 years ago, the organization has donated more than $101,000 to 53 firefighters and their families. Donate here.
The Los Angeles Fire Department Foundation supports the Los Angeles Fire Department with equipment, training programs, and other mechanisms to help them stay safe while battling these flames. In a Facebook post this week, the department told interested donors to give resources to the foundation rather than drop off physical items: "We're not only emotionally overwhelmed with your profound kindness during the Woosley Fire, but logistically as well," the department said in the post. "To the point that the well-meaning donation of physical goods to firefighters is at the brink of causing harm." Donate here.
A GoFundMe page for Camp Fire first responders was organized by the Butte County Firefighters' Benevolent Foundation as the Camp Fire continues to burn through Northern California. The GoFundMe page, which was created over the weekend, will benefit 30 firefighters and their families whose homes were damaged or lost. Donate here.
The Fire Family Foundation is a national organization that was founded after 9/11 to help the families of firefighters with financial and educational assistance, as well as scholarships. Donate here.
How to help victims of the California fires
These devastating wildfires have impacted hundreds of thousands of California residents and destroyed countless homes. To help these families and communities, refer to Charity Navigator, a website that verifies and rates charitable foundations. The organization has a page set up for charities to give to in wake of these fires. GoFundMe has also verified a number of campaigns to donate to.
TIME has also curated a list of organizations that may be worth donating to, as well as information for Airbnb hosts to make their homes available for displaced families.