Hurricane Michael Devastated Florida and the Southeast. Here's How You Can Help the Victims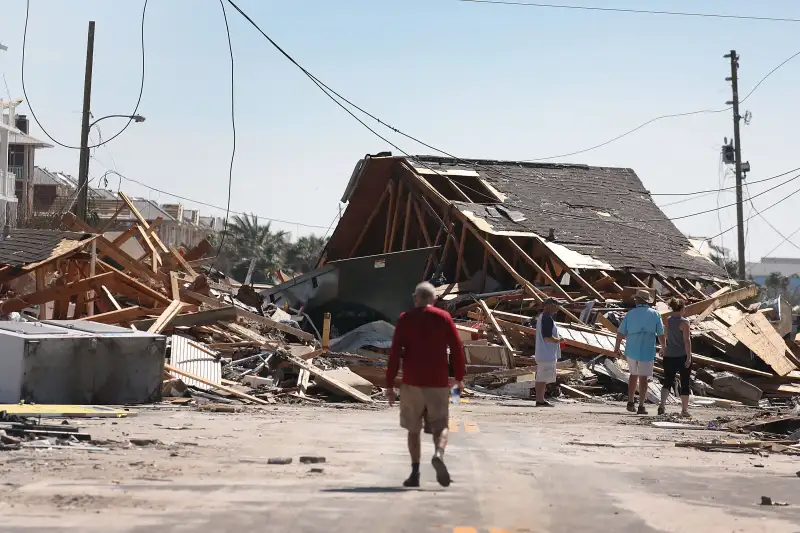 Hurricane Michael, the most powerful hurricane to hit the continental U.S. in over 50 years, left a path of damage and destruction this week when it made landfall in the Florida Panhandle as a Category 4 storm.
Hurricane Michael's death toll rose to 13 as of Friday morning. Since making landfall, Michael has been downgraded to a tropical storm, and thousands of homes were destroyed and hundreds of thousands of people were left without power as it produced flash flooding and heavy winds in Georgia, the Carolinas, and Virginia.
Here's how you can help those impacted by the unprecedented storm and support relief efforts.
Hurricane Michael Relief Efforts and Donations
There are a number of charities you can donate to that will help support relief efforts in the immediate aftermath of the storm. But be sure to check each organization's credibility; natural disasters can often become hotbeds for fraud and scams.
Charity Navigator, an organization that evaluates charities, has a page that includes the names of reputable charities you could donate to. Those organizations include American Red Cross, World Hope International, International Relief Teams, Direct Relief, DonorsChoose.org, and Matthew 25: Ministries, among several others.
While many of these organizations are focused on immediate relief efforts by providing shelter and supplies, some specialize in providing medical care and aid for those impacted. Americares is sending teams to help health care centers in Florida. The American Kidney Fund is using donations "to assist dialysis patients affected by Hurricane Michael." And International Medical Corps is working with the Florida Department of Health to assist patients.
GoFundMe has a page filled with verified campaigns that will help victims of the storm. You can choose to donate to specific campaigns like this one, which will help fund relief efforts in Panama City, Fla., or this one, which is collecting donations for a veterinarian taking care of horses and other animals impacted by the hurricane. Be sure to consult GoFundMe's official page to be sure the campaign you're donating to is verified.
Global Giving, an international crowdfunding organization, has also set up a donation page with the Disaster Recovering Network for Hurricane Michael victims. The organization says the donations will initially help immediate relief efforts, then fund longer-term recovery projects.
Housing for Hurricane Michael Victims and Relief Workers
Airbnb is encouraging its hosts with homes located near impacted areas to house displaced residents and relief workers for free until Oct. 29. More than 800 hosts have made their homes available. You can sign up to open your home or find a home to stay in, if needed, here.
Samaritan's Purse, one of the charities approved by Charity Navigator, works specifically on rebuilding efforts for communities destroyed or damaged in natural disasters. You can donate to the organization or sign up to volunteer in rebuilding efforts here.
Find Blood Donation Centers
Though Hurricane Michael caused blood drives to suspend operations during the storm, organizations are working to ensure donors can give blood now.
The Red Cross is encouraging people unaffected by the storm to donate blood. Interested donors can sign up for an appointment here or call 1-800-RED-CROSS.
One Blood is also encouraging donors to give blood at centers across the country. Their operations in Florida and across the Southeast were temporarily impacted by the storm, but One Blood has provided an update on where and when people can donate here.