How You Can Help the Victims of the Florida School Shooting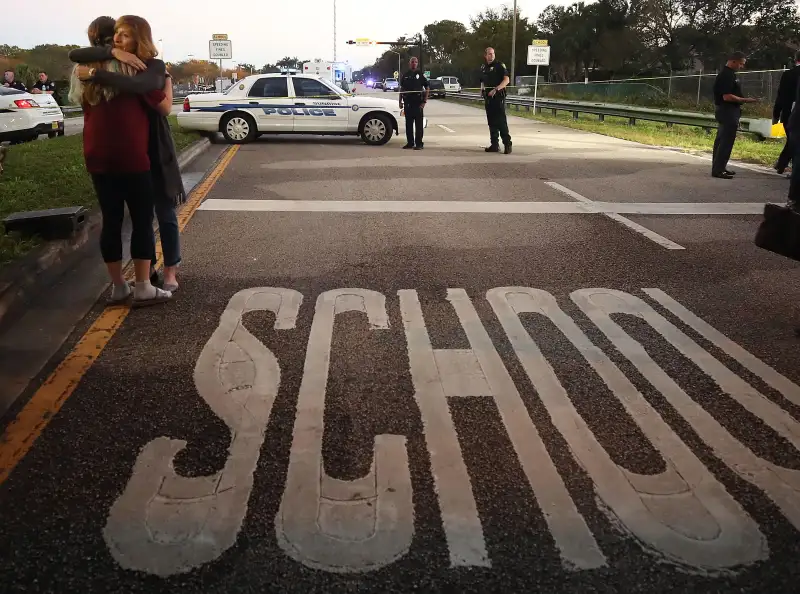 At least 17 people were killed when a gunman opened fire at a high school in Parkland, Florida in a rampage that has become all to familiar in America classrooms.
Students, faculty and families at Marjory Stoneman Douglas High School were mourning the loss of their friends and coworkers at the hands of suspected gunman Nikolas Cruz, a 19-year-old who was expelled from the school last year as a result of disciplinary actions. As the 18th school shooting in 2018, the massacre was the deadliest school shooting since a gunman killed 20 children and six adults at Sandy Hook Elementary School in Newtown, Conn., in 2012.
Authorities and school officials navigated through uncharted territory Thursday as they put together an official donation page and guided residents to donate blood to help victims still recovering in the hospital. Others are in the beginning phases of creating memorial bracelets to honor the victims, PeJay Ryan, the director of marketing at the Broward Education Foundation, told Money. And Florida's attorney general vowed the state would pay for the funeral expenses for the victims of the shooting.
Here's how you can help the victims of the school shooting in Parkland, Florida.
Donate to the Stoneman Douglas Victims' Fund
The Broward Sheiff's Office directed individuals hoping to help the victims and their families to this official GoFundMe page. The Stoneman Douglas Victims' Fund was organized by the Broward Education Foundation, a nonprofit that raises money for Broward County Public Schools.
As of Thursday morning, the GoFundMe collected more than $136,300 of its $300,000 fundraising goal.
"Our hearts are warmed by the outpouring of compassion and love from around the country," Ryan, the director of marketing for the foundation, said.
Organizers of the GoFundMe page are working with fundraisers who helped raise money following the deadly shootings in Las Vegas and Orlando to determine how to distribute the funds, Ryan said. She said the funds will go directly to the victims and their families, as well as anyone else impacted by the shooting or in need of mental health counseling.
If you're in the area, donate blood
OneBlood, a blood center in Florida, is encouraging residents to donate blood to help the victims still recovering in local hospitals. The organization said the hospitals are in need of O negative blood.
"While the immediate blood needs have been met, there is a need to replenish the areas O negative blood supply," OneBlood said. "O negative is the universal blood type and is used to treat trauma patients."
Potential donors can see if they are eligible to donate at local donor centers or at one of the organization's Big Red Bus buses. They can find the closest centers here.