I Spent $64 to Get Life Advice From Celebrities. Here's What They Told Me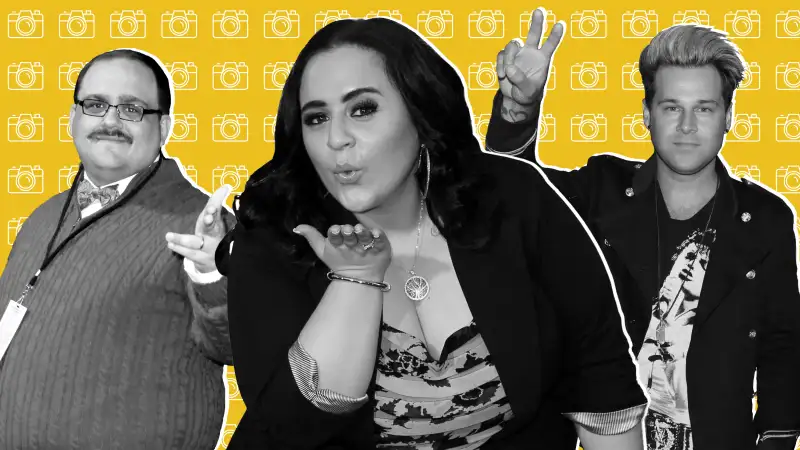 Photo illustration by Sarina Finkelstein for Money; Getty Images (3); Shutterstock (1)
I have an avocado problem I'm tired of trying to fix. Every week, I buy one at the grocery store with grand plans of making guacamole — and every week, I throw it away upon realizing it's gone bad. It really bums me out.
So recently, I did what any good millennial who's seen the 2007 movie Hairspray would: I asked Nikki Blonsky for advice.
Here's what she said.
Now, I know what you're probably thinking: Wow, Blonsky's avocado game is super on point. But you also might be thinking, wow, this writer is so tight with her, she answered her with a video message.
Not at all!
I contacted Blonsky on Cameo, a personalized shoutout service where you can pay relatively famous people to record videos for you. She gave me not just a pep talk but also incredible, life-changing advice.
And how much did this all cost me, you ask?
A mere $20 — a steal for me, and a great deal for Blonsky.
It's all part of Cameo CEO Steven Galanis' plan. He says there's a gap between fame and the ability for celebrities to monetize their social following. "Having 100,000 followers or a million followers doesn't mean what it used to two, three years ago," he says.
The way Cameo works is simple: All a person has to do is sign up for an account, navigate to a star's profile, write a 250-character description of what they're looking for and put in their card information. The talent has a week to respond to each request; if they don't like the ask they can turn it down. People aren't charged until the video is completed.
Entertainers set their own rates, though Cameo has a team in Chicago that provides them with recommendations. The site takes a 25% cut of each fee, but the rest goes to the star.
I needed more.
Next I looked up Ryan Cabrera, the musician behind the mid-2000s hit "On the Way Down." I consulted him about another personal challenge I face: the fact that I can never seem to find my debit card. (I tend to store it in my pocket, which is not the safest place.)
Could Cabrera ease my "40 Kinds of Sadness" over this issue? My phone buzzed a few nights later at 2:30 a.m. to notify me that he had responded.
Here's what he said:
Well, for $20, that's not too bad. His hair looks great, and he casually dropped both the phrase "cray cray" and "banana sandwich," so I feel like it was a solid investment. Also, I think I'm going to start signing off emails with "lates."
For the middle-school fangirl inside of me, hearing Cabrera say my name was ridiculously cool. But he didn't actually help me with my debit card issue. He sympathized and offered up a pair of anecdotes, which made the whole situation feel #relatable, but his response was nowhere near Blonsky's avocado gold.
Celebrities like Cabrera can change their prices whenever they'd like, but they have to figure out how to balance supply and demand. The cheapest people are Cameo employees (some of them will actually record videos for free). In general, the more star power someone has, the more they charge. Marla Maples, the president's ex-wife, is $93. Brett Favre, the former NFL quarterback, is $500.
The most expensive entertainer is Caitlyn Jenner, at $1,000. For my buck, Cabrera at $20 was a steal.
"Our top talent is making six figures on the platform," Galanis tells me. "It's starting to become a nice new revenue stream for them."
He breaks it down this way: A mid-level NBA player makes about $25 million a year. Divide that by 365, and that's $68,493 a day, or $47.50 a minute. If that athlete charges $100 per video on Cameo, he can make twice as much as he does playing basketball. So why wouldn't he join the service?
And why wouldn't someone like Ken Bone, the undecided voter who went viral after he asked a question at a 2016 presidential debate, get in on it?
In a message to Bone, I explained one of 2018's biggest annoyances: the fact that there are nine seasons of The Great British Bake Off that exist in the U.K., but only five are available on U.S. Netflix.
Here's what he said:
The pep talk was successful. Bone brought up good points — overseas, I guess they do have to wait for months to get new content, whereas I have it all at my fingertips. Paul Hollywood would hate to hear me whining about this first-world problem.
For Bone and others, money isn't the only benefit of being on Cameo. As Galanis puts it, "fans are paying the talent to make the recipient of the video bigger fans of them." He compares using Cameo to a child going to a baseball game and getting a signed ball from a random player. Once they have that ball, they're fans of the player forever, happy to buy game tickets and jerseys for life.
Galanis says Cameo's most active customer has bought 105 Cameos; another user has bought from 70 different entertainers.
"The most common review we get is 'best money I've ever spent on anything,'" Galanis says. "It's a product that's just so unattainable and so impossible to get anywhere else."
Signing up for Cameo is quite the lucrative side project. Plus, talent can knock out videos on the spot — they film shoutouts in cars, at home in pajamas and — in venture capitalist Jackson Jhin's case — as they walk around in their offices.
I told Jhin about an embarrassing experience I had recently in which I stepped on my laptop and broke it. (Please don't ask me what it was doing on the floor, where I could easily step on it. I don't know.)
Did Jhin have any words of wisdom? Here's what he said:
I paid Jhin $3 for his clip; Galanis says the average video costs $43. One in four purchases is for someone's birthday, but Cameo also gets used for roasts, promposals and wedding congratulations.
Activity spikes around holidays like Valentine's Day and Father's Day, and the team is especially looking forward to the holidays — last December, sales increased by 170%.
As you've probably noticed by now, Cameo relies largely on lower-level talent — you know, the Lance Basses of the world rather than the Justin Timberlakes (the former is actually on Cameo, available for hire for $150). The platform has a handful of staffers who reach out to various celebrities directly via Instagram DM, but stars also refer each other. They can even choose to donate their proceeds to charity.
There's no limit to what fans, or the entertainers, can do.
"If Justin Bieber or Donald Trump want to come on for a million dollars, we'd let anyone on for any price that they think is worth their time," Galanis says.
But by this point, I was running out of money to spend on life advice. For my last piece of advice, I turned to Chester the miniature Aussie. I shelled out one whole dollar to get his advice on a topic I feel like he'd understand: I'm too short to reach the cereal shelf at the store.
Here's what he said. Indeed, he was empathetic...
...though not very helpful.
Pizza-fetching debacle nonwithstanding, was Cameo worth the money?
Obviously yes.
My wallet is a lot lighter, but in my mind, $64 is a small price to pay to have Blonsky, Cabrera, Bone, Jhin and Chester cheer me up. I don't feel quite so crazy any more, and it makes me feel good that everyone from stars to internet stars to internet dogs to internet venture capitalists can have a profitable side hustle.
Now, moving on. How much do you think it would it cost to get Nick Jonas to tell me soothingly that newspapers aren't dying?