13 Successful People on the Books That Changed Their Lives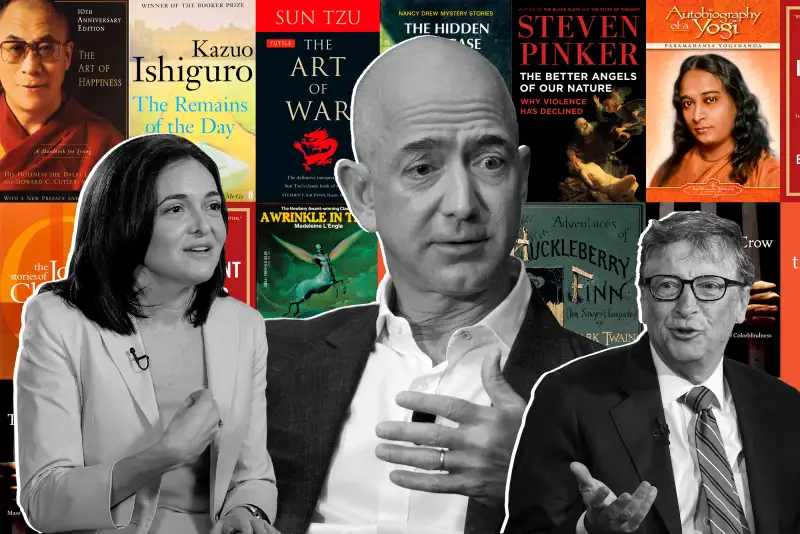 Need a book recommendation for a young, out-of-work, or fledgling wild-card on your Christmas list? Or some words of wisdom to pump up your own bookshelf?
We got you.
Money compiled a reading list of the books several CEOs, COOs and company founders say changed the trajectory of their lives. Some are tried and true career inspirations like The Art of War, while others are literary classics or feats of investigative journalism such as A Wrinkle in Time or The New Jim Crow. All helped launch some of the most inspiring careers of our time.
Jeff Bezos
The Remains of the Day by Kazuo Ishiguro
"Bezos has said he learns more from novels than nonfiction," author Brad Stone writes in a biography of Amazon's head honcho. Ishiguro's portrayal of post-World War II England tops "Jeff's Reading List," a list of books widely referenced by Amazon employees, according to Stone.
"If you read The Remains of the Day, which is one of my favorite books, you can't help but come away and think, I just spent 10 hours living an alternate life and I learned something about life and about regret," Bezos told Newsweek in 2009. "You can't do that in a blog post."
---
Sheryl Sandberg
Michael Short—Getty Images
A Wrinkle in Time, Madeleine L'Engle
In an interview for the New York Times, the Facebook COO and Lean In author says she connected with the "admittedly geeky heroine" of Madeleine L'Engle's fantasy novel at a young age.
"I wanted to be Meg Murry," the tech exec says. "I loved how she worked with others to fight against an unjust system and how she fought to save her family against very long odds."
---
Richard Plepler
Kevin Mazur—Getty Images for SeriousFun
The Stories of John Cheever, John Cheever
In another Times column, HBO CEO Richard Plepler calls fiction writer John Cheever's collection of short stories "a jewel" that he frequently rereads.
"My dad gave me the Cheever book for my 20th birthday," Plepler says. "There's a lot in there about what Kant called 'the crooked timber of humanity.' It's a masterpiece."
---
Mark Zuckerberg
Paul Marotta/Getty Images
The New Jim Crow, Michelle Alexander
Facebook CEO Mark Zuckerberg became a strong advocate for criminal justice reform after reading civil rights lawyer Michelle Alexander's 2010 book on mass incarceration.
In a 2015 Facebook post, Zuckerberg said the book inspired him to visit San Quentin State Prison. "I'm going to keep learning about this topic, but some things are already clear. We can't jail our way to a just society, and our current system isn't working." In May, the Chan Zuckerberg Initiative, a charity co-founded by Zuckerberg and his wife Dr. Priscilla Chan, donated $6.5 million to data project aimed at shining a light on injustices in the court system.
---
Satya Nadella
Drew Angerer—Getty Images
Mindset: The New Psychology of Success, Carol Dweck
The current Microsoft CEO turned to his wife for a book recommendation and it ended up changing his outlook forever. In a recent interview with the Wall Street Journal, he explained that Mindset "is about fixed mind-sets versus growth mind-sets—when you have a growth mind-set, you're always willing to learn. I started thinking about what was happening in my head and asked whether as a company we have a learning culture. Do we have curiosity?"
The big takeaway? "The "learn-it-all" will always do better than the "know-it-all," he says.
---
John Chambers
Isa Harsin—Sipa via AP Images; (inset) Historical Picture Archive—Corbis via Getty Images
The Adventures of Huckleberry Finn, Mark Twain
In an interview for the Silicon Valley newspaper The Mercury News, Cisco's recently-departed CEO says Mark Twain's watershed novel helped him learn to manage dyslexia as a young person.
"It was a book that helped me turn one of my greatest challenges into a strength," he says.
---
Carol Bartz
Ramin Talaie/Corbis via Getty Images
"I loved everything Nancy Drew," Bartz, the former Yahoo CEO told The Mercury News. "She was smart, in control and lived an exciting life — plus she had a sports car."
---
Indra Nooyi
Pradeep Gaur—Mint via Getty Images
The Road to Character, David Brooks
In 2015, Pepsi CEO Nooyi told Fortune that New York Times columnist David Brooks' account of historical adversity, "sparked a wonderful discussion with my two daughters about why building inner character is just as important as building a career."
"In fact," she continues, "the two go hand in hand—the moral compass of our lives must also be the moral compass of our livelihoods."
---
Jeff Weiner
The Art of Happiness, the Dalai Lama
In a Q&A with the Silicon Valley Business Journal, LinkedIn's Weiner credits the Dalai Lama's spiritual classic for teaching him "the true definition of compassion."
"That is like a first principle when it comes to the way I aspire to manage," Weiner says. "And I keep saying 'aspire' because it's hard to do."
---
Bill Gates
Chris Goodney—Bloomberg via Getty Images
The Better Angels of Our Nature, Steven Pinker
In a May tweet aimed at new graduates, Gates calls Steven Pinker's bestseller "the most inspiring book" he's ever read.
Gates goes on to say that the 2011 book, which asserts that violence has declined across times, shows "how the world is getting better."
"It doesn't mean you ignore the serious problems we face," Gates writes. "It just means you believe they can be solved."
---
Warren Buffett
Daniel Zuchnik—WireImage/Getty Images
The Intelligent Investor, Benjamin Graham
The "Oracle of Omaha" is a big reader - but one book in particular stands out to him. In an interview with Charlie Rose earlier this year, he said a 1949 business book, The Intelligent Investor, is tops. The book preaches value investing, or buying stocks when they are really low and holding on for them to for a long, long time. "I just happened to pick up that book up at a bookstore in Lincoln, Nebraska," he said in the interview.
---
Steve Jobs
David Paul Morris—Bloomberg/Getty Images
Autobiography of a Yogi, Paramahansa Yogananda
Jobs' travails in Buddhist thought and meditation is well-worn territory: The Apple founder's 1970s spiritual pilgrimage to India is a crucial part of the company's origin story.
After Jobs died in 2011, Salesforce CEO Marc Benioff said friends and family were given a copy of "Autobiography of a Yogi," written by the Indian guru credited with introducing westerners to meditation, at a memorial service Jobs had planned himself.
"I said, 'This is going to be good,' Benioff said at a 2013 conference."I knew this was a decision he made that everyone was going to get this. So whatever this was, it was the last thing he wanted us all to think about."
---
Marc Benioff
Simon Dawson/Bloomberg via Getty Images
The Art of War, Sun Tzu
Benioff, for his part, credits The Art of War, Sun Tzu's famous military treatise, as the book that's been most instrumental to his own career. Benioff even wrote the foreword to its 2008 reprint:
"Since I first read The Art of War more than a dozen years ago, I have applied its concepts to many areas of my life," he writes. "The tenets of the book provided me the concept to enter an industry dominated by much bigger players--and gave us the strategies to render them powerless. Ultimately, it is how salesforce.com took on the entire software industry."
We've included affiliate links in this article. Click here to learn what those are.
Correction: An earlier version of this article misspelled Carol Bartz's last name.