Flying to Europe Has Never Been Cheaper. Here's How to Get the Best Deals Now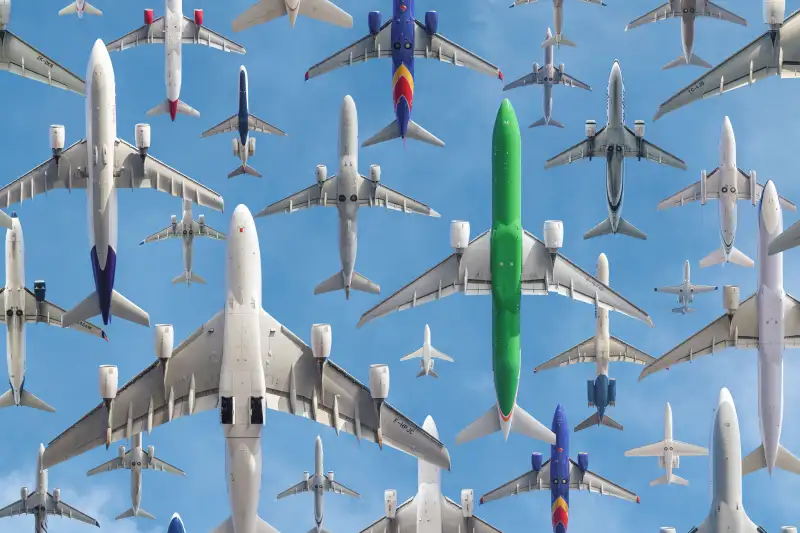 Until very recently, a summertime vacation in Europe required big bucks. For years, a peak season flight across the Atlantic Ocean could be considered "cheap" if it wasn't much over $1,000. Exchange rates made Americans feel extra poor once they landed; a decade ago, each $1 was worth a measly 63 euro cents.
All that has changed, however—and just in time for the 2017 summer season. The U.S. dollar has strengthened significantly against both the euro and pound; $1 is now worth 94 euro cents, and the cost of a week for two in Paris is now $3,523, down more than $1,000 from last year. Meanwhile, the transatlantic flight market has been utterly upended, to the point that airfare to Europe is the cheapest it's been since the bleak post-9/11 doldrums, or perhaps ever. Recent promotional fares have been as low as $65 from Hartford, Conn., to Edinburgh or $149 from Los Angeles to Barcelona, but even everyday airfares have sunk to well within reach.
Here's why Europe flight prices have cratered—and why, if you haven't started making your summertime travel plans, now is the time.
Reason #1: Fuel costs have tumbled.
"Cheap fuel is by far the most important factor" in the sharp decline of airfare to Europe, says Seth Kaplan, managing partner of the industry newsletter Airline Weekly. Beyond the general cost of owning or leasing aircraft, the largest expense for the low-fare airlines is fuel. So the huge drop in prices over the past few years is what's made the current golden era for low-cost Europe flights possible. "In inflation-adjusted terms, it's about as cheap as it's ever been," Kaplan says.
That's been a game-changer. During the mid-'00s, fuel prices spiked and airlines added fuel surcharges onto flight prices to pass the costs on to passengers. Until fairly recently, these surcharges averaged $450 round trip on transatlantic flights, and taxes and fees tacked on another $165 or so, according to FareCompare CEO Rick Seaney. "So you're in the low $600s even before charging for airfare," Seaney says.
Nowadays, fuel surcharges are all but gone, and travelers can find round trips to Europe in the summer for less than $600, or even under $500. In other words, total flight prices today can cost less than what the airlines used to charge just for taxes and surcharges.
Reason #2: There's way more competition.
There's a secondary effect of declining fuel costs: The lower prices have allowed established airlines to boost transatlantic routes and encouraged low-cost upstarts to get into the game. Both Norwegian Air and Iceland-based WOW Air have jumped into the transatlantic market in recent years and expanded rapidly, with new routes from the U.S. and special introductory fares under $100 seemingly announced every few weeks. Norwegian, in particular, uses the exceptionally fuel-efficient 787 Dreamliner on transatlantic routes, and passes along the cost savings to passengers in the form of cheaper airfare.
Larger carriers like Aer Lingus and Icelandair are likewise bumping up U.S. routes and advertising flight deals left and right. Even British Airways is expanding service, with new flights this year connecting London to New Orleans, Oakland, Calif., and Fort Lauderdale, Fla. And Level, a low-fare corporate sibling to British Airways, launches this summer, offering flights from California to Spain for as little as $149 too.
While the biggest airfare declines are generally for destinations frequented by the low-cost competitors, prices are cheaper almost anywhere you want to go in Europe. Data from Kayak.com shows that median airfare from the U.S. to 20 major European airports is down at least 20% this spring and summer compared with 2016 fares, with much bigger declines in flight search results for cities like Barcelona (down 31%), Paris (35%), Amsterdam (36%), and Zurich (43%). The flight search app Hopper reports similar data, with average European airfare prices down 18% for the summer of 2017, following a decrease of about 14% between summer 2015 and 2016.
"Because the low-cost carriers exist, they've driven down prices for all airlines, all over Europe," Kaplan explains.
Reason #3: Airfares are breaking apart.
Even if travelers haven't flown on Spirit Airlines or Ryanair, they're probably familiar with the "unbundled" business model these carriers use (in extremely profitable fashion). The short version: You'll pay rock-bottom airfare for basic transportation only, but many former basics—like seat reservations, meals, checked baggage, reasonable legroom, and bottled water—are now available only as a la carte "extras," for additional fees.
British Airways: Chris Ratcliffe—Bloomberg via Getty Images. Others planes: Courtesy of the airlines.
That in itself is not new. But for a long time the consensus was that, while passengers would put up with this structure to get significantly cheaper airfare for shorter flights, the tradeoff would never be acceptable on longer routes.
Not anymore. As low-cost unbundled airfare has become common—even the major carriers charge for seat reservations on some flights—more travelers have gotten on board with the concept, no matter how many hours they're in the air. Norwegian, WOW Air, and Level are able to offer super-low flight prices because they can boost revenues by charging extra for what are now considered optional "amenities."
That keeps the fares low, but beware: These costs can add up big time. A WOW Air passenger who pre-books a seat with "extra legroom" (32 inches, about what you get on Southwest Airlines), brings a carry-on and checked bag, and has a meal and a drink on the plane could easily pay an additional $300 on top of the price of round-trip airfare.
Reason #4: A strong U.S. dollar has driven away Europeans.
For American tourists, the growing strength of the U.S. dollar against the British pound and euro offers a double payoff. You probably have already noticed one part of it: Everything is simply more affordable overseas. Hotels, taxis, restaurant meals, tours, and almost anything else you'd pay for on the ground are at least 20% cheaper for Americans in Europe than they were two or three years ago.
But there's another, more surprising benefit. As the American dollar has climbed, some Europeans have decided it's too expensive to head across the ocean on vacation. "A lot of inbound traffic to the U.S. has decreased because the dollar is so strong," Seaney says.
And weaker European demand amps up the pressure on the Europe-based budget carriers, many of which have been forced to slash flight prices to entice more travelers (on both sides of the Atlantic) to fill up plane seats.
The Trump administration's immigration policies may be discouraging Europeans from visiting the U.S. as well. International flight searches bound for the U.S. fell sharply in the weeks after Donald Trump became president. According to the travel app Hopper.com, U.S.-bound flight searches decreased 20% or more from European countries such as Greece, Sweden, Denmark, and Ireland just after Trump announced a travel ban in late January.
---
How to Get the Best Deals Now
For all of the changes in the transatlantic flight market, many pricing factors remain the same—as do the strategies for getting the cheapest airfare possible.
Be flexible. Summertime is still peak season, yet flights generally cost less if you avoid the season's true peak and opt instead for departures in early June or late August. For example, in one of our searches Aer Lingus was charging $1,146 for a round trip from Los Angeles to Dublin in mid-July, compared to around $800 for departures at the tail ends of the season. For that matter, flexibility in general boosts the odds of snagging cheap flights. Switching departures from the weekend to the middle of the week can save you hundreds.
Look for budget hubs. You can save hundreds of dollars by tweaking your plans to fly to airports served by the low-cost carriers. Instead of flying Aer Lingus nonstop from Los Angeles to Dublin, for instance, go with WOW Air from LAX to Cork (via Reykjavik) for as little as $680 on our searches for peak July travel dates. Or, instead of flying out of Boston, consider Providence, which is served by Norwegian Air. During searches in late March, we found nonstops from Providence into Bergen, Norway, in mid-July for only $302 round trip. With prices this cheap, you can handle the extra costs and hassles of using B-list airports, and still have money left over to hopscotch around Europe by booking a few low-fare flights within the continent. (Just remember that they too charge hefty fees for baggage—so pack light.)
Be indirect. Connecting flights have always tended to be cheaper than nonstop to Europe, and that's largely still the case for 2017. We couldn't find direct flights from Washington, D.C., to Rome for anything less than $1,700 throughout the summer, for instance. But routes with one stopover could readily be had for under $1,000.
Book strategically. CheapAir.com crunched months of search data to conclude that the optimal time for booking flights to Europe for the least amount possible is roughly four months before departure. (That's too late for you if you fancy a June getaway, but perfect if you're targeting an August escape.) Travelers probably have more leeway when flying during non-peak periods; we've seen plenty of deals to Europe available for under $400 round trip at the last minute this winter and spring. And if you're hoping to get ultra-cheap airfare, pay attention to when carriers like Norwegian Air announce new routes—and insane introductory prices as low as $65 to go along with them.
One final note: Don't drive yourself crazy trying to see and do everything on this summer's trip. Analysts say the European flight market should remain competitive for the foreseeable future, and no one expects the dollar to tank against the euro any time soon. In other words: Europe should be very affordable for Americans for quite some time, so you'll be able to go back.