Cheaper EpiPen Alternatives You Can Buy Right Now...Plus More Coming Soon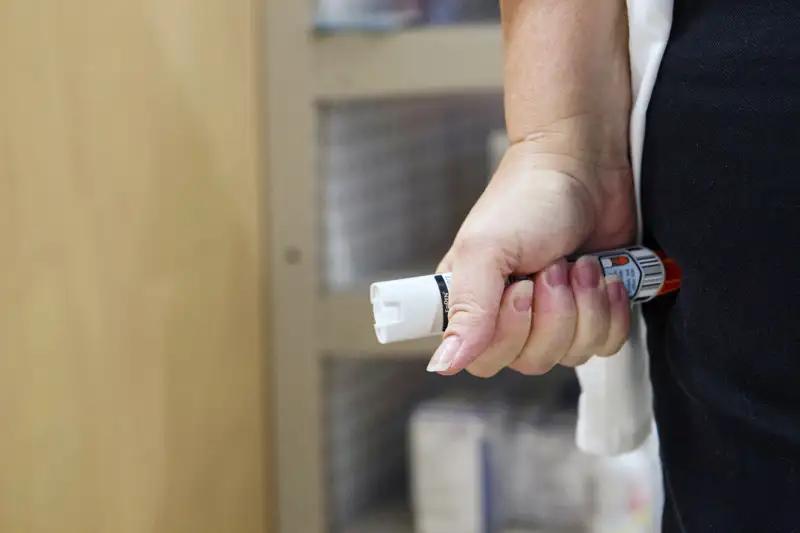 After coming under fire for raising EpiPen prices by over 500% over the course of a few years, Mylan Pharmaceuticals bumped up a coupon savings program so that some customers would get discounts of $300 on each EpiPen two-pack. For cash-paying customers with high deductibles, who had been facing prices of over $600, the deal amounts to a discount of roughly 50%.
Even so, the cost of an EpiPen—a life-saving auto-injecting epinephrine system prescribed for people with allergies—is still a burden for many families, especially considering that they have to buy multiple EpiPen packs for children to leave at school or after-school programs. Some families have multiple children with allergies, and therefore need even more EpiPens.
What's more, as many critics have pointed out, Mylan's new offer is not a straightforward price cut. It's a coupon, and the savings don't apply to all customers. Plus, the retail price of EpiPens remains sky-high, there's no telling how long Mylan will keep offering the $300 coupon, and there's also no telling when Mylan will decide to raise prices yet again.
Read Next: Mylan Cuts EpiPen Prices, Blames Obamacare Rather Than Greed for High Costs
So coupon or no coupon, people are looking around for cheaper EpiPen alternatives. Here are the options available right now, plus more possibilities to look out for in the near future.
Adrenaclick
The EpiPen has been the auto-injecting epinephrine standard for so long that your pediatrician and family allergist may not even be aware of Adrenaclick. Like EpiPen, Adrenaclick is designed to deliver an emergency shot of epinephrine for anyone suffering a bout of anaphylaxis due to an allergic reaction.
It's hard to get a firm grip on how much an Adrenaclick pack costs, what with varying prices at pharmacies, confusing insurance copays, and manufacturer coupons. But families with high deductibles should save money by going with Adrenaclick over EpiPen.
According to Consumer Reports, an Adrenaclick two-pack can run as little as $140 with coupons. A manufacturer's coupon promises discounts of up to $300 per Adrenaclick two-pack, and discount prescription sites like GoodRx.com and LowestMed.com have promotions that may offer savings too.
Before heading to your local pharmacy for Adrenaclick, though, be aware that the product isn't widely stocked around the country. You may have to place an order and wait a few days for it to be ready. Also, as mentioned, prices may vary based on a wide variety of factors, so confirm how much you'll be paying—and that it's cheaper than EpiPen—before switching to Adrenaclick.
Syringes and Epinephrine
EpiPen and Adrenaclick systems automate the job of injecting someone with epinephrine. One fairly obvious alternative is to simply have a supply of syringes and epinephrine on hand. A three-month supply of manual syringes and the drug costs about $20, so the potential for savings compared to spending hundreds or even thousands of dollars on EpiPens is substantial.
Read Next: Prescription Drug Prices in America Are Rising Like Those in No Other Industry
Some worry, though, that this method is dangerous. Without proper training, it's possible the epinephrine dosage in the shot could be wrong. Contamination is another possibility, as is panic on the behalf of the person doing the injecting. The EpiPen system has been a success because it removes many of these risks from the equation. But because EpiPens' costs have grown so high, the risk of using a syringe is one that many allergy sufferers are willing to take on.
EpiPen Competitors Coming
Adamis Pharmaceuticals, based in San Diego, is working on an as-yet unnamed pre-filled syringe system for injecting epinephrine that would eliminate the problem of proper dosage in manual syringes, while saving patients money compared to EpiPens. A spokesperson for Adamis told Money that its product will cost at least 40% less than the current market price for an EpiPen pack. The product is currently under review by the FDA, and the company expects to starting selling them in 2017.
Another pharmaceutical company, Massachusetts-based Windgap Medical, is also trying to get FDA approval for its EpiPen alternative. It's called Abiliject, and while the product will presumably be cheaper than the EpiPen, it promises something as equally compelling as cost savings.
Unlike EpiPen, which expires and must be replaced every 12 to 18 months, Abiliject is supposed to have a shelf life of several years, so it should be more cost-effective for families. (You can see why Mylan wouldn't work too hard to produce a longer-lasting EpiPen; doing so would hurt sales because there would be no need for families to buy new ones every year.) At about the size of a cigarette lighter, Abiliject is also smaller and more easily transportable than the competition. Windgap says it hopes to bring Abiliject to the market in 2018.
Read Next: 21 Incredibly Disturbing Facts About High Prescription Drug Prices
The Allergy Advocacy Association points out that two other EpiPen alternatives—the credit card-shaped Adrenacard, which can be stocked in one's wallet, and another generic auto-injecting system from Teva Pharmaceuticals—are also in the works and could available to consumers as soon as 2017.
One way or another, it looks like Mylan's near-monopoly with the EpiPen is nearing an end. And that's good news for families with allergies.