10 Cult-Favorite Foods Brought Back from the Dead by Popular Demand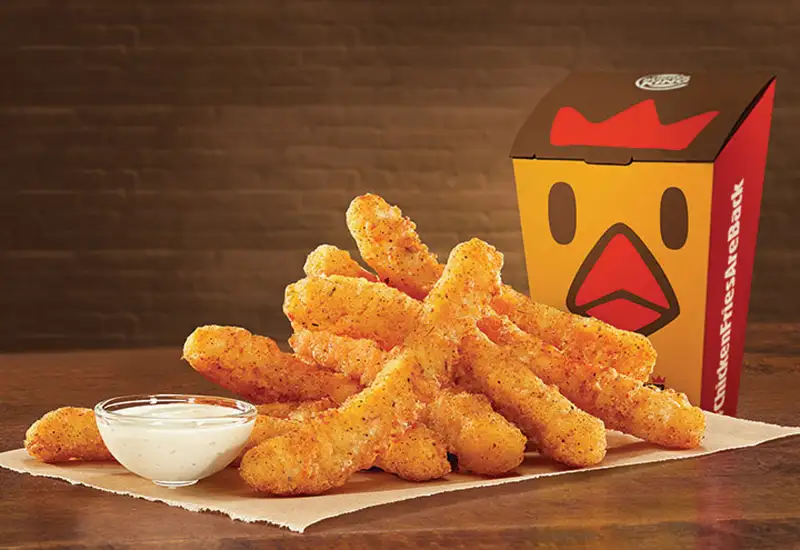 When Burger King brought back chicken fries to its menu last summer, the company explained that the decision was made due to a widespread campaign of fast food fanatics clamoring for their return via online petitions and social media. "Guest outcries reached a point where they could no longer be ignored," reads a BK statement in August, which also noted that chicken fries, which hadn't been available since 2012, would be back on menus nationally only for a limited time.
Apparently, while the "limited time" window seems to suffice for the Shamrock Shakes, McRibs, and Pumpkin Spice Lattes of the fast food world, a merely temporary return for chicken fries just didn't cut it. This week, BK announced that the breaded and fried chicken strips were becoming a permanent part of the menu, to the delight of the fanatical tweeting masses.
Not everyone is happy about the return of chicken fries. Among the disappointed are those who are passionate about bringing back some other food or drink item they've craved desperately since it disappeared. For instance, the Beefy Crunchy Movement Facebook page, which has over 16,000 likes, voiced disgust that BK listened to its fans by making chicken fries permanent, yet Taco Bell has ignored the passionate calls for the return of the burrito featuring Flamin' Hot Fritos inside. The Beefy Crunch Burrito was brought back by popular demand in 2013, but it disappeared quickly and hasn't been seen in nearly two years.
Other Taco Bell fans have demanded the return of the extra-spicy Volcano Menu, while still other fast food customers have focused their passion on bringing back items ranging from McDonald's hot mustard sauce to KFC Chicken Little sandwiches. Yes, KFC currently has Chicken Littles on the menu, but the supposedly "new and improved" version is quite different from the one sold decades ago, and critics have bashed the new item as little more than a "misappropriation of the Chicken Little's good name."
What's interesting—and quite revelatory about human nature and our most passionate cravings—is that there's quite a long history of failed healthy fast food items, yet there doesn't seem to be much of a movement to bring any of them back to menus. Instead, campaigns to bring back beloved food and drink from the dead overwhelmingly lean toward those heavy in salt, sugar, grease, calories, and caffeine. Here's a list of cult favorites that disappeared for a while and recently resurfaced after the people have spoken.